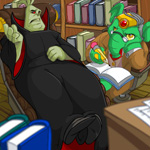 Neopia's Most Evil Eats

by blessed_faerie

--------

Neopia is known to be a fun and friendly place, but you can find quite the variety of villains if you know where to look. Although they are mostly evil, they are still a part of our Neopian history. Some deliciously evil foods have been created in honor if the myriad of villains in Neopia. Here are some of the most scrumptious ways to honor the evil aspect of Neopian history.

Pant Devil Sandwich

Have you ever had an awesome item in your inventory, only to have it stolen right away? If so, then you have probably met the Pant Devil. The Pant Devil is not dangerous, as far as we know, but just likes to steal. Some people say he is trying to fill his safety deposit box with more than one million items! If you're a fellow packrat, try the terrifying Pant Devil Sandwich. This sandwich may look evil, but it's actually healthy! Its ingredients include bread, blueberry jam, and carrots.
Dr. Sloth Summer Fruit Salad

Dr. Sloth is Neopia's least favorite misunderstood genius. Unfortunately, being brilliant does not automatically make you good. Dr. Sloth has chosen a very evil route to pursue world domination, which he has (thankfully) failed to achieve this far. He is also the villain behind mutant Neopets and mutant petpets. All that aside, his image does make a pretty good summer salad, which includes little Sloth heads, strawberries, and blueberries in vanilla yogurt.
Chocolate Balthazar

There are many villains in Neopia, but Balthazar is surely one of the meanest. His hobby is hunting faeries, capturing them in glass bottles, and selling them. His backstory is very tragic, but that does not excuse his behavior. When he was a little Lupe cub, he was abandoned near the Haunted Woods and attacked by dark faeries. His adult life has centered around taking revenge. One of Neopia's best chocolatiers became interested in Balthazar's story and decided to sculpt him out of milk chocolate. This Chocolate Balthazar brings a delightful contrast to your senses: it is very strange to be eating such horrible creature who tastes so sweet!
Jhudora Day Soup

Jhudora is one of the kinder villains you will find in Neopia. She is a dark faerie, but she interacts fairly well with Neopians who dare to do quests for her. She is also one of the most beautiful villains in Neopia—many Neopets even try to dress like her, wearing a Jhudora Wig or Jhudoras Fingernails. If you like Jhudora, you can eat like her too. The Jhudora Day Soup is especially yummy. Don't the tomato chunks inside it remind you of Jhudora's trademark talons? If only they were lime green!
Shadow Usul Ice Lolly

The Shadow Usul is one of Neopia's most mysterious villains. She comes out at night and will steal from your inventory. Make sure to look over your shoulder if you hear a strange noise while strolling around Neopia after midnight. You might not be able to see her black fur in the dark, but her purple collar stands out. On this Ice Lolly inspired by the Shadow Usul, her purple collar is also the most noticeable part. It has a tangy grape flavor, surround by a blackberry-flavored Usul body. If you like sweet treats, the Shadow Usul Ice Lolly is a great alternative to a chocolate dessert.
If you really want to eat like a villain, Neopia has some foods that are in a different realm of evil. Below are five foods that only the truly malevolent villains will touch.
Blumaroo Steak

Rumor has it, this steak is made out of real Blumaroo meat. Yuck. If you're a fan of eating Blumaroo, you can also try the Blumaroo Tail Salad Extravaganza, which features raw Blumaroo tails and black olives. I wonder if the salad and steak are made from the same Blumaroo.
Korbat Wing Soup

This dish is just as it sounds: wings from several colors of Korbats brewed together with a variety of fruits to make a soup. Where do the Korbats go after their wings have been used to make this soup? This is one seriously inhumane food.
Droolik Surprise

For evil creatures who would rather eat petpets than Neopets, they can try this Droolik Surprise. Drooliks are quiet, cute petpets who don't do much except stare at you with their big eyes. There is certainly no reason to eat them. I really hope the Droolik inside is the only disgusting surprise of this dish. The Spooky Food shop also sells Bottled Droolik Drool. Where are they getting all these poor Drooliks?
Large Grundo Toe with Lint Side Order

This dish is exactly what it sounds like—a big toe that has been removed from a Grundo, salted, and served to you with a side of toe lint. The Spooky Foods shopkeeper recommends it as a good meal for children. Make sure to remove the toenail before you eat it. If you love the taste of Grundo, you can also try Grundo Stix, which is a cute term for Grundo antenna.
Halloween Jinjah Platter

This dish is like a nightmare on a plate! Jinjahs are fun, free-spirited petpets who love to run around and play. The Halloween Jinjah Platter consists of several Jinjahs who have been sliced up and arranged onto a fancy plate. How sadly delicious. I can hear the Jinjahs screaming in my head when I look at this dish.
If you're not sick yet after reading these last five food descriptions, there is one more important detail to think about. When you're packing your nefarious lunch, make sure to outfit it in something equally evil. You can show your appreciation for villainy by carrying a Pant Devil, Shadow Usul, or Sloth Lunch Box. You can also find a matching Shadow Usul or Pant Devil Flask for storing your beverage.
When you're planning your next meal, remember this important phrase: "You are what you eat." Use caution when ingesting the evil foods listed above.