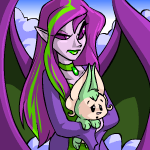 Celebrating Jhudora's Day without the Evil

by jo_eccentric

--------

With Jhudora Day just around the corner, all the evil loving Neopets are getting ready to celebrate. They are planning pranks to play on their friends and hoarding items to help Jhudora on one of her evil quests for her "unknown malicious purposes", as the Neopedia puts it. What about us average Neopians, though? What if we don't like committing wicked deeds, boiling up trouble and casting evil spells? We law abiding Neopians still enjoy celebrating despite it being a dark faerie's day. If you're in the celebrating mood, but don't want to commit to the evil that Jhudora is known for, here are some fun ways for you to enjoy your purple and green filled day.

1) Dress up and act out a play

Dressing up won't harm anyone, right? You and your friends can celebrate by dressing up as Jhudora herself and acting in your very own play. Instead of doing evil, you can pretend that she does something nice for poor Illusen for once. Here are some items you can use to act out your Jhudora moments.

Jhudora Wig
This wig is the perfect shade of purple and green, perhaps even designed by the dark faerie herself. Jhudora's wig is exactly what you need to be the main lead in your play.

Jhudoras Fingernails
Of course these aren't Jhudora's actual fingernails, but these green claws will definitely turn you into the dark faerie, without the added evil of course! Put these on and claw into your imagination.

Jhudora Eye Shadow
What's the point of having hair like Jhudora if your face looks nothing like her? Your play won't be as convincing without this delightful eye shadow palette in the exact shades that Jhudora herself would use.

Poisonous Purple and Green Skirt
If you're feeling like you want to be as authentic as possible, perhaps you should try out something from the specialised Jhudora inspired line of clothing. Once you put this on, everyone will believe your role as Jhudora in your play. This skirt is combined with green spikes, however, so be careful that you don't hurt yourself!
2) Read Jhudora inspired books
Sometimes, you just want to stay home and celebrate, instead of going outside. Not everyone likes to go out of their neohomes where those dark faerie fanatic Neopians are wandering the streets, up to no good and playing their pranks. Instead, you can curl up on the couch in the comfort of your own home and check out some of these great Jhudora reads.

Jhudoras Secret
At just 9000 neopoints a book, who wouldn't want to know all of Jhudora's secrets? Perhaps you can find out why she wants to be as evil as she is or just figure out what's going on in her mind? Without a doubt, this is one of the best Jhudora books out there to read... provided you can find the key.

Jhudora and the Evil Eyes
At just 9000 neopoints a book, who wouldn't want to know all of Jhudora's secrets? Perhaps you can find out why she wants to be as evil as she is or just figure out what's going on in her mind? Without a doubt, this is one of the best Jhudora books out there to read... provided you can find the key.

Jhudoras Quests
If you want to know what Jhudora's quests are like but don't want to help out an evil-doer, this book is just what you are looking for. This book is described as containing "anecdotes from Neopets who have been asked for the strangest things by Jhudora". An entertaining read that will definitely put a smile onto your face.
3) Make some Jhudora inspired treats

Jhudoras Cupcake
This green cupcake with grey icing may not look appetising, but don't worry, this delicious cupcake is made with twirly fruit and topped with a grey cheese icing. If you're craving a sweet treat, this is the one to go for on Jhudora's day.

Berry Jhudora Petit Four
This delicious baked delicacy is cream filled and has multiple fruity flavours in one! The green is a mixture of twirly fruit for sweetness and ergyfruit for an added energy kick. The purple contains flatfruit and some purple food colouring.

Jhudora Jelly
This simple green jelly may look toxic and inedible, but it's really just lime flavoured jelly. Who has to know, though! Stick a purple straw into the wobbly fluorescent mixture and the jelly might as well be evil!
4) Decorate your neohome
Renovating your neohome is all the rage now, but with all that effort involved, who has the time and money for a whole home makeover? Simply purchase a few Jhudora inspired neohome items and your whole home will be brightened up with the new green and purple decorations. Here are some of the most on trend items for your cozy abode.

Jhudora Stained Glass Window
What a difference a new window will make in your home! This simple Jhudora stained glass window will add a new brighter colour into your house that hasn't been seen before. Simply remove your existing glass and the new stained window will fit right in. Having Jhudora on your window will definitely scare off those pesky thieves!

Jhudora Cooker
A Jhudora inspired cooker that will add a new heat into your dishes. Whip up delightful desserts in the oven and create delicious meals on the cooktop. You'll be the new favourite person at dinner parties with the new Jhudora cooker.

Jhudora Lamp
If you want a change from your plain yellow or white light, try out this Jhudora lamp! Once you turn it on with the cord on the side, your room will be lit up with purple and green stripes. Wouldn't that be a nice change from your everyday lamps? This lampshade even features the same purple and green stripes that will fill your room.
5) Play some Jhudora inspired games
We want to have fun while celebrating, don't we? Instead of acting out evil, we can enjoy ourselves with Jhudora inspired games and toys that will entertain you and your friends for the whole evening. Try out these perfect games and toys or even give them as gifts to your loved ones on Jhudora Day. Having fun doesn't mean you have to harm anyone!

Jhudora Marbles
With these marbles in two Jhudora shades, you can play your favourite childhood game of marbles or even trade them for different colours if you must. Just be sure that you don't lose any of these and that they don't roll down the driveway while you're playing. Don't worry, though, they're just 30 neopoints for a new bag.

Jhudora Swing
The swing doesn't go very high due to the protective back but this swing is advertised as being perfect to sit on while you're stressed and just want time to yourself to think. It would also be perfect for those baby neopets out there who are afraid of getting hurt on those regular swings.

Jhudora Fashion Play Set
When you're playing with your usuki dolls and want them to indulge them in the Jhudora Day spirit as well, this fashion play set would be just what you need in the usuki doll dream house. You can decorate your doll's home as well as your own with this set!

Jhudora Plushie
A very rare faerie doll that would be a great gift for your plushie collecting friend or as a gift to yourself on Jhudora Day. Don't worry, this dark faerie won't hurt you at all. It's filled with the right blend of plush cotton and wool and sewn with love, great for all ages.
Unfortunately there is always an end to all great ideas. Hopefully this list of ideas have inspired you to celebrate Jhudora's day with your family and friends despite not wanting to indulge in a dark faerie's celebration. If you have dodged Jhudora's day for years, this is the year to start indulging in the celebrations with these toned down, fun-filled celebration techniques.
Haappy Jhudora's Day, everybody!