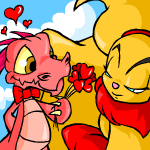 Valentine's Day Gift Ideas

by homestead58

--------

With Valentine's Day just around the corner, it's time to spread the love and give your pets and Neofriends gifts that will leave them smiling until next Valentine's Day! Don't know what to purchase? Read on!

I am listing mostly Valentine's Day themed items, but if you choose to go a more generic or inexpensive route, I will also name some options for you too!

Have a pet or Neofriend who is one with nature and truly cares about the environment? Or how about one who simply loves the beauty of a live tree? Then a Valentines Day Tree would be the perfect choice! As the heart-shaped leaves grow and fall, and then re-grow and repeat the process every year, your friendship will always be remembered. Also, if planted, it's not just your friend or Neopet you're making happy- also the World of Neopia! You can never have too many trees, especially ones with leaves as unique as these! As promised, if your friend or pet is not in to the traditional shapes and colors of Valentines Day but still finds joy in nature, how about a nice topiary instead? It's a clear sign of friendship when you give someone something living, breathing and in fun shapes! A Kacheek Tree Sculpture, Quiggle Tree Sculpture, and Kau Tree Sculpture are just some of the available options.

For those of you who have Neofriends and pets that appreciate the more traditional aspects of life, Neopian shops offer a vast number of great gift ideas! That's right folks, what says "Happy Valentine's Day!" more than a delicious Valentines Heart Shaped Chocolate Box or Valentines Chocolate Selection and a Valentines Bouquet? I can think of little else! Your friends and pets will love you forever as they gaze at the beauty of the flowers while eating their yummy sweets! If heart-shaped boxes and pink and red blossoms wouldn't tickle their fancy, however, why not try some alternatives?! In terms of candy, if you would still like to give chocolates, why not try some Chocolate Covered Strawberries? The combination of fruit and the savory chocolate is one you are sure to never forget. Other tasty chocolate treats, such as a Chocolate Doughnutfruit, Chocolate Dubloons, and a Chocolate Ice Cream Cream Puff are just as yummy and very affordable. If you are looking to steer away from chocolates entirely, you cannot go wrong with gummies! They are delicious, and you can find them in all sorts of different shapes and flavors, especially fruity ones. Lesser expensive ones, such as Blueberry, Avocado, Cherry, and Orange Gummy Korbat Tails are popular among Neopians, as are higher-end gummy Neopets and Petpets, like Apple Gummy Chia, Banana Gummy Slorg and Blueberry Gummy Peophin. Now that you have chosen the perfect candy, how about those flowers? Flowers and Coffee is perfect if you'd like to spend the evening sipping a hot cup of Borovan together. Hand Picked Spring Flowers show that you put a lot of thought into your gift, especially if you went out of your way to hand-pick their favorite blossoms!

And what would Valentine's Day be without adorable plushies to give to those you love most? Nothing says "I'm so lucky to have a friend like you!" like a cuddly new buddy to squeeze and hug, especially if they look like a favorite Neopet or Petpet! Valentines Bruce Plushie, Valentines Cybunny Plushie, Valentines Chia Plushie, Valentines Hasee Plushie and Valentines Kadoatie Plushie are just some of the popular ones available for purchase this season. But everyone knows that all plushies in the World of Neopia are adorable, not just the holiday ones. The great thing about plashes is that you can find them made to look like almost anything; Neopets, Petpets, famous Neopians, food, codestones, even paint brushes! Blue Kacheek Plushie, Checkered Kiko Plushie, Faerie Cybunny Plushie, and Green Slorg plush are some of my favorites, and they do not cost a wing and a tentacle, so that is always nice as well if you are on a budget. More expensive plushies, such as the Magma Poogle Plushie, Mutant Acara Plushie, Baby Faellie Plushie Friend and Candychan Plushie are also extremely precious, but they do cost quite a bit more. Another option is always to purchase a ripped, or as I like to say, previously loved, plushie and have Donny at the Toy Repair Shop fix it. It would make a fun Valentines Day outing with your Neopet to fix their new cuddly friend! I suggest the Ripped Jelly Chia Plushie, Ripped Orange Grundo Plushie and Ripped Cheery Tomato Plushie in particular.

Anyone interested in some scrumptious baked goods? Valentine's Day is a fantastic time to buy ingredients, turn on the oven and create fabulous cakes, cookies and pies for your friends! Don't have time, energy, or talent (It's okay to admit it. My baking skills are sub-par, too.) enough to whip up something both pleasing to the eye and the stomach? Never fear! Some delightful treats are being prepared this season, just waiting for you to buy. I hear from some of Neopia's best bakers that the Valentines Cookies and Valentines Muffin are particularly savory this year! But again, if you'd prefer to not buy Valentines themed items, I find the Fire Faerie Cupcake to be superb! Its light and fluffy texture mixed with the smallest hint of a spice is a feat that can only be crafted by the talented faeries themselves. Also, the Voidberry Slorg Cupcake is not only adorable to look at, but the Voidberry frosting keeps you wanting more and more.

How about those special people in your life who you have known the longest/are the closest to/care for the most? You know, the ones you can't imagine your life without? There are some great gifts for them, too! A Gold Valentines Ring, Silver Valentines Ring or Valentines Day Ring are some awesome options. It will be a lovely feeling knowing that when your friend or pet wears them, they will be carrying a part of you with them, too. Inexpensive generic rings, such as the Plastic Ring and Plastic Gem Ring are perfect if you are on a budget or simply do not want all the sentimentality that comes with a more expensive one.

And finally, there would be no Valentine's Day without valentines themselves!

These delightful cards give you the chance to say anything you want. Write a poem, story, or a simple "Happy Valentine's Day!". Whatever you choose to write, cards give you free reign to express yourself as much, or as little, as you desire. A Heartfelt Valentines Day Card and A Mysterious Valentines Card are nice options, as is a Homemade Valentines Day Card, if you like the non store-bought feel. An Ona Greeting Card or Peadackle Greeting Card works, too, if you do not care to lose some of the typical feeling put into Valentines cards.

And there you have it! Some gift ideas to make you Valentine's Day truly happy! I hope you, your pets, and Neofriends have a great one!
Search the Neopian Times


---
Great stories!
---------
---------
---------
---------
---