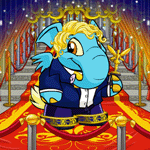 Dressing the Part – Famous Neopians (Part Two)

by katiecoo802

--------

The heroes and heroines of Neopia's plots and events have long been admired by Neopians. As such, it seems only fitting that pets from all corners of the globe would seek to emulate these famous Neopians in their customizations. Now Dressing the Part is back with Part Two of the Famous Neopian series! Last time we focused on some of Neopia's most famous adventurers and heroes, and now we pick up with even more styles based on Neopia's best from the past year.

Look 1: Ellsworth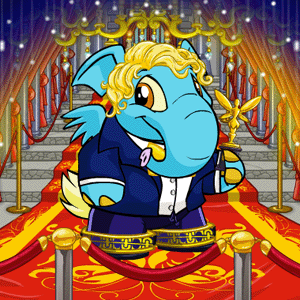 Items Pictured: NC–VIN Velvet Ropes, Handsome Blue Jacket, Festive Shirt with Gold Bow Tie, Curly Blonde Cherub Wig, Plush Purple Velvet Trousers, Light Shower Garland, Exquisite Chandelier Garland, Black and White Wingtip Shoes NP–Neopies Carpet Background (50,000 NP*), 3rd Annual Neopies Golden Trophy (18,000 NP).
Though the holiday season has now passed, Neopians are far from short on things to celebrate! The first big event of Y16 is the Sixth Annual Neopies Awards, and what better way to get into the right mood for the ceremony than dressing your pet up as Ellsworth, the elegant Elephante host. Ellsworth is known across Neopia for his love of Juppieswirl Bonbons and well-tailored suits and speaking of suits, you have a few options when it comes to creating an Ellsworth-inspired look. There are several species-specific suits out there for pets for those interested in Neopoint customizations, and on the NC side of things you have great options like Conductors Tuxedo, Black Satin Bow Tie, and Handsome Shirt and Tie to get your pet fancified. The Neopies themselves have also produced several elegant wearables over the years, such as Neopies Carpet Background and 3rd Annual Neopies Golden Trophy shown here, as well as Neopies Dressing Room Background (14,000 NP), Best of 2008 Ribbon Necklace (33,000 NP), and Neopies Backstage Pass (1,000 NP). Items from past NC Altador Cup events can also work well for this look, particularly Concert Hall Background and items from the Altador Cup NC VIP Lounge Pass.
Look 2: Princess Lunara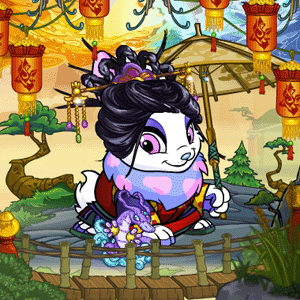 Items Pictured: NC–Princess Lunara Collectors Parasol, Shenkuu Warrior Princess Boots, Princess Lunara Collectors Dress, Funky Shenkuu Wig, Shenkuu Lantern Garland, Shenkuu Bridge Foreground. NP–Air Faerie Eye Shadow (220,000 NP), Kazeriu Handheld Plushie (450 NP), Day and Night Garland (13,000 NP), Misty Shenkuu Background (15,000 NP).
Princess Lunara first came into the Neopian spotlight with the launch of her game, The Search for Princess Lunara: Mystery in the Mist, and has only increased in renown since she led Team Moon to victory in the most recent Games Master Challenge. New items from the GMC plus a huge array of Shenkuu wearables have many Neopians considering a Princess Lunara themed customizations for their pets. To start, Princess Lunara Collectors Dress is a must, as the Shenkuu Princess is never seen without it. Her Parasol, while recognizable, is not as essential and may be replaced with a different handheld like Moon Handheld Plushie (300 NP) or Shenkuu Lantern Balloon (2,000 NP), both GMC prizes. One great thing about a Lunara customization is that you have the option of creating either a day or night ensemble. For a nighttime look, try Haunting Eclipse Moon or Moon and Stars Background (1 NP), but if you'd rather have your Shenkuu Princess in a daytime environment, use backgrounds and foregrounds that reference the misty mountains shown in The Search for Princess Lunara. Finally, be sure to include a reference to Lunara's beloved Kazeriu, Umbra, with Kazeriu Handheld Plushie, or for a more delicious representation choose Chocolate Kazeriu Statue (10,000 NP) or Kazeriu Cupcakes Foreground.
Look 3: Kell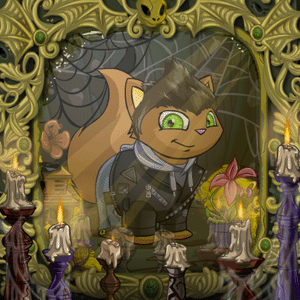 Items Pictured: NC–Golden Key Necklace, Elegant Gear Boots, Spooky Green Contacts, Classic Wooden Radio Player, Giant Suspended Spyder Webs, Stylish Spiked Wig, Tough Guy Jacket, Sneezing Rude Daffodil, Ultra Snazzy Trousers, Unsettling Reflection Foreground NP–Inside the Wishing Well Background (1,000 NP).
Perhaps no single event caused such a ruckus in Neopia this year as the Spooky Food Eating Contest. What started as a simple confectionary contest soon turned into a quest for the fate of Neovia itself, and users across Neopia quickly found friendship with two new characters, Corbin and Kell. Kell proved to be not only monster-savvy, but handy as well with his invention of a mechanism that would measure the musical notes required to lull faux-Scarlet to sleep. If you're eager to create a Kell-inspired look, start with the NC prizes from the Runic Doors found throughout the catacombs. Catacombs Treasure Rooms Background and Curse of Strength Effect are especially reminiscent of all those underground wanderings (OMG, I have to do how many more levels before I get all the prizes?!), and other creepy classics like Giant Suspended Spyder Webs or Ghostly Cobweb Garland will aid the spooky Neovian atmosphere of your Kell customization. NC Items from any year of Haunted Hijinks or Masks of Dread will likewise create a creepy environment, but don't forget to reference Kell's ingenuity in your ensemble as well! Handy mDB Experiometer (1,500 NP) and Moltara Inventors Work Table should do the trick nicely.
Look 4: Abigail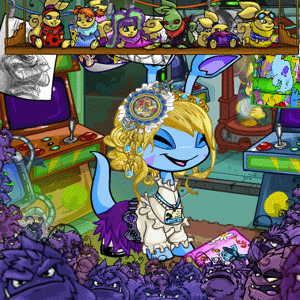 Items Pictured: NC–Abigails Custom Drawn Dreamy Hanso Diary, Fall School Shirt, Daily Dare NC Challenge Game Controller Belt, Arcade Gaming Background, Layered Purple Faerie Skirt, MME10-S3c: Neopian Dream Collection, Safety Pin Mosaic Wig. NP–School Girl Shoes (200,000 NP), Usukicon Y10 Attendee Badge (1,000,000 NP), Petpetpet Covered Foreground (44,000 NP), Usuki Collection Garland (400,000 NP).
Abigail took center stage in last summer's Daily Dare with AAA's absence, and has been gaining more and more popularity among Neopians ever since. Your look can reference any number of past Daily Dare or Games Master Challenge events with your look, however, many of which have provided gaming-themed wearables perfect for this customization. Items like Daily Dare NC Challenge Gamers Garland, Hovering Chair Background, and Remote Control Glove (no listed NP price) will help your pet keep their gaming reflexives sharp, and others that reference specific events like I Lost to Roothless Sign (140 NP) are great too. Many of the NC Challenge prizes from Y13's Games Master Challenge come directly from Abigail's bedroom, and are a great way to add character-specific touches to this look. Keep in mind that even though Abigail is an amazing gamer, she's also a girly girl with a passion for Usukis, arts and crafts, and of course, Neopia's dreamiest heroes. Opt for a wig with a pretty accessory, like Safety Pin Mosaic Wig here or Curled Blonde Wig (5,000 NP); you might also want to consider a handheld toy like Soft Magical Hair Usuki Plushie or King Roo Handheld Plushie.
These are just some of the most popular Neopians from Y15, but you have plenty of other options as well. Why not create one of the faction leaders from the War of the Obelisk, or have your pet step back in time as Zylphia from the Twisted History Mystery Capsule NC event? Whatever hero your pet chooses, remember to be creative, thrifty, and above all, stylish!
*Please note that all Neopoint prices are approximate and reflect Shop Wizard prices at the time of writing.
Search the Neopian Times


---
Great stories!
---------
---------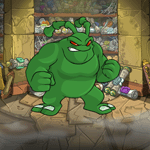 Worth Fighting For: Part Four
"So that's when the Space Fungus started swarming our ship!" They had to have been walking for at least an hour, now, but Hyren was nowhere near running out of stories.

by cosmicfire918
---------
---------
---