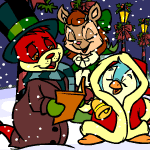 Top 10 Ways to Get in the Holiday Spirit

by wanderinthoughtz

--------

It's that magical time of year again! You may be getting into the swing of the holiday season, but please don't forget that your Neopets need to feel that holiday spirit too! During the Month of Celebrating, the magic of Neopia combines with the magic of the holidays to create extra-super-special-awesome-tastic magical times! Here are my top ten ways to make the most of it:

1. A festive look!

Getting all gussied up is what gives the holidays that shiny fancy sparkly feeling. If you like dressing dapper, you can only imagine that your Neopets do! Luckily your pets can rock a multitude of festive frocks, available at the NC Mall, Uni's Clothing, or from your favorite neighborhood Shop Wizard. The great thing about the winter holidays is the options. You can opt for seasonal holiday garb, or for a simpler style, choose some pretty white winter wear. For a snowy look, try the Simple Snowflake Cape given out by the Y14 Advent Calendar, or see if you can get your hands on a Prissy Miss Snowflake Dress. For the fellas, the Winter Prince Jacket and Winter Prince Trousers might do the trick, or if your Neocash budget is tight you could recreate a snowball fight scene with a Snow Splat accessory and Snowball Fortress Foreground. If you're brimming with holiday cheer, try something colorful like the new Lighted Tree Wig available in the NC Mall, or a seasonal favorite such as the Ugly Christmas Sweater from the Advent Calendar Y12. For fashionable ladies on a budget, check out the Seasonal Designer Purse which is just lovely paired with some Seasonal Wings and a Holiday Tutu. If your pet's not exactly a shopaholic, they might enjoy a new paint job instead. A Christmas Paint Brush will help brighten your spirits, as well as give some new clothing options. You could also consider the Snow Paint Brush for a basic wintery look, and if you're feeling lucky, maybe try the lab ray for Ice or Chocolate. Either way, a festive look is the simplest way to get in the holiday mood!

2. Winter winnings

If you're looking for a wintery way to chill out, head on over to the games room. With so many games to choose from year round, there is of course an ample selection of holiday themed entertainment. Snow and ice are the basis of many a fun game – collect some gems with Clara on Ice, join some feisty Neopets in a Snowball Fight, or my personal favorite, pig out with ironically-named Dieter in Snowmuncher. If you can manage to sneak past the Snowager, you might get a head start on your holiday shopping in Wrath of the Snowager, or you could play with some fun new toys in Toybox Escape! And just think – the whole time, you'll be earning Neopoints! All the more reason to celebrate!

3. Daily fun

One of the most anticipated parts of the Month of Celebrating is – you guessed it – the Advent Calendar! It's been around since Y2 and its popularity certainly hasn't diminished. Many Neopians strive to collect their prizes every day, and you would be wise indeed to do so. Typically there are two items rewarded per day, along with a varying amount of Neopoints – and you can never have too many Neopoints! Better yet, this year there is a hidden nova challenge as well. Finding the hidden nova in the daily animation will award you a bonus prize, and if you're lucky, a Bright Holiday Snowball. This snowball just might melt away to reveal a fancy winter prize if you have a pair of Super Warm Holiday Mittens. There are also two avatars associated with the Advent Calendar. I'm afraid if you're reading this you've already missed the 1st of the month, when the Plastic Fir avatar is traditionally released, but there may still be a chance for the Seasonal Attack Pea avatar, which is randomly awarded one day a year via this daily event. If you're really addicted to daily gifts, you can partake in the Stocking Stufftacular too! You'll need to purchase a Stocking Pack, and once you've hung your stockings you can certainly expect it to be filled with something good the next day!

4. Spread the joy

This is what the holiday season is really all about! Joy and happiness, fun and cheer! If you're feeling friendly, head on over to the Neoboards. Make a new friend, create a festive font and avatar combo, or get in the spirit of the season by helping out on the Help or Quests boards. Feeling extra generous? Buy a nice treat for your Neopets, or a thoughtful gift for your best Neofriend! (Don't forget to use the Gift Tags available in Happy Valley when you're offering holiday presents to your friends and family.) Better yet, consider giving a lonely Neopet a new home and visit the Neopian Pound. The best gift you can give is love!

5. Spoil yourself

Who says the Day of Giving has to be all about giving to others? You deserve some love too, and I'm sure your Neopets would agree. If you've been saving up all year, consider splurging and getting something you've always wanted. Pick up some new furniture for your Neohome, hunt down the final piece of the Secret Laboratory Map you've been missing, or add something nice to your gallery. It's the season of giving, and there's nothing wrong with giving to yourself every once in a while!

6. Pack your suitcases

The holidays are a popular time to travel, and for good reason! If you really want to experience the season, bundle up your pets and hitch a ride to Terror Mountain. Start in the quaint village of Happy Valley, where you can teach your pets to ice skate or enjoy a sweet slushie together. Brave the Ice Caves next if you dare, but make sure to watch your step – it's slippery, and you certainly don't want to wake that nasty Snowager! You might swipe a piece of his treasure on your way to the Top of the Mountain though! This snowy town is ideal for bargain hunting, whether you're browsing the Igloo Garage Sale or the Shop of Mystery. You can even repair old toys at the Toy Repair Shop, instead of having to buy a new one! While you're in this magical wonderland, don't forget to build a snowman or have a snowball fight with your Neopets. Tis the season for fun!

7. The gift of music

There's nothing more joyful than a happy holiday song and a smile. Your Neopets will love singing with you, and it's a great excuse to visit some of your best friends, or put a smile on a stranger's face. There is a wide variety of caroling books available. Pick up a copy of Cybunny Carols for tunes like Hoppy Holidays and All I Want For Christmas Is My Two Buck Teeth. Kreludan Christmas Carols features such hits as You're a Mean One, Mr. Sloth and Joy to the Moon. If you're a fan of more traditional songs, you can find the time-tested classics Here We Come A-Wuzzling and O Money Tree in the Neopian Carol Book.

8. Get creative

All of this joy and happiness is surely good for your creative mind! Find a creative outlet for all of that festive energy. If you're looking for some fun, you could try out the Coloring Pages available in the Ice Caves. My favorite is the adorable Aisha sharing a cup of Hot Chocolate with her Tasu friend! So cute and cozy! If your artistic talents extend even beyond coloring, you might consider a holiday entry in the Beauty Contest! Portray your pet in their best holiday getup and make sure to enter before the deadline. Your pet will surely love the chance to show off and gain some votes.

9. Tasty treats

There's no shortage of sugary snacks in Neopia. Let yourself – and your Neopets – indulge a little bit with some sweet treats for the holiday season. Sharing a Holiday Yule Log is a nice tradition, or if you have expensive tastes you could splurge on a scrumptious Candy Cane Powder Puff. Don't forget the Neggnog, and if you want an ultimate holiday combo, the Roast Chestnut Neggnog might be your best bet. Planning to host a winter feast? Start with a Whole Roasted Pheasant and add a few sides, then finish it off with a Flaming Christmas Pudding – yum!

10. Decorate!

The holiday season just isn't the same without the sparkle of lights and the brightness of color around every corner. Don't let your Neohome go neglected this year! If you haven't already, it's time to invest in some seasonal decorations that you can reuse every Month of Celebrating. A Holiday Ornament Wreath is the perfect way to welcome your guests into your home. There are several varieties of trees to choose from, depending on your style: Stone Christmas Tree, Metallic Holiday Tree, and Dark Nova Christmas Tree are all wonderful choices if you can't round up the NC for an Elegant Christmas Tree. A Seasonal Candelabra adds a classy touch to any Neohome, and you certainly can't forget to hang a String of Holiday Kiko Lights. The last thing that needs decorating is, of course, your user lookup! You simply can't leave it as plain as it is the rest of the year – make sure your user lookup sparkles and shines!

I hope you can use these tips to enjoy Neopia to its fullest this holiday season! Season's Greetings & Happy Holidays!