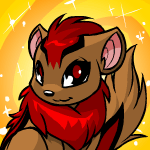 Oh So Xwee – Top 15 Xweetok Items

by dragoonhunter682

--------

Also by pacificana

Xweetoks are one of the prettiest species which exist in Neopia, in our opinion. A very popular species in general, the species name is often abbreviated to Xwee. They have large eyes, a long fluffy tail and a luxurious soft mane. Now the line that goes from the Xwee's forehead to the tip of its tail might make you think that these Xwees are much the same as skunks, but do not be fooled!

These beautiful creatures are in every respect superior to skunks, and they don't like being compared to them, so beware!

To celebrate the day dedicated to the wonderful species that is the Xweetok, we have come up with a list of our 15 favourite items! (Because 10 just couldn't cover it).

1. Xweetok Hot Chocolate
This cute Xweetok mug is filled with piping hot milky chocolate and topped with whipped cream
Release Date: November 29, 2006
There's nothing like a steaming mug of hot chocolate to go along with the celebrating Xweetok Day. And it's appropriate that it falls in the winter season! Warm yourself up with this delicious drink, but the real highlight here is the adorable Xweetok mug you'll end up with once you're finished. Fill your new mug with any drink you want to afterwards, just be sure to top it with a big pile of whipped cream to get that wonderful Xweetok look!

2. Full Xweetok Armour
This suit is lined with cool cotton to make sure it doesn't itch or scratch your Xweetok.
Release Date: March 16, 2006
Xweetoks are pretty and lovely, but be warned; they can also be very dangerous in the Battledome. For those Xweetoks that like to fight, this lovely armour has been designed. Although it is not guaranteed to make your Xweetok indestructible, it will definitely help in the Battledome, and will give him or her a really dangerous look which is bound to intimidate the enemy! We're not sure if the cotton was necessary, considering all that fur that Xweetoks carry around naturally, but it's the idea that counts!

3. Xweetok Burger
A delicious burger topped with lettuce and served on a Xweetok-shaped bun.
Release Date: May 23, 2006
Don't be alarmed! Despite what the name might imply, this burger is not made out of Xweetoks! As the description says, it's a simple burger topped with just lettuce. The real appeal of this sandwich is the amazing Xweetok bun in comes on! We aren't quite sure what baker came up with the idea, but we tip our hats to them. They must have been quite the Xweetok lover to put such effort into a simple bun! Order this burger to celebrate the day, but before you dig in, just sit back for a second and enjoy that craftsmanship!

4. Lost Desert Xweetok Makeup
This item is part of a deluxe paint brush set!
Release Date: December 1, 2009
Deluxe paint brush set indeed! The lost desert paint brush is quite the costly paint brush! But in the case of Xwees, it is most certainly worth it. Whether you want to keep your Xwee this wonderful colour permanently, or if you're just trying to get the clothes, you will not regret the purchase. Alternatively, your Xweetok can be zapped desert with the lab ray (how many species changes did YOU get before getting the colour you wanted?).
PB clothes are rather controversial because they can never be removed from your closet after they've been put there (unless your pet leaves with them). But, some of these paint brush items are great for customisation, and this is one of the best. This beautiful and graceful face paint will go great on your Xweetok, no matter how it is painted or dressed.

5. Lotus Xweetok Wig
This gorgeous wig will certainly garner some well-deserved attention.
Release Date: December 1, 2009
There are a few Xweetok specific clothing packs, and this is one of the best. Out of all the items in this set, this wig is possibly the most amazing. You'll sure be hard pressed to find a wig that fits a Xweetok better! We would probably use it all the time, but Xwees like to have many different outfits available, so sometimes we have to put it away.

6. Pirate Xweetok Plushie
Take to the seas with this adorable plushie!
Release Date: December 2, 2008
We couldn't possibly have an item list without mentioning a plushie or two! Everyone will find these plushies super squishy and adorable. We know collectors can't keep their hands off them! Picking up your favourite coloured Xweetok plushie is a fantastic way to celebrate their release, and there are certainly quite a few to choose from. Either a basic colour, like White or Orange, to the more complicated colours, like the adorable Baby or Faerie colours, it's a sure thing there's a colour for everyone! We might be a bit biased in our choice for the Pirate plushie, but they are the best. ;)

7. Old Lady Xweetok Action Figure
Comes with super yarn needle grip strength and extreme knitting action! This was given out by the Advent Calendar in Y12.
Release Date: December 19, 2010
Now this is one of the most amazing Xweetok items ever. Although elderly pets are often set aside due to their age and their declining beauty, this action figure sure proves how great they can be! Not only can they make wonderful warm garments for you in record speed, but they make very entertaining figurines too. Note: be careful of the needles. They aren't just for show!

8. Rainbow Xweetok Scented Candle
No description known
Release Date: April 4, 2009
How mysterious, an item with no description! This is certainly a very beautiful item! The variety of colours is amazing, and if you have this candle lit in a white room, they must show up all over the walls like a dream come true! We do feel the need to point out some technical issues with this item however. Is the tail in this item made of fur or wax? Either option seems problematic. On the one hand if it was made of fur it would be set on fire by the flame, and your beautiful candle would be lost! On the other hand f it was made of wax it would not only melt, but as it melted it would extinguish the flame! Maybe this candle isn't meant to be lit…

9. Cherry Xweetok Cupcake
Celebrate any occasion with the wonderful vanilla Xweetok cupcake topped with cherry frosting.
Release Date: May 23, 2006
Now we come to another baker's amazing creation! We need to find this guy and see how he makes these fantastic shaped baked goods. A lovely vanilla cupcake shaped into the head of a Xweetok with a delicious and sweet cherry topping. How could we not love this? This cupcake is a great item to snack on or even to add to a Xweetok or cupcake gallery. Although relatively simple, we can't help but admire the effort and talent it takes to make such a beautiful cake!

10. Faerie Xweetok Morphing Potion
Give this potion to your Neopet and it will transform into a beautiful faerie Xweetok!
Release Date: December 1, 2009
Now I'm sure you'll be glad to hear that Xweetoks come in many different wonderful colours. They have so many great colours that sometimes, it's hard to choose your favorite! This results in some accounts full of Xweetoks painted in different colours, due to their owner not being able to choose which one they couldn't live without. You can get these colours in different ways, but morphing potions are often the more economical alternative! They are also a very popular gallery item: if you're making a gallery about Xweetoks (something we recommend due to how amazing they are) you can't possibly miss out these very prettily drawn morphing potions!
This particular morphing potion will make your pet into a faerie Xwee. Now there is a lot of controversial talk about faerie Xwees as people think the unconverted version of this colour is so much better than the new one. We like to think that you will love your faerie Xwee, whether it be converted or unconverted, and it will be beautiful to everyone either way.

11. Xweetok Guide to Flying
This book is full of useful tips to get your Xweetok flying in no time.
Release Date: November 29, 2006
There were many different books we could choose from, but we felt this was the best Xweetok related one to choose from, and seems like a must have for any Xweetok owner hoping to teach their pet to fly! Books are sometimes pretty plain items, with a simple printed cover, so this one certainly stands out with a beautiful pair of wings and fluffy tail. Just be sure to keep it snug in your bookshelf. It looks like it's prepared to hover away at any second if it's not secured!

12. Xweetok Wizard Beard
Every good wizard needs a nice long beard.
Release Date: December 1, 2009
You shall not pass! (/cough) Dress your Xweetok up as a wily wizard with this wizard beard! The description is spot on for this one; a good wizard definitely wouldn't be complete without the quintessential long grey beard. Contemplate new spells, or look extra wise while stroking your new facial hair, everyone is sure to be jealous of your Xweetok with this essential accessory. And don't worry! You'll be glad to know your beardly purchase won't even break the bank! So what are you waiting for?

13. Grooming Time Xweetok Toy
Have fun and help this Xweetok stay groomed with this toy!
Release Date: November 29, 2007
Now as you may already know, Xweetoks tend to be a little vain. It's a little point in their personality which must be forgiven. After all they were created to be so beautiful, who can blame the little creatures for appreciating their appearance? This means that if you own a Xweetok you must take very good care in grooming it, particularly of its beautiful fur. This item is perfect to teach a budding Xweetok the best ways to keep squeaky clean, and to give its fur the most splendour!

14. Purple Xweetok Hand Puppet
This cute hand puppet just wants a hug.
Release Date: November 29, 2007
We think everyone can relate to sock or hand puppets. This is pretty much the go-to for arts and crafts class! And even if you aren't into crafts or sock puppets, who can resist that adorable Purple Xweetok face? You can either keep your pet entertained with this new toy, or find your creative side and make up a new hand puppet play. Or just make a new addition to your wonderful Xweetok or toy gallery. It's up to you! No matter what you do, this hand puppet perfectly matches the cuteness of actual Xweetoks.

15. Extra Large Xweetok Sushi
This sushi roll is so large you only need one piece!
Release Date: November 29, 2007
The description might say we only need one piece, but we're sure anyone can shovel down a lot more than just one of this delicious looking sushi roll. Loaded with rice and fish and wrapped up in salty seaweed, this Xweetok shaped sushi is sure to be a hit with any seafood lover. It's also a healthy and filling alternative to the usual junk food we might enjoy! Whether you're watching what you eat, or just love sushi, this is a must-have for any Xweetok owner.
So many Xweetok items, so little time, so little neopoints. We hope you've come to love all these Xweetok items as much as we do, any maybe come to appreciate and understand Xweetoks as much as they deserve. To finish off this article we must just wish you and your lovely Xweetoks a wonderful Xweetok day! If you don't have a Xweetok, we hope you come to your senses and either adopt a beautiful Xweetok or create one to cherish for the rest of your time on Neopets.