Your Very Own Little Halloween JubJub

by dragonsflame_uk

--------

Pattern tested by hottendott

When you think of October, what comes to mind? Sweets? Count Von Roo? Maybe a few Zombie Krawks roaming around the Haunted Woods?

Well, what Halloween celebrations would be complete, without your very own mini Halloween JubJub container? Yes that's right - this cute little JubJub can actually hold all its own Trick-or-Treating goodies! Made in the perfect size to hold a few candy treats, you could use a larger crochet hook and two strands of DK (light worsted) wool, or even chunky wool, to make an even larger JubJub, if you think you might need a little more space for all those goodies!

To make this crochet plushie, you will need:

a 4mm crochet hook (US size G crochet hook)

knowledge of how to do the DC (double crochet) stitch (US single crochet - SC), and also the HTR (half treble) stitch (US half double crochet - HDC)

to know how to crochet a circle using the magic ring method (or you can just chain 4, join to make a ring, then crochet into that, but the magic ring method is neater)

DK (US light worsted) wool in the right colours (orange, green and black)

a sewing needle for the finishing touches
Abbreviations:
ch - chain
dc - Double Crochet (US Single Crochet)
2 dc in next st - two Double Crochet in the next stitch (increasing)
dc in bl - Double Crochet in the back loops only
htr - Half Treble (US Half Double Crochet)
sl st - slip stitch
Every piece is either crocheted in a spiral (so no need to join any rounds apart from the first), or crocheted flat in rows. If you're finding that you are getting in a mess with the number of stitches in each round, you could weave a piece of yarn across the start of each round (I used black as it stands out really well). If you are still having trouble, then crochet in both loops for the body instead of back loops only; you'll still end up with the same basic shape for the JubJub's body, but you will be missing the ridges that make the pumpkin segments.
Don't worry if you can't crochet, though - you could always pester a relation or friend to make one for you!
I think I've waffled on for long enough - if I don't get on and give you the pattern, a hoard of Halloween JubJub fans will be chasing after me!
Body - make one
Using orange, make a magic ring.
dc 6 into the ring and sl st to join (6 DC)
2 dc in each stitch (12 DC)
(dc, 2 dc in next st) repeat for one round (18 DC)
(dc, dc 2 dc in next st) repeat for one round (24 DC)
(dc, dc, dc, dc in bl), repeat for 6 rounds (24 DC)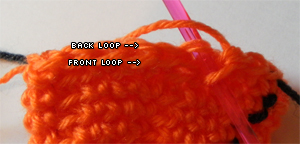 crocheting in the back loop helps to make the body look more pumpkin-like, but you could always crochet in both loops instead if you want to make the pattern a little easier
sl st to the start of the round
ch 1, htr in each stitch for one round (24 HTR)
sl st to the start of the round, and fasten off.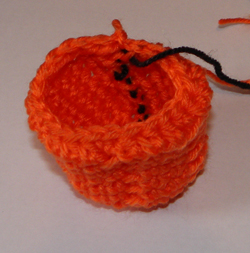 I used the black yarn as a marker for the end of each round
This next bit does seem a little strange, but it's worth doing, to make the lid fit better.
Fold over the htr round, and stitch around to secure it to the inside of the body. This helps to make the top of the body a little more stable and slightly stronger, so it can support the lid.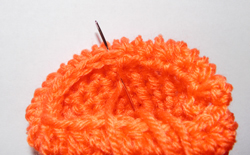 if you prefer, you could just leave out the half treble crochet round, and slip stitch around instead - that should still give a sturdy top to the body, without needing to stitch the htr round inside the body
Lid - make one
Of course no Halloween JubJub is complete without a lid, and as this JubJub will be a container, it will also help to conceal the treats you put inside!
Using orange, chain 6, and join with a sl st, to make a circle (6 DC)
2 dc in each stitch (12 DC)
(dc, 2 dc in next st) repeat for one round (18 DC)
(dc, dc, 2 dc in next st) repeat for one round (24 DC)
sl st into the first stitch of the round
ch 1, htr around for one round (24 HTR)
sl st to the start of the round, and fasten off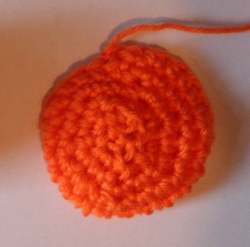 Weave in the yarn end.
Lid - stem - make one
This starts off a little fiddly, but it's worth persevering with! Join the green yarn to any one of the 6 stitches in the circle at the centre of the lid.
ch1, dc around, and join with a sl st (6 DC)
dc in each stitch for 2 more rounds (6 DC)
Now the stem needs to be closed off to make it look just right - after all, how many Halloween JubJubs have you seen, with a open-top cylinder for a stem?
Leaving a long tail to work with, cut the yarn.
Thread the yarn onto a sewing needle, and weave it through each of the 6 stitches. Pull to tighten, which closes off the top of the stem, and tie a knot to secure it.
Rather than having the yarn end on the top of the stem, I passed the needle down through the stem, and knotted the yarn into the lid, to make it neater.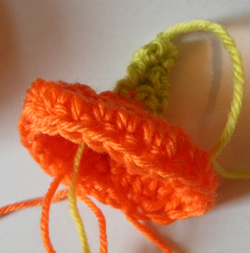 Feet - make two
These are crocheted flat, so each row has a turning chain (which doesn't count in the DC total).
Using orange yarn again, and leaving a reasonable tail, ch 3 (3)
turn, ch 1, dc, dc, dc (3 DC)
turn, ch 1, dc, 2dc in next st, dc (4 DC)
turn, ch 1, dc, 2 dc in next st, 2 dc in next st, dc (6 DC)
Fasten off leaving a reasonable tail length.
Thread the yarn onto a sewing needle, and weave it down to the chain row, so both tails are at the heel end of the foot.
To Make Up
Carefully align the feet, and stitch them to the body, using both tails of yarn, to ensure they are attached securely.
With black yarn, we now need to embroider the face onto our little JubJub, otherwise he just won't look right at all! A triangle makes the perfect mouth, and if you want to make him look a little scarier, you could always make his eyes a more angry shape, and add in some eyebrows.
Then place the lid on top, and there you have it - a little Halloween JubJub, with room to hold a few yummy Halloween goodies!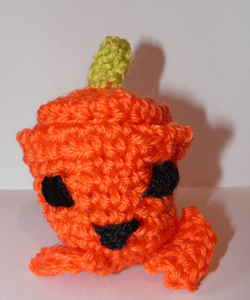 Optional changes
If you wanted to make a Halloween JubJub that was larger than this small one, you could use two strands of DK yarn with a 6mm or 8mm crochet hook, or chunky / super-chunky yarn with a 8mm or even a 10mm crochet hook. Because the JubJub doesn't have any stuffing, it doesn't matter if there's a few spaces between the stitches, so you can use a slightly larger crochet hook than normal, providing the spaces aren't so large that the candy falls out from inside!