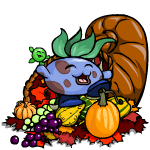 The Colors of Fall

by jhudora96

--------

Neopia in the Fall is one of the most beautiful times of the year. There are hundreds of pumpkin patches to explore and even its own Haunted Woods - a land dedicated to all spooky things that take place during the fall season, namely Halloween. Candy stores burst with all things rich and pumpkin flavored. Coffee cafes supply us with hot and frothy drinks to sip on while wandering in the cool weather. Venders begin to sell scarves and mittens for the months approaching.

But it's also the season of a new school year for our beloved Neopets, which means it's also when we start to hear them complaining about their drab, boring, old colors. Maybe it's the color change of all the leaves, the idea of a fresh school year, or some other Neopets they're hoping to impress in class - but whatever the reason, it always seems to be in the fall season when our Neopets ask for a new color.

So, for those who have decided that it is indeed time for their Neopets to get a makeover and want something that's going to go perfectly with the beautiful fall season and colors of harvests, pumpkins and leaves, this guide is for you! Here is a comprehensive list of lovely fall themed colors to consider and why it is that they are so fitting for the season!

HALLOWEEN

I know, I know, you're probably thinking that this pet color is the most obvious for fall. Most pets painted Halloween indeed turn into the terrifying monsters, vampires and ghouls you thought they would! Most even come with their own fantastic (a little too realistic...) outfits to match whichever grizzly creature they're portraying in the spirit of trick-or-treating. However, some of its creations are not as spooky as you may think. If you have a JubJub or a Kiko, this brush will turn your pet into fall's favorite vegetable - a pumpkin! Nothing screams (no pun intended) fall like the almighty pumpkin, used for jack-o-lanterns, pumpkin pie fillings and beautiful decorations. Even the color of a pumpkin reminds one of the changing leaves!

CHOCOLATE

But let's face it, only two pets have the option to turn into a pumpkin under the stroke of the Halloween paint brush, and not everyone wants to deck their Neopet out in a grizzly Halloween costume. So what about a color that will make any species of Neopet get into the fall spirit, you ask? Chocolate! There's nothing more heartwarming on a fall afternoon then curling up with some hot chocolate and other decadent sweets! The rich colors of the chocolatey brown will make your Neopet look ready for the change of season, and if you're lucky enough to have a Bruce, Bori, Kiko, Pteri or Uni, your pet will even get the hint of candy corn on their new coat of fur - one of Halloween's most delicious trick-or-treat snacks.

WOODLAND

Ah, woodland. Though this color works well in a variety of seasons, it's certainly still a fall favorite. With this color, your Neopet's fur will change to the luscious wood of a growing tree. Oh, and did I mention that they're start to spurt branches and leaves? What better way to watch all the leaves turn colors and signify the change of a new season than to watch it from your pet's head and hair?! While this color is still rather limited in terms of what species can be painted with it, any Neopet who can is sure to look absolutely charming.

ORANGE

Yes, Orange is certainly one of the more underrated colors due to its simplistic nature, but I assure you, it's a must-have for the fall. One stroke of an orange paint brush and your pet will fit right in - not only with the trees, pumpkins, decorations and candy - but Halloween itself! And sometimes a Neopet isn't looking for a complete transformation, like they would get with the Halloween paint brush, but just a little makeover to feel polished this season. This color is also ideal for those who love to customize, and those Neopets who loved to be customized. Match an Orange coat of paint with some fall finds at the NC Mall and your pet is sure to make a bold statement.

ELDERLY

Though Elderly may be the least obvious color of the fall season, I assure you it is one of the cutest. Paint your pet with the newly founded "Get Off My Lawn" brush, or get a lucky zap from the Laboratory Ray, and your pet won't just develop a love for knitting and baking - your pet will be decked out in the warmest, wooliest clothing any Neopet could dream of. Remember, the fall season can be a frightfully chilly one, and nothing will keep your Neopet more snug than a frumpy, lace button up sweater and a scarf. Elderly pets have also been known to make a mighty delicious hot chocolate and bake an exquisite pumpkin pie!

THE BONUS FALL LOOK

It would seem we have exhausted all of the colors a pet can be painted to look stylish and suitable this season, but did we exhaust all of our options? I don't think so. If you haven't heard about the wonders of a magical Chia pop, you're in for a treat. You see, Chias are a particularly lucky species in Neopia, as they have the ability to morph into a variety of fruits and vegetables - some of which include: asparagus, carrot, apple, orange, onion, pea and tomato! Sounds a little bit like a fall harvest, does it not? So if you're a Chia owner, be sure to keep a look out for those magical Chia pops, and should you find one and feed it to your pet, depending on its flavor it could turn into the most dashing fall-styled pet in all of Neopia.

Hopefully this little guide has given you some inspiration for the ways in which your Neopet can get painted and dressed up for fall! There are, of course, countless creative ways to deck out your Neopet appropriately and I am not here to suggest that any colors straying outside of this guide won't look dazzling this fall. After all, you know your Neopets best! Be sure to also check out the NC Mall for fall and Halloween inspired clothing and accessories that will serve as the perfect embellishments to complete your Neopets' looks. Thanks for reading!