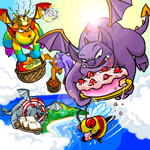 Skeith Day Surprises

by mreilynne

--------



With Skeith Day approaching, you may be wondering how you can celebrate with your beloved pet. Well, you can shower them with food (we all know how much they love to snack), presents and, of course, love! BUT there's one other thing you may not have thought about celebrating with: clothes. Believe it or not, Neopets has released a number of wearables specifically for Skeiths! Here is a list of delightfully tasty Skeith clothing you can use to make your pet feel special (and full) on their day!

1. Kitchen Skeith Mixer
How about spending some quality time in the kitchen with your Skeith? There's no better way to do so than by making some gooey chocolate chip cookies with your Kitchen Skeith Mixer. This handy tool looks great and is very useful. Also, if you're feeling extra generous, you can let your pet lick all the batter off (even though they probably will anyway). Just make sure they don't eat the metal part, that would NOT be good. This handheld item is reasonably priced at 7.5k.

2. Skeith Banana Purse
To treat your Skeith, you can take them shopping around Neopia, and let them carry this food-shaped purse around! You can even surprise them by packing some of their favorite foods inside! Not only will it remind them of their favorite hobby, it will also offer them a safe spot to store their scrumptious snacks. At a measly 1.3k, this is an inexpensive but thoughtful gift for your Skeith (food not included).

3. Skeith Bib
One way to make your Skeith feel loved on their special day is by preparing a giant buffet for them. However, once a Skeith gets in the kitchen, we all know what happens – a BIG mess. To keep things at least a LITTLE bit cleaner, you can give this to your pet before their big feast. It's well worth the 11k, especially because you can save yourself the trouble of having to give your pet a bath. Cleaning the kitchen will cause a big enough headache.

4. Skeith Cutlery
There is a large chance that your Skeith will not know what these foreign objects are, but you can change that. This cutlery set will make your pet feel sophisticated and help them learn some manners at the table, for once! If your pet decides not to use them for their intended purpose (as most Skeiths are too hungry to bother using utensils) these can also double as drumsticks or wall decor. These beauties cost about 18k. A little pricier, but oh so shiny!

5. Skeith Ice Cream Shorts
Even though it will look like your Skeith sat on some poor Neopet's ice cream cones, these shorts are a must have for any Skeith. Why is this? Um... because they're covered in FOOD, duh! Surprise your pet with these fabulous bottoms and, to be perfectly honest, they will probably eat them right on the spot. That's completely fine, though. They only cost about 4k!

6. Skeith Mountaineer Backpack
Think Skeith Banana Purse – but BIGGER. This bag comes already stuffed with food (ham, bread, carrots, potatoes – and all the good stuff) for your Skeith to gobble up, and is roomy enough to cram some more in. On their special day, take your Skeith out to explore Neopia and bring this backpack along. You probably won't make it very far, but you will have some lovely meals together. For 8k, you can get a fantastic gift, food included this time!

7. Skeith Notebook
After all of that eating, your Skeith will probably need to go on a diet. They can use this pretty journal to track the food they eat and make sure they're keeping it all in check! It even has a cute little... wait a second... WHO TOOK A BITE OUT OF THIS NOTEBOOK!? Ah well. Maybe by spending the 2k to get this notebook, you will be able to teach your pet some willpower. Fat chance. Hehe, get it?

8. Skeith Pineapple Hat
Ever seen those awesome hats filled with fruit? This hat is edible AND eccentric, something every Skeith will adore. Surprise your pet with this hat and a night of adventure on Mystery Island, and you won't regret it! Enjoy a walk on the beach, a Tombola attempt, and a visit to the Island Mystic. Neopets everywhere will marvel at this Skeith-only headgear. Since it only costs 3k, you won't mind if your Skeith asks to eat it when the night is over!

9. Skeith Strawberry Hair Pin
Every girl loves to dress up, and your Skeith will look mouth wateringly marvelous wearing this little hair pin. Pair this up with the Banana Purse, and your pet will be ready for the night of her life! Maybe it will even get her to eat some more fruit and stay away from that cookie dough. At 1.5k, this little accessory is a savory steal!

10. Kitchen Skeith Butter Bar
You can't forget about the best food ever: butter. This slippery stick serves no other purpose than to be devoured by your Skeith, and is the ultimate token of affection in any Skeith's eyes. Bestowing this glorious gift upon your pet will mark the end of a satisfying, food-filled Skeith day. It's only 4k, but the look on your Skeith's face when you give it to them will be priceless.
Every Skeith has a story, and you can celebrate your Skeith by giving them one of more of these amazing (and yummy) wearables. They will be ecstatic, and you will feel proud to be their owner! Remember to do other Skeith themed activities as well, such as hunting the "Feed Me" avatar, playing a couple rounds of Double or Nothing, attempting to tell old King Skarl a joke, and learning to draw a Skeith! No matter which clothing item you buy or adventure you go on, your pet will love you for showing them just how important they are to you. Happy Skeith Day, everyone!