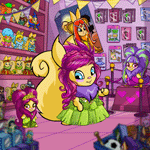 Usuki Style: A Customisation Guide

by coco_bella

--------

Also written by emziie

With the approaching arrival of the Annual Usuki Doll Convention, it is important for Usuki fans to know how they will style themselves for this year's Usukicon. Whether a veteran fan or a newcomer, every Usuki fan wants to look as stylish and beautiful as their favorite dolls.

However, it can be hard trying to decide how you'll dress for Usukicon. If you're feeling stressed and finding yourself out of ideas for what to wear this year, then this guide is for you! We are Anna and Emma, two experienced and self-proclaimed customisation addicts who are here to help you out.

Our guide features two different looks that have been based on two different dolls and created for different pet personalities. Whether your pet is dainty and feminine or regal and vibrant, they will be able to find something to inspire their outfit for this year's Usukicon.

PRISSY MISS USUKI

Prissy Miss Usuki Collector Dress - The Prissy Miss Usuki Collector Dress is a beautiful and feminine dress that features a unique colour palette, heart details throughout the design, and an elegant pink bow to tie off the outfit. Another delightful element of this dress? It is a long-term buyable item at the NC Mall, making it easy to acquire if you're in a rush to get dressed for the Usukicon! Because this frock is so exquisite and features several different details, it is best to customise this dress with simple items that help spotlight and highlight the complexities of this dress.

Tower Princess Wig - Similar to the Prissy Miss Usuki Collector Dress, the Tower Princess Wig is a perfectly feminine piece that adds colour and elegance to any outfit. Not only does it capture the elegant and feminine nature of the Prissy Miss Usuki Collector Dress, this wig also contains the same shades of blue, pinks and yellows that are found in the frock. In addition, this wig is also a buyable and simple enough that it can be paired with the dress and not overwhelm it or detract attention from its charm and beauty.

Nutcracker Face Paint - The Nutcracker Face Paint is a popular item that adds colour and grace to the face of any neopet wearing it. While I recommend this item because it adds a doll-like appearance (making it perfect for dressing like an Usuki!), it tends to be expensive and hard for NC traders to track down. Because of this, the Nutcracker Face Paint can be replaced with the Rosy Cheeks Face Paint (another NC Mall buyable) for a somewhat-similar effect. Whichever you choose, I strongly recommend investing in either face paint; their usefulness far outweighs their costs, and they will both be a permanent feature in my own pet's closet.

Usukicon Y9 Attendee Badge - Every Usukicon veteran knows that one of the best ways to show off your Usuki fandom is to sport an old- I mean, "vintage"- Attendee Badge. Not only does the Usukicon Y9 Attendee Badge show off your veteran status, but it features the soft pink and yellow colours found in the Prissy Miss Usuki Collectors Dress, as well. Needless to say, this is the perfect accessory for any Prissy Miss Usuki fan.

Usuki Dream Castle Background - Every great look needs a fabulous setting, and the Usuki Dream Castle Background is such a setting. Featuring a beautiful purple castle and lush greenery, this background will make your pet feel like royalty. While the colours do not explicitly match up with those featured on the Prissy Miss Usuki Dress, with the addition of our next item- the Delightful Flowering Vines- the entire look is seamless.

Delightful Flowering Vines - The final item to complete the Prissy Miss Usuki look is the Delightful Flowering Vines. This item features lush, twisting vines and the addition of whimsical, and colourful, flowers in a variety of colours. Every colour in the entire look- from the soft pinks and yellows on the dress to the vibrant greens and purples in the background- can be found throughout these vines, making it the perfect final addition to tie this look together with grace, elegance and- most importantly- prissy perfection.
COLLECTORS EDITION USUKI

Collectors Edition Usuki Doll - The Collectors Edition Usuki Doll is surely the most captivating Usuki doll ever released and- as a collectible- it is a must-have for any Usuki enthusiast. This delightful doll was released in the Usukicon Y11 gift bags and is therefore a brilliant starting point for this collectors themed Usuki customisation, costing around 550,000nps and being available to those who can't access NC. The most prominent feature of the Collectors Edition Usuki Doll is her bright pink updo, which contrasts against her lime green dress- both of which are the inspiration and center of this entire look.

Usukicon Y11 Background - What better background to choose than one which houses all the collectible dolls your heart could ever desire? This background also features the Soft Magical Hair Usuki, the face of the yearly Usukicon event, who possesses the same bright pink and lime green colours worn by the Collectors Edition Usuki Doll. The Usukicon Y11 Background adds a splash of other colours to the customisation and, having also been released in the Usukicon Y11 gifts bags, is another perfect NP item that all Neopians can get their hands on.

Braided Pink Warrior Wig - The Braided Pink Warrior Wig perfectly matches the colour of the Collectors Edition Usuki Doll's hair. It's a slightly different hairstyle, but your pet wouldn't want to be seen out in public with exactly the same updo now, would they? My favourite thing about this quirky styled wig is that it fits most neopet species perfectly, so it's an item you can use with any one of your pets and is a necessity for your closet.

Charming Corn Husk Dress - In keeping with the pink and green theme, the Charming Corn Husk Dress is a simple design which does not detract attention from the wig, but fits perfectly with it to compliment the whole outfit. This dress can be found in most NC trader's closets, so you may have to pry this beautiful dress away from someone, which means it isn't the easiest of items to get at short notice. However, this dress is an absolute must-have for my Collectors Edition Usuki customisation, as it is the only dress with the perfect colour and simplicity to match the Collectors Edition Usuki Doll.

Elegant Gold Necklace - To finish this customisation off is the exquisite, yet understated, Elegant Gold Necklace. It is available in the NC mall at a mere 100NC, which means you can use that little bit of leftover NC that has been sitting there for too long. Having said that, it is an item that you have likely received from opening a capsule at some point, so it might already be sitting in your SDB or closet somewhere. The Elegant Gold Necklace adds a final feminine touch to the overall look, and a little bit of glitz to spruce things up. After all, the best thing about Usukicon is competing to be the prettiest doll around, isn't it?
Whether you choose to go with one look, the other, or just use elements from both, we sincerely hope that we have helped you and your pet decide on their stylish outfit for this year's Usukicon. After all- something as stylish as an Usuki deserves only the most fashionable turnout.