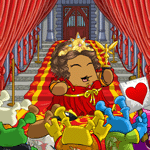 How to be a Customisation Spotlight Winner

by martia_elior

--------

Also by amarillida

Have you always looked at this spiffy, shining star trophy but you've never managed to get it for any of your pets? As we won the Customisation Spotlight with some pets of ours, we decided to collect some useful tips to help you win at least once!

First of all, let's have a brief overview of this contest. It begins every Monday and you're able to enter every pet of yours, even the ones you have on side accounts. Pets need to wear at least four items in order to get into it. Winners of the previous week are announced every Monday around 12 pm NST; there are three neopoint only customised winners and three with a mix of neopoint and Neocash items ones.

Neopoints vs Neocash

Whether Neocash actually gives you a huge variety among the items you can choose from, it seems to be really difficult to win in this category mostly because there are a ton of nice entries every week. Just to say it, out of martia_elior's ten wins, only three of them were NC based ones and they were totally unexpected.

Neopoint-based outfits are more limited because many wearables are very pricey and/or only species-specific ones. There is a handful of inexpensive multispecies stuff you can work with, but it can be quite challenging to come out with a great customisation without adding some NC items in order to replace the neopoint ones that are out of the pocket range for the majority.

However it seems that TNT is working on adding new items every week in order to expand the choice range, fortunately! So it's always better to keep an eye out for the latest news and events on the site.

Choose your theme

Once you decided if you feel quite comfortable in submitting a neopoints-only entry, or you prefer adding some Neocash items to your outfit, you have to choose a theme for your customisation. You can start from a specific item you fell in love with and see which pet of yours wears it the best. Please note that every neopet has their peculiarities; four-legged pets wear hand items like if they were trinkets, some species have a very short neck or fur around it, so some dresses on them look very odd. JubJub and Kikos wear clothes in a very particular way. Mutant, baby and Maraquan pets have quite a limited clothes choice.

Did you decide the theme you want to work with? Great! Now you have to dig into your closet to find all the theme-related items you have. Another very helpful way is using Sunnyneo, Jellyneo or Dress To Impress dressing tools, so you can also play with items you don't have yet and decide if you need to buy them for the outfit you're working on.

Pleasant customisation themes are the classic, seasonal and event-related ones. You noticed for sure that, since the start of the Obelisk War, many battle- and faction-related outfits won. During the Altador Cup, a couple AC-related dressed pets were chosen among the best ones as well. So, being updated on the latest site events gives you more chances to win.

Colour Scheme

Choosing the right colour scheme is actually important. The best combinations are based on the use of two or three different colours only. The complementary ones (reds/pinks and greens, yellows and purples, blues and oranges/browns) work really well together, for example. Otherwise, you can choose a single colour and use many different shades of it.

In addition, your pet colour is essential as well. Neutral hues – like white, black or very dark blue, different shades of grey or brown – are easier to customise than pinks, purples, reds and so on. If you choose to enter a pet with a bright, flashy colour, then the best thing you can do is using the same shade for the background or a foreground item.

Checking among lots of old winners of the Customisation Spotlight, we noticed that there are some really frequently used items.

Neopoint Items Commonly Used

Shrubbery

This adorable foreground is cheap and really versatile. You can use the Shrubbery for almost every nature-, adventurous- themed customisations. It is extremely easy to match with a lot of backgrounds, clothes and accessories due its subtle colours. At around 2,500 NP at a piece, we think that Shrubbery is a cheap must to have item!

Friendly Glowing Lantern

You can obtain this lovely lantern simply returning the Dim Lantern to Lampwyck's Lights Fantastic located in Moltara, or buying it in users shops for around 500 NP a piece. The Friendly Glowing Lantern is the perfect trinket for your spooky- adventurous-related customisations. It emits a soft light that recreates an incredible intriguing atmosphere.

Cover Of Darkness

This foreground was awarded during the 2010 Games Master Challenge. If you missed the event you can buy the Cover of Darkness at the Trading Post for around 350,000 neopoints. Yes, it is a bit expensive but this great foreground item is actually essential for every Neopet who wants to keep an aura of mystery!

Neocash Items Commonly Used

Sun Shower

You can buy this lovely shower in the NC Mall for 150 NC. This higher foreground is the best-able item for every en plein air-themed customisation. It can also help creating some atmosphere if used together with a dark, mystic background.

Glowing Handheld Candle

This amazing candle is one of the most popular retired items. It's not only a right hand item, but also a foreground, as it creates some darkness around the pet holding it. The Glowing Handheld Candle adds a mysterious touch that goes perfectly with spooky outfits and it is suitable both for female and male pets.

Shining Star Staff

This pretty staff was one of two limited edition bonus items of the Spinning Star Mystery Capsule, which is no longer available at the NC Mall. The Shining Star Staff is very well detailed and graceful. In addition, it is one of the few handheld items that is really pleasant both for four- and two- legged Neopets.

We also thought of a short list of both neopoint and neocash items which are easy to find and can add that kind of touch that can make the difference.

Neopoint Items We Recommend

Beautiful Columns Foreground

At around 40,000 neopoints each, you can buy this really girly and lovely foreground. It is perfect for your enchanted- and Spring-themed customisations. The Beautiful Columns Foreground is the right item to create a delicate frame around your Neopet.

Snow Laden Foreground

This really cheap foreground goes for 2,250 neopoints a piece and it is almost essential for every Winter-themed outfits. It matches perfectly with all the snowy backgrounds and it makes your customisation meaningful without overloading it.

Hardy Blue Trousers

This simple pair of trousers is both for female and male pets; they are a great investment because they look really pretty on almost every species! Spending only around 10,000 neopoints a pair, you can buy a perfect wearable item for Neopets who love handy, comfortable but still fashionable clothes!

Neocash Items We Recommend

Dazzling Cave Lights

This NC Mall item was released during the 2012 Festival of Neggs. It is quite popular because it gives an elegant, mystical touch to your Neopet. This background item is really versatile; in fact you can use it for magical-themed customisations or simply to enlighten your outfit.

Skeletal Face Paint

If you are a spooky-themed customisations fan, you can't live without this great make-up! It gives to your Neopet a really scary look and it is also perfect for every tribal-related outfit. The Skeletal Face Paint was a bit hard to find but fortunately was recently rereleased during the Altador Cup VIII event.

Enchanted Woods Background

Old but gold! This background has been sitting in the NC Mall for a very long time and it doesn't seem is going to retire soon. For 200 NC each, it can easily be used for many different outfits, like if you want your pet to be an archer, a naturalist, a walker, a valiant knight or a shy princess. Your pet will surely enjoy to be surrounded by all the greenery and protected by the sun rays thanks to its thick leafy branches!

Conclusions

If you want to win this shiny trophy, you surely need a bit of luck, a lot of creativity and, above all, a firm determination.

Don't lose heart if you don't win the first time you entered the spotlight; just keep trying!

Every attempt of yours to make your customisations more unique and graceful as possible certainly helps.

We proposed only a few tricks and suggestions to you in this article, but the victory entirely depends on you and your ability to create inventive outfits... you have to stun the voters!

We hope you enjoyed reading our article and we wish you the best of luck!