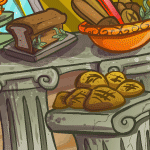 The 11 Most Delectable Altadorian Delights

by pizzanoodles2

--------



Ever wandered through Exquisite Ambrosia in Altador and been overwhelmed by all of the amazing aromas? This is one of my favorite shops in Neopia, but I find that many Neopians are unaware of this hidden Altadorian gem! In honor of the upcoming transition from summer to fall, a time that always reminds me of the warmth and glow of Altador, I am going to make you aware of the most 12 mouthwatering treats in Neopia – all available at Exquisite Ambrosia (located in southwestern Altador)!

1. Altador Dog
Hubert in Neopia Central may pride himself on selling the best hot dogs in the land, but you haven't had a real hot dog until you have *the* Altador Dog – yes, the only hot dog served in this city! Featuring ketchup made from the freshest and juiciest Altador tomatoes, as well as the most delicious spicy mustard and sweet pickle relish, this hot dog contains THE WORKS! So satisfying, and served on the most adorable Altador-style napkin... what's not to love?

2. Altadorian Ambrosia
What a delight! Now this little dessert – yes, it is "the greatest dish Altador has to offer" – is in fact what this shop is named for! Neopians travel all the way from Terror Mountain just to taste one of these. No one knows exactly what is in this – since a selected few Altadorian chefs have sworn to keep the recipe a secret until they pass it down to their grandchildren – it is sweet, creamy, and makes you feel like you are sitting on one of the clouds that floats gently above Altador. Topped with deliciously tart berries, this ambrosia is the perfect dessert to satisfy even the biggest sweet tooth!

3. Artichoke and Feta Pie
This dish is a bit pricy – it restocks in Exquisite Ambrosia for just over 7,000 neopoints, but other Neopians generally sell it for over 100,000, due to it being a gourmet food – but it is worth every neopoint! Even the toughest Neopian food critics cannot resist a bite of this flaky yet crusty savory pie. It is great as a meal, since it contains strongly the flavored and protein packed feta cheese, as well as the smooth and buttery texture of an artichoke. This pie is exceptional, and great for the vegetarian Neopians to enjoy.

4. Baklava
This is another great dessert – a classic of the Altadorian region. Comprised of a flaky and sweet crust, filled with delicious chopped nuts, and flavored with the sweetest honey, Baklava is sure to be a crowd pleaser. If you have a party to attend, be sure to bring some Baklava – you and your dessert will be huge hits! Served best room temperature or cold and with some tea or coffee on the side, this is a scrumptious but very rich treat, so make sure to consume it sparingly!!!

5. Cheese Stuffed Olives
Mmm... my mouth waters just thinking about these tasty appetizers. Tangy green olives filled with cheese, then heated up so the cheese beings to melt?! Who thought up such a simple yet lip-smacking plate? The somewhat tart flavor of the olives contrasts well with the creamy, slightly spicy taste of the fresh Altadorian cheese filling. If you are planning on taking your pets out to dinner in Altador, do not hesitate with ordering this as a starter before your meal! You will be so glad you did.

6. Doric Soup
No one – not even the top chefs in Shenkuu or Mystery Island – can quite figure out what is in Altador's Doric Soup. Countless chefs have attempted to replicate its flavor and failed. Another well kept secret and Altadorian treasure, Doric Soup is a favorite of Altador's natives. If you are invited into an Altadorian home on a cold day, they will be sure to serve you a piping hot bowl of this soup. Though it is not necessarily my absolute favorite (it really is an acquired taste), those with very refined palates are sure to enjoy this unique and frothy soup! In addition, it's purple in color... how on Neopia did that happen?

7. Fig Ice Cream
When my Neopians crave ice cream on a hot summer day, we sometimes travel all the way to Altador just to grab a bowl of this sweet and incredibly refreshing frozen treat. It is yet another secret recipe – what is it with Altador and all its secrets? – so you can only find this delicacy in Alttador. The flavor of the fig is, unexpectedly, ice cream's match made in heaven (or, rather, Altador). The Altadorian chefs have done it again with Fig Ice Cream... they sure know how to please everybody's taste buds!

8. Lemon Sun Cake
Have a birthday or graduation coming up? Or maybe you just want some cake? That's totally understandable, too. Exquisite Ambrosia is your one stop shop for delicious cakes. The fruit cake is also available, but in my opinion, the Lemon Sun Cake is irresistible. This delightful pastry is layered with mousse and cake... and it is quite beautiful! It is perfect for summertime with its vibrant yellow color, intricate sun decoration, and citrusy flavor. Go pick one up while they are still in season!

9. Nectar of the Heroes
"The drink said to be a favourite of the 12 Heroes." As if that isn't enough, this amazingly frothy pink liquid is sweet, somewhat bubbly, and flavored with many Altadorian fruits. Amazingly, it goes swimmingly with any meal, or can just be sipped alone at any time of day. It can be enjoyed in the summer or winter, and is loved by children and adults alike. It is a great and even healthy alternative to sugary sodas and juices. Made completely with real fruit juices, you can get your daily fill of vitamins and minerals just from one glass of this!

10. Spaghetti With Altadorian Sauce
You have definitely had spaghetti before, but I can guarantee you haven't tried anything quite like Altadorian sauce. It is pretty cheap, and a wonderful dinner option. The sauce is complete with tomatoes and many other delightful vegetables and herbs, and topped with bright spices. It's incredibily flavorful... I could drink just a cup of this sauce alone! Actually, I recommend you ask for a few cups of this sauce to bring home!

11. Whole Wheat Sun Pancakes
By far the most incredible breakfast available in Altador! Shaped like beautiful suns and made with much healthier and wholesome whole wheat flour, these sun pancakes go great with any topping: mixed berries, syrup, honey, jam... you name it! Slightly sweet and very filling, these pancakes are a wonderful way to start off your mornings.
Although these are some of the most popular and delicious foods in Altador, you really cannot go wrong with anything you choose at Exquisite Ambrosia! I urge you to visit as soon as possible, since the Altadorians love showing other Neopians just how delicious their cuisine can be.