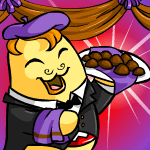 Neopia's 12 Most Decadent Desserts

by turtling

--------

When you hear the word "decadent", what foods come to mind? Silky milk chocolate that quite literally melts in your mouth? Rich, velvety cake that your fork effortlessly glides into? In the world of Neopia, each culture offers its own local cuisine. This provides for a range of delicious, guilt-inducing treats that no one, I repeat, no one, can resist. As an aspiring food writer, I have eaten my way through the lands in search of the perfect sweet treat. From the busy little igloos of Terror Mountain to the exotic sea caverns of Maraqua, I present you with Neopia's twelve most decadent desserts. Of course, you may have to stop by Uni's Clothing to buy looser-fitting pants for yourself and your Neopet, but I hope that you will accept this invitation to splurge.

12.

Aisha Chocolate Cheesecake
A creamy chocolate cheesecake that will just melt in your Aishas mouth.
Don't let the name or description of this dessert mislead you. You most certainly do not have to be an Aisha in order to indulge in this treat. The chocolate cheesecake, found in Neopia Central's Food Shop, is perfectly sweet and baked to a smooth consistency. On top of the cake and in between each layer of chocolate is a silky, slightly tangy layer of cream cheese frosting. The cake also features a buttery, flaky crust that is neither too dense nor too chewy. You won't be able to have just one slice!
11.

Pomegranate Cupcake
Lashings of Pomegranate juice have been blended into the muffin mix for a truly distinctive flavour.
This dessert is baked in the ovens of the Bakery in the Neopian Bazaar. The flavor of the cake is sweet, tart, and unmistakably pomegranate-y! First you taste the sweet pomegranate glaze on top, then the moist blend of pomegranate and vanilla cake underneath. Hey, this counts as a serving of fruit, right?
10.

Skeith Ice Cream Cake
Its a big cake but a Skeith can eat it whole in one bite!
This cake is perfect for a large family gathering, or maybe just one very hungry Neopet. You may purchase it at the Super Happy Icy Fun Snow Shop in Terror Mountain, which specializes in delicious ice cream treats. The cake consists of layers of creamy vanilla ice cream and smooth vanilla cake, garnished with a pawful of sweet cherries. Cool off on a hot summer's day with this cold dessert.
9.

Coconut Custard Pie
A delicious custard pie with a distinct coconut flavour.
Who knew that Neovians, who live in such close proximity to the Haunted Woods, would be capable of baking such fine treats? This pie, baked by The Crumpetmonger, does not disappoint. Coconut shavings highlight the sweet nutty taste, while the rich custard filling of the pie provides an unbeatable creamy texture. The flaky crust is the perfect finish to this pastry.
8.

Queela Torte
A double layered sponge cake with Queela-flavoured frosting.
Most Neopians have no idea what Queela is, let alone what it tastes like. Queela is a spicy fruit native to Qasala, which is where this dessert comes from. The frosting consists of buttercream and Queela extract, creating a harmonious blend of flavors. The spiciness of the fruit acts as the perfect complement to the sweet, subtle flavor of the vanilla sponge cake. This exotic treat is perfect for the more adventurous Neopians out there.
7.

Triple Chocolate Shell
Milk, white and dark chocolate are elegantly blended together to make this distinctive dessert.
Three varieties of chocolate create a playful and decadent Maraquan dessert. You may find this treat at Kelp, the fanciest and most exclusive restaurant in Neopia. Two sticks of chocolate provide a crunchy element that contrasts with the smooth, velvety texture of the chocolate mousse inside the shell. The chocolate shell itself is rich and bold with flavor.
6.

Lenny Day Strawberry Cheesecake
The only strawberry cheesecake with three whole layers of cheesecake!
If only every day was Lenny Day. Still, you can celebrate on any ordinary day with this dessert! . The silky layers of cheesecake filling are the perfect balance of sweet and tangy. Red strawberry glaze oozes down the sides of the cake, creating even more flavor. Whipped cream and a fresh strawberry on top perfects this dish.
5.

Faerie Apple Pie
This pie is so full of filling the crust cant keep it in.
Faerieland is well-known for its extraordinary cuisine and delectable baked goods. This wholesome apple pie is no exception. The filling consists of sweet, freshly-picked apples, baked in an airy, buttery-brown crust. The wings you see are simply decorative, but as they are made of sugar, you may eat those as well!
4.

Strawberry Mince Pie
The delicious taste of Strawberry inside crispy puff pastry.
This is a classic pie done right. Found in the Neopia Central's Bakery, this dessert is quite literally bursting with succulent strawberry flavor. The filling is made up of fresh strawberries and a sweet strawberry compote. The pastry itself is crisp but not too crunchy or dense. Serve this dessert warm with whipped cream and maybe even a scoop of vanilla ice cream.
3.

Gnorbu Chocolate Pudding
Mmmm... chocolate pudding. The perfect treat for any Gnorbu!
Any fan of chocolate pudding will adore this decadent dessert from the Food Shop. Spoonfuls of the impossibly smooth milk chocolate will leave you speechless after every bite. This dessert captures the very essence of chocolate, which may be the most decadent ingredient in the culinary world.
2.

Coconut Tonu Cake
This carrot cake was smothered with coconut icing and then someone drew a Tonu face on the top.
Freshly-grated carrots and spices have been blended into cake mix to make this dessert. The Kacheek baker at Neopia Central's bakery has taken exceptional care to frost this cake. Cream cheese and coconut have been whipped together and piped on, but it is unclear whether the baker purposely drew on a Tonu face or if there is another culprit.
1.

Chocolate Cake
Mmmmmm, chocolate cake. Don't eat too much!
Ah, yes, the classic slice of chocolate cake. I deem this little sliver of pure chocolate bliss to be the most decadent treat you can find in all of Neopia. Found at the Food Shop, this cake is moist, velvety, and achieves maximum chocolate flavor. It is sweet, but not too sweet, and rich, but not too rich. It is the perfect treat for any celebration or the perfect indulgence for any bad day when you need to, ahem, eat your feelings.