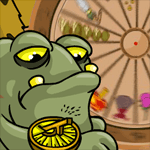 Avatar Tedium and What To Do About It

by ohforamuseoffire

--------

For many Neopians, avatar collecting is more than just a hobby- it's an obsession. Millions of neopoints, countless hours, and a worn-out keyboard are all invested for the sake of accumulating little 50x50 squares. In general, the quest towards an avatar is an enjoyable experience that allows an individual to set personal goals and gain valuable gaming skills. There are a few of these precious squares, however, that are of a very different sort.

I call them the Tediums. They are the avatars that require so much waiting, repetition, and/or refreshing that they simply must have been invented by Dr. Sloth himself. In the quest to obtain them, a Neopian is susceptible to headaches, fatigue, and floppy tongue. The risks are so severe that some simply give up, unable to face the mind-numbing curse that is Avatar Tedium.

Fortunately, there are some useful tactics that can be used to make obtaining these avatars a tad more enjoyable. For a long time these secrets have been locked away, unavailable to Neopian eyes and ears- until now. I will list here some of the most maddening Tediums, and the ways in which you can transform them into Tolerables, or maybe even Terrifics.

Lever of Doom
Pull the Lever Anyway. Oh no!! An evil mechanical hand emerges from a panel and steals 100 Neopoints from you!! Pull the Lever Anyway. Oh no!! An evil mechanical hand emerges from a panel and steals 100 Neopoints from you!! Pull the Lever Anyway. Oh no!! An evil...
And so on and so forth. Again and again and again and again, until you feel that both your patience and your bank account are about to bust. How could anyone cope with such repetition? With such constant disappointment? I'll tell you how- by Doom Dancing.
No, I'm serious. Doom Dancing. The first time the Lever of Doom steals your hard earned neopoints, do a tiny little jig. And then the next time, do a little bit more of a jig. With each rejection, slowly make your dancing a tiny bit faster, energetic, and crazy. Soon, your Doom Dancing will be shaking the floor, you'll be giggling at your own ridiculous actions, and all of your frustrations at this insufferable lever will be channeled out through your two left feet. When you finally obtain the avatar, you will be so full of energy that the victory will feel all the more exciting.
*Disclaimer: This article is not responsible for outbreaks of Bloaty Feet.

Blumaroo Court Jester
In this case, the tediousness of the avatar doesn't come from something that is read over and over again. Instead, the tedium comes from something that is recited, twice a day, every day, until finally the cursed King Skarl grants the Blumaroo Court Jester avatar. While the first attempt may not seem all that bad, nor will it feel like it's taking too long, soon the required daily routine will become quite painful. It's always the same thing, without much cooperation from the grumpy old king:
What do you do if *Leave blank* fierce Peophins *Leave blank* has eaten too much *Leave blank* tin of olives? (x2).
Wait 24 hours and repeat.
Daily rejection is not naturally something that is fun or entertaining, which is why you must actively insert the fun yourself. How? Why, through Ad-Lib Antics of course!
Ad-Lib Antics refers to the method of screaming the necessary joke at the top of your lungs while inserting something preposterous into the blanks. Here are just some examples:
WHAT DO YOU DO IF *EXTREMELY GOOEY* FIERCE PEOPHINS *WITH MARMALADE COVERED SOCKS* HAS EATEN TOO MUCH *SUSPICIOUSLY EXPIRED* TIN OF OLIVES?
WHAT DO YOU DO IF *VEGETABLE OBSESSED* FIERCE PEOPHINS *WHO ARE SECRETLY PLOTTING THE DEMISE OF ALL ASPARAGUS * HAS EATEN TOO MUCH *LETTUCE FLAVORED* TIN OF OLIVES?
WHAT DO YOU DO IF *STRINGY SPAGETTI IS ALL OVER YOUR NEOHOME AS A RESULT OF MEEPIT ASSOCIATED CONSPIRACIES INVOLVING* FIERCE PEOPHINS.....
I think you get the idea. You can fill in the *Leave blank* spaces with any random thought that pops into your head, hopefully amusing not only King Skarl, but also yourself. Not to mention, the screaming will probably bring about really hilarious looks from the members of Skarl's court.

Wheel of Monotony
And finally, the most tragic Tedium of all- the Wheel of Monotony. This avatar is so blatantly boring that it's very name warns of its dull nature. It is likely the number one cause of NeoBlues, Neomania, Achy Head, and Lumps. The worst part of its dreadful tedium is the sheer number of times one may have to spin the Wheel of Monotony in order to finally obtain it. How could anyone get through it again and again? It seems impossible, and it would be if it were not for a little trick I like to call Stopwatch Scribbling.
To participate in Stopwatch Scribbling you will first need some kind of time alarm, be it a watch, a clock, or a very time-obsessed Pteri. You must then set this alarm to go off every three minutes. Next, obtain a paper and some form of writing utensil. Finally, you will be ready to begin this exciting activity.
Every time your alarm sounds, look up at the wheel and see what the hand is pointing to at that very moment. Say, for example, that as you are looking it passes over the image of an erupting volcano. Use this prompt as a starting point for a story, and write about an erupting volcano as fast as you can for three minutes.
Once your alarm goes off again, look back up to see where the wheel's hand is resting now. Then, continue your story in a way that somehow incorporates this second image. If you keep doing this until the wheel finally stops, you will soon have a very random and spontaneous story in your hands, that could possibly include a brown Mazzew who finds a blank parchment that turns her into a golden lottery ticket, or some just as convoluted.
Not only is Stopwatch Scribbling a silly and amusing way to pass the time, but it's also a fantastic way to get your creative juices flowing. Who knows, you may just cure your Avatar Tedium while simultaneously finding inspiration for a future Neopian Times story!
Conclusion:
As you can see, the drab experience of Avatar Tedium is not incurable. With a little rhythm and creativity, you can obtain those humdrum avatars without falling asleep or drowning in frustration, and you can even have fun while doing it. My hope is that by providing you with these secrets, you can ensure that you never suffer from Avatar Tedium again.
Happy Collecting!