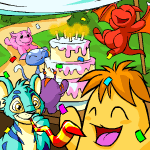 Pet Day Delights

by brittboo_x

--------

Celebratory pet days are great, aren't they? The species in the spotlight is gifted with new colors to try out, clothes to wear, and food to eat, as well as free training! But what most owners don't realize is that species-specific food should be eaten year-round!

Species-specific foods, or SSFs, are designed to be delicious and healthy for your pet – but can be eaten by most pets. Keep in mind that certain species have food allergies, so always be cautious when feeding them other species' dishes! The four Neopet species with known allergies are Skeiths, Tonu, Kyrii, and Quiggles.

To make life easier for you, I've searched Neopia for the finest SSFs, as well as the ones that have fallen short, to provide your pet with the finest meal! Feel free to scroll down to the desired species, as they are in alphabetical order.

Acara

This species truly enjoys foods inspired by the shoreline. They typically live on the coasts, where they hunt for treasure. So why not treat your pet to the delicious Acara Cold Summer Noodle Salad? It features delicious, cold noodles in a delectable sauce, served in an Acara-shaped bowl and fancy wooden chopsticks. Be sure to finish off this summertime meal with the Acara Ice Cream Surprise, and wash it down with the refreshing Blue Acara Water Pitcher!

Aisha

Aishas are known for their supreme magical abilities, so their food is designed to heighten their senses and maintain their magic! Who knew? There are a lot of Aisha-inspired foods to choose from, but the most delicious dish would be the Aisha Mega Burger (easily substituted for the smaller Aisha Burger). It has a delicious burger patty, fluffy white bun, and features freshly sliced tomatoes and lettuce, plus a choice of condiments, all to treat your pet like royalty! The bun features Aisha-inspired eyes and ears as well! For dessert, taste the mouthwatering Fruity Aisha Sundae, featuring banana and strawberry ice cream flavors served in an orange Aisha bowl! To drink, try some Baby Aisha Bubble Gum Juice Drink, which has real bubblegum flavor and gives you real gumballs at the bottom!

Blumaroo

This species lives in tropical climates and travel by hopping on their tails. Their foods are designed to maintain their water levels, even in sweltering heat, and to maintain tail performance. My Blumaroo, Ms_Bubblepants, highly recommends the Blumaroo Burrito, which is great for vegetarian pets because it uses no meat. Instead, it contains beans and a variety of fresh vegetables. She says, "My favorite Blumaroo dessert is the really rare Pink Blumaroo Milk and Cookies, which doubles as a drink!"

Bori

Bori are famous because of their large claws, which aid them in digging to their underground homes. They need food to keep them warm and give them plenty of energy to dig! Unfortunately for this species, choices are few. But they are delicious choices nonetheless – the Bori Veggie Special features fresh cut veggies and creamy cottage cheese. Drink some Bubbling Bori Beverage for some effervescent deliciousness. Its berry flavor is loved by all Bori! For dessert, you can dine on the Bori Bowl of Fruit, which features a faux Bori shell full of fruits such as apples, grapes, bananas, and more!

Bruce

Living in the arctic weather of Terror Mountain can be hazardous to any pet's health! Luckily the Bruce species eats a diet great for maintaining the immune system and energy which they use towards dancing and skating around Happy Valley. My Bruce, Ms_Chilly_Marie, before turned into a baby, was always fond of the Island Bruce Mashed Potatoes which are said to be creamy and adorable! Sip on the Bruce Holiday Drink, which features a Bruce bendy straw and tastes like blue raspberries. The dessert she loves, even to this day, is the "Box of Orange Bruce Cookies, because they're yummy and are Bruces like me!"

Buzz

These guys love their fruits and veggies! It's no wonder that one of their SSFs is Buzz Bread Salad. What Buzz could resist some delicious leafy salad in a bread bowl shaped like their tail? Nobody! Not to mention, you could enjoy your salad with the raspberry-flavored Red Buzz Energy Drink, which will provide them a super boost of energy for their day! For dessert, chow down on a Honey Topped Buzz Sundae, which is also raspberry flavored. Yum!

Chia

These notoriously cheery guys are known to look like fruits and vegetables from time to time, but they aren't always vegetarians themselves! Meaty Chia Soup is a meal craved by many Chias because of the flavorful broth and Chia-shaped meat pieces. Surprisingly, this popular pet hasn't acquired a species-specific beverage yet! However, indulge in the fabulous Pretty Fizzy Fruit Drink, which is served in a fancy glass and is tigersquash flavored! For dessert, cool down with the chilly Clown Chia Zeenana Ice Cream. It looks like a clown, but has fantastic zeenana flavor!

Chomby

Chombies are known as Tyrannia's only plant-eating pet species. Obviously, their SSFs are mostly fruits, vegetables, and legumes! A perfect meal for a Chomby would involve the classic Chomby Day Potato Soup, which has amazing flavor and is served in an adorable baby Chomby-inspired bowl! Also, add the fantastic Chomby Juice to the menu, which is made of a dozen different Tyrannian plant juices. The best part of the meal, however, is the Purple Chomby Mint Chip Ice Cream. Its sweet minty flavor is coveted by Chombies of all ages, and is served in a cool purple bowl!

Cybunny

Living in the freezing cold, Cybunnies need food to keep their immune systems up and promote fur growth. Lean protein like the stuff found in Spotted Cybunny Sushi is perfect – especially because of the addition of rice! Like the Chia, there is no species-specific beverage for the Cybunny, but they will all love the Carrot Fizz Achyfi, which uses real fruit extracts to give your pet maximum energy! But you can't forget desserts! Finish off your pet's meal with the fluffy Cybunny Candy Floss, which is strawberry flavored.

Draik

The beloved Draik – most people know of them because of their cuteness and desirability. But unbeknownst to most, Draiks require a diet that allows them to fly from place to place. The juicy Draik Steak has plenty of protein needed for energy. They also have a strange taste for Dandelion and Burdock Drink (because they don't have a species-specific drink of their own). And just look at that Sparkling Draik Cake! It has sponge cake, yummy blue icing, and chocolate ears!

Elephante

Living in the Lost Desert, this species needs to stay hydrated frequently. To do so, they rely on their food and drink. A perfect Elephante Day meal would be the humongous Deluxe Elephante Burger. It has two meat patties, tons of toppings, and is nearly impossible to eat! Cool your pet down with a frosty Elephante Milkshake, which is supposedly chocolate raspberry flavored and comes in an adorable container! For dessert (if your pet hasn't eaten enough), enjoy a Chocolate Elephante Doughnut.

Eyrie

Flying around the tropical climate of Mystery Island requires that this species be hydrated and energized. Their foods are packed full of vitamins to achieve ideal health for your Eyrie. Your pet will be especially energized after eating their Eyrie Sushi, which comes on a delightful Eyrie-shaped plate. With no species-specific beverage yet, Eyries prefer to sip on Grapefruit Neocola, whose recipe features plenty of vitamins and fizz! For dessert, enjoy some flavorful Berry Eyrie Souffle!

Flotsam

Pets that live in the water tend to eat seafood for energy. Flotsam are no different! For pet day, treat them to a Seaweed Flotsam Burger. Meatless, this burger features specially selected seaweed and is delightfully delicious for vegans! An equally aquatic drink would have to be the Flotsam Kelp Shake. After all, who can resist that adorable Flotsam container? For dessert, nothing screams celebration like the Flotsam Ice Cream Sundae, which has the best vanilla ice cream, rainbow sprinkles, and decorated bowl!

Gelert

Playful animals, Gelerts spend a lot of the day playing games and running around. They need a lot of energy to keep up with their lifestyle! The Striped Gelert Ham and Cheese Sandwich has plenty of protein – and pizzazz! Just look at those pretty stripes! Wash it down with the Silver Gelert Fizzy, which tastes like berries and has a really cool container! But don't forget to treat your pet to some dessert. The Gelert Sticky Rice Cake is orange-flavored and healthier than a typical cake, and will provide your pet with long-lasting energy!

Gnorbu

This species isn't known for its athletic excellence, but rather for its kind heart and generosity. Because of this, Gnorbu tend to need healthier food options than more active pets. Feed your pet a Gnorbu Salad, which features a healthy mixture of greens, carrots, tomatoes, and more! Add the Apricot Gnorbu Juice, which is sweet but provides plenty of vitamins. For dessert, let your pet indulge in some Gnorbu Chocolate Pudding!

Grarrl

Because of their immense size and strength, Grarrls require LOTS of food! Feed yours a Giant Grarrl Burger, which is perfect for large appetites. Vegetarian Grarrls, although rare, would prefer the Mighty Grarrl Burger. Although no species-specific drink exists yet, Grarrls love the taste of Achyfi Ice, whose root extracts give ultimate energy! Finish with the sweet Grarrl Crackers, which are similar to the standard animal crackers.

Grundo

Notoriously for eating just about anything, Grundos are especially easy to please. But they'll be absolutely thrilled if you serve them any of their SSFs! All will drool over that Silver Grundo Baked Potato, which is buttery and delicious! There is no species-specific drink for this species, not that they need one with their taste, but many Grundos would love an Apple Neocola, which has real apple flavor! For dessert, give your pet some Frosted Green Grundo Cookies!

Hissi

Good eyesight and smelling abilities are only perfected by the Hissi's diet. Unfortunately, there are no real Hissi-inspired meals or drinks! However, there are plenty of options that your pet will love! Rich in vitamins A and C, try the marvelous Endless Salad and Bread Sticks! It comes in a bottomless down (enchanted, we're sure) of crisp, fresh salad and toasty bread sticks. Wash it down with antioxidant-riddled Fresh Lemint Juice, whose flavor is out of this world! For dessert, get your Tchea Hissi Cake, which has plenty of vitamins.

Ixi

Coming from Meridell, Ixi usually eat fruits and vegetables. However, they've adapted to eating meat in some meals, which makes feeding them easy as pie! Ixi aren't picky eaters by a long shot, and none can resist the Ixi Acorn Meatball, which is made of ground acorn rather than meat. Ixi have a variety of species-specific beverages, but the Black Cherry Ixi Drink has all the fruity taste your Ixi loves, with plenty of fizz to boot! For dessert, thrill your pet with a Striped Ixi Cupcake, decorated to perfection.

Jetsam

Known to be mean, pleasing a Jetsam isn't necessarily easy. But there's one thing they love – meat. No other SSF has more meat than the Cheesy Jetsam Sandwich! What's that you say? There's no meat on that?! Well, then why do Jetsam love it so much? Well, this sandwich has playful starfish-shaped cheese and bread – with a fin! With no species-specific beverage, give your Jetsam the meaty Bacon Achyfi, which provides lots of energy. For dessert, dig into a Jetsam Apple Cake, which features tasty green icing.

JubJub

With all that hair and no arms, JubJubs need to promote healthy hair growth and maintain the strength of their large feet. Luckily, they have numerous options to choose from! Feed yours the enriched Tigerbuggle JubJub Mini Burger. After all, smaller pets have smaller appetites! This one features Tigerbuggle, which is known for its healthy oils. Don't forget to sip on some Coconut JubJub Juice, which has a cute container and is perfect for busy, on-the-go pets! Dessert could be the Yellow JubJub Wafer Cookies, which have a creamy mint center!

Kacheek

Living in meadows, Kacheeks love flowers – both to smell and eat. But nowadays, flowers aren't classified as food. In fact, Kacheeks have changed their diet to incorporate numerous types of food, including beef, chicken, vegetables, fruits, and beans. Spaghetti A La Kacheek is a fantastic pasta dish, made of enriched spaghetti, tangy sauce, and cute Kacheek-shaped meatballs. Wash it down with Yellow Kacheek Lemonade, which is refreshing year-round! Grab your pet Kacheek Vanilla Pudding, which has a tasty vanilla glaze your pet will adore!

Kau

Grazing in pastures may be their usual meal, but it's important to change up your pet's eating habits here and there! Dig into a Spicy Kau Burger, which isn't made of Kau, but does feature hot peppers and hot sauce! Whew! Cool your pet's mouth off with a yummy Whipped Green Kau Malt. It's lime flavored and comes with a cute heart-shaped straw! For dessert, treat your pet to a Kau Cupcake, known for being mostly frosting. Enjoy!

Kiko

These creatures are happy in or out of water, which allows their diet to change from day to day. Kikos use their fin-like arms to swim, and have no feet. They need plenty of energy to keep them afloat in Kiko Lake. Unfortunately, there is no real Kiko-inspired meal, but there are plenty of good options for them nonetheless. Feed yours Cheesy Onion Noodle Soup, which has a lot of flavor and is easier for your pet to eat than a sandwich. A popular choice of drink among Kikos is the Cranberry Kiko Drink, which has an adorable container and is really sweet! Plus, there's a straw for easy sipping. Dessert should be a healthier option (Kiko Lake features many treats, but very few healthy options), such as the Desert Kiko Dried Fruit Bowl. It's filled with dates, prunes, figs, and other shriveled fruits.

Koi

These beautiful, majestic creatures are also really intelligent! They have an especially delicate diet that should be carefully planned. After all, they need to maintain brain and body health. Feed yours the splendid Mini Koi Cereal, which is enriched with multiple vitamins, but still fun to eat! To drink, give your Koi the healthy Fizzy Koi Seapop, which is made with plenty of kelp and seaweed, Maraquan's healthiest plants. Finish the meal with the delectable Koi Seaweed Sundae, featuring many types of seaweed and an adorable blue bowl!

Korbat

Despite their rather large ears, Korbats have a fantastic sense of smell. Their diet has to include an array of vitamins and minerals. A great meal for your pet would be Korbat Tea Sandwiches, which have a combination of bread, cheese, and cucumber. To drink, offer your pet the Bubbly Roseatte Juice, which uses real fruit and is perfectly fizzy! (There is no species-specific drink for them). For dessert, present them the tasty Chocolate Korbat Ice Lolly, which is shaped like a real Korbat!

Kougra

Despite being cats, these Mystery Island natives eat mostly fruit. Give your Kougra some delicious Yellow Kougra Squash Soup, which can be served warm or cold in its adorable striped bowl! A Kougra-approved drink is the Orange Kougra Fruit Juice, which is nice and cold for that island heat! It's a blend of several Mystery Island fruits. Lastly, dessert could be the craved Strawberry Kougra Pudding, which is shaped like a Kougra! How creative!

Krawk

These pets, born in the Fungus Caves on Krawk Island, live in moist areas. They feast on both plants and meat, which makes their diets pretty simple. A great pet day meal for this species would have to feature the Cheesy Krawk Pot. It's a blend of many cheeses into a creamy, delicious soup that Krawks, and all other pets, would drool over. Refresh your pet with the invigorating Strawberry Krawkade, which features an adorable Krawk right on the label! For dessert, polish off a Fruit Krawk Pot with some of your other pets. It's a healthy option that contains a dozen different fruits from around Neopia!

Kyrii

Upset by dirty fur, Kyrii can be very high-maintenance. Be careful to avoid apples and apple-flavored foods at all costs! Your Kyrii will seek foods that promote hair health, so be sure to recommend the Wheaty Kyrii Sandwich, which includes veggies and whole wheat. To drink, serve a Kyrii Jumbleberry Milkshake, which has great berry flavor and is a creamy treat! If that's not enough, give your pet a Vanilla Kyrii Ice Cream for dessert. Scrumptious!

Lenny

This species is all about intelligence. They need their brain food! Offer your pet the Lenny Veggie Burger, which is made of many vegetables, tofu, and cheese! Wash it down with a standard drink (no species-specific beverage exists yet), especially Tarragon Achyfi, whose flavor wakes a Lenny up in a snap! Finish off the celebratory meal with a Lenny Mint Chocolate Chip Ice Cream, which is shaped like a Lenny's head.

Lupe

These carnivores have recently shown some interest in fruits and vegetables, but still love meat dishes. Treat your Lupe to a great Lupe Burger (not made of Lupe, of course!) that is sure to fill them up! But not before they drink some Fizzy Grape Lupe Drink, which has an addictive grape flavor all of Neopia would love! For dessert, offer your Lupe a Lupe Snowcone, which is blueberry and lemon flavored.

Lutari

Because they spend so much time in water, Lutari are fantastic swimmers. But swimming can be hard work, especially for hours on end. Lutari need a diet filled with carbohydrates to keep going throughout the day. For your pet, a stack of fluffy Lutari Pancakes provides plenty of carbs! Plus, they're really delicious. Lutari Cocojuice would be a great addition, especially because it keeps your pet hydrated in the hot sun. Finally, treat them to a tasty Iced Lutari Cookie, which looks as cute as your pet!

Meerca

These guys are really fast. Like lightning, or sound . . . Anyway, these guys need plenty of vitamins to maintain their general health. Feed them the fancy Meerca Apertif, which is cured meat wrapped in herbs, and held together by a delightful Meerca-shaped toothpick. Eat that with relaxing Hot Meerca Tea, whose herbs calm your speedy pet down after a long day. For dessert, treat them to a warm Meerca Cinnamon Bun, which is iced with yummy strawberry icing.

Moehog

These little guys have relatively large appetites. Try the filling Moehog Veggie Sandwich, made with fresh veggies and a whole grain roll, and the Moehog Milkshake. Vanilla flavored, this shake comes in a spill-proof cup that's perfect for the clumsier hooves. For dessert, give them Moehog Fruit Leather, which has real berry flavor!

Mynci

Climbing all day in the sun zaps a lot of energy. This species needs plenty of fuel for their lifestyle! Offer your Mynci the perfect pet day treat: Mynci Cristo Sandwich. The meat and cheese will provide plenty of energy and taste amazing with the jam! Yummy! Quench your thirst with the Spotted Mynci Chai Tea, whose spices will amp up your pet and is truly healthy. Finally, for dessert, dig into Mynci Delight, a dish of fruit and cream that will have your Mynci ecstatic!

Nimmo

Intelligent and spiritual, Nimmos love Shenkuuvian cuisine. A Nimmo's ideal pet day meal would be a Nimmo Veggie Platter. Seems odd, but the varieties of vegetables all being equally delicious when dunked into the herb-infused dip just seems harmonious to many Nimmos. Sip on some fruity Nimmo Bubbly Surprise, which comes in a fantastic souvenir glass, before chowing down on dessert. Your best option would be Nimmo Cream Cakes. After all, Nimmos like to share their happiness with others, and this is one of the few SSFs that is shareable.

Ogrin

Shy but intelligent, Ogrins are mainly plant-eaters. They don't seem to be very picky though. Offer yours the nutritious Ogrin Pasta, made with whole grain and organic tomatoes. With no Ogrin-themed beverages so far, your best bet would be to pick up some Twirly Fruit Juice, which is tangy and spicy, but refreshingly sweet too. For dessert dig into Ogrin Fruit Salad, a perfectly healthy choice.

Peophin

Peophins are shy, magical, but very sweet. Living in water means that they need plenty of energy to be able to swim all the time. A perfect energy-filled meal would be a Tangy Peophin Burger, a vegetarian burger made of thornberries. With no species-specific drinks yet, I must recommend the popular Diet Neocola, which is perfectly delicious! For dessert, bite into a Chocolate Dipped Peophin Cookie, a perfect ending to a pet day meal!

Poogle

Living in cool climates, Poogles need proper nutrition. They also have notably sharp teeth, perfect for eating meat. Feed your Poogle a healthy Veggie Poogle Wrap, made out of meat substitute and fresh lettuce, and wash it down with Yellow Poogle Tea, made of fine spices and herbs. For dessert, scarf down the colorful Rainbow Poogle Lolly!

Pteri

Pteris are the jokesters of Neopia. They love entertaining, and being entertained. So serve them like a celebrity on their pet day with the Pteri Kabob, made with onions, peppers, and zucchini. Sip on some non-Pteri Banana Achyfi for that fruity fizz pets crave. Finally, for dessert, enjoy the Pteri Sundae. It's blueberry flavored ice cream, dolled up to look like a Pteri.

Quiggle

Beware of cream, Quiggles! Vegetarians by design, Quiggle foods are full of vitamins, minerals, and great flavor! For a pet day meal, treat your pet to Quiggle Veggie Soup. It comes in a really cute bowl and is made of carrots, celery, potatoes, and more! Drink a cool Fizzy Quiggle Drink with your soup. It tastes delicious and has a cool collectable cup. Finish your pet day feast with a Pink Quiggle Ice Cream Float. It's made of Strawberry Achyfi and cherry ice cream. Who knew?

Ruki

Rukis are built to sustain tiresome journies for long periods of time – but their diet is a contributor to their success. Ruki Salad contains plenty of the vitamins and nutrients your pet needs, and is shaped like a Ruki head. Refreshing and made from bananas and melon, the Ruki Juicebox is perfect for any meal. Dessert is best served cold; eat the frosty Lime Ruki Sundae.

Scorchio

Living in volcanic regions of Tyrannia, these fellows enjoy the spicier side of life, their food included. Bite into a Scorchio Spring Wrap, which is made with scorchipepper slices for extreme heat. Put out the fire with a Royal Scorchio Chalice, filled with bubbly vanilla soda! Finally, dig into the gooey Scorchio Smore, a Neopian favorite!

Shoyru

Loveable creatures like Shoyrus are very easy to care for. These guys enjoy spicy foods, like other Tyrannian pets, but are more likely to eat outside the box. For dinner, try a tasty Cheesy Shoyru Meatball, shaped as a Shoyru head and smothered in melty cheese. Sip some Silver Shoyru Fizzy Drink, a very rare treat, which tastes great and comes in a winged glass. For dessert, be sure to enjoy a Shoyru Parfait, a vanilla ice cream treat.

Skeith

BEWARE ALL CHEESE! It's sad, but true: cheese will make your Skeith sick. But no worries! Although cheese is delicious, these SSFs are cheese-free. For dinner munch on a Skeith Burger, made with veggie cheese. It has all the taste of a regular burger without the allergic reaction! With it, drink a Skeith Fizzy Drink. It doesn't have energetic properties, but tastes amazing! Dine on a Skeith Sundae for dessert. Complete with chocolate ice cream, bananas, and tons of toppings, any hungry pet with devour it!

Techo

Cheerful creatures such as this are rarely picky – and Techos are great eaters! Watch as your Techo digs into the Techo Garden Salad you bought for them! The reusable white Techo bowl holds plenty of fresh leafy lettuce, ripe tomatoes, and onion slices. Pair it with a Techo Energy Drink, with its tangy lemon-lime flavor. For dessert, enjoy a Blue Goo Techo Cake, which is shaped like a Techo and slathered in blueberry icing.

Tonu

Although cute, Tonu love to cause trouble. All that mischief sure works up an appetite. For this pet day, treat your pet to a Mega Tonu Day Burger, or a Large Tonu Day Burger, for smaller appetites. Sip on refreshing Tonu Orange Juice, full of vitamin C, and finish off the meal with a crunchy Chocolate Tonu Cookie. It looks just like your pet!

Tuskaninny

Tuskaninnies are cute water creatures, and all that swimming works up quite the appetite. Tuskaninny Veggieloaf is made of kale, celery, lettuce, spinach, carrots, and other vegetables and formed into a Tuskaninny shape. It's super healthy, and provides plenty of vitamins and minerals. Because no species-specific drink exists for this species, sip on a Pineapple Juice Carton, which also contains plenty of vitamins! Plus, it tastes delicious. For dessert, enjoy a Gooseberry Tuskaninny Ice Cream, which has all the tangy flavor of gooseberries in frosty ice cream form!

Uni

All that beauty isn't just grooming, ya know! Unis require a healthy diet so that their fur and hooves maintain tip-top shape. An Uni Veggiewrap is a great option because it's filled with healthy spinach, carrots, lettuce, and tomato, plus wrapped in a spinach tortilla! Delicious! Drink some Speckled Uni Milkshake with it. It's mint flavored and features a horn-shaped cookie, plus comes in a speckled glass! Finally, dessert time! Royalty aren't the only ones who can eat the fantastic fruity Uni Triple Scoop Rainbow Sorbet.

Usul

Like Unis, Usuls love to look good. However, they don't try nearly as hard, and are quite generous creatures. In time, they've developed very tolerant appetites. Offer your Usul a Meaty Usul Wrap, which is filled with chicken but designed to look like real Usul. Clever, eh? Also try the sweet Strawberry Usul Fizzy Drink, which comes in a fantastic glass bottle! Finally, Usuls with sweet teeth will enjoy the Strawberry Usul Shake, which is decorated like an Usul too!

Wocky

Look at all that hair! This beautiful species requires special attention to the fur. Feed your Wocky a healthy meal of a Wicked Wocky Wobble Sandwich, which contains plenty of veggies. Slurp some Orange Wocky Orange Juice, which is rare but nutritious. For dessert grab a Camouflage Wocky Iced Cake, which is a chocolate cake with impressive vanilla-flavored camouflage icing.

Xweetok

Energetic pets such as these need plenty of energy, which they get from their diet. Treat yours to an energy-packed meal! Start with the Extra Large Xweetok Sushi, which is served on a Xweetok-shaped platter with a small ball of fiery wasabi. Pair it with a cool drink. I recommend the Yellow Xweetok Fizzy Drink. It's flavored with pineapple and other fruits and comes in a cool glass. For dessert, offer a Berry Xweetok Ice Cream. It's made of real berries and resembles a Xweetok. Very cool!

Yurble

Many people don't realize that Yurbles are great food gatherers! They love food, and love eating, so you can't go wrong when picking out a pet day meal. Don't fret, though; I've still found some tasty choices for you. Start your meal with a steamy Yurble Pot Pie. It's made of chicken and vegetables with a great gravy, and is decorated too. There is no species-specific drink, but they will never say no to flavorful Coconut and Gooseberry Achyfi! Finish off the already fantastic meal with an Orange Yurblecone, which contains real orange flavor!

Zafara

Living in hot desert climates means that Zafaras need to stay hydrated. To do so, they eat foods containing lots of water. Start the meal with the Zafara Vegetable Croissant, which contains water-packed fresh veggies. Sip on some naturally hydrating Zafara Orange Juice, which comes in a cute Zafara-shaped container! Chomp into a Chocolate Chip Zafara Cookie for dessert!

Well, there you have it. No matter what the species is, having a great celebratory meal on their pet day is a fantastic experience! I hope these ideas help you plan your next pet day!