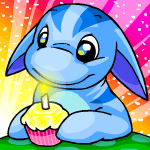 Top 7 Most Beautiful Foods

by jamieannbassett

--------

So if you're an absolute food fanatic like I am, then you'll fall in love with my list of the top 7 most beautiful foods in all of Neopia! These foods I've narrowed down into one list are all earned through Neopoints, because what Neocash items AREN'T pretty, right? So recently I've been obsessed with collecting delicious looking food, and have been spending endless amounts of Neopoints and going to extreme measures to satisfy my needs for plates of gorgeous foods. These aren't foods that are only tasty, it's more of how well decorated they are. While looking through galleries and galleries of other – richer - food-lovers, I couldn't take my eyes away from some of the lovely dishes I saw! Sadly, many of the foods I fell head over heels in love with were priced all the way up to 200,000 Neopoints! It's unbelievable how much people love fancy food (I can talk). Anyway, some of the beautiful, ornate foods I saw were too lovely they needed to be shared. So here you go, I've narrowed down all my favorite foods to a list of the 7 most beauteous foods of Neopia!

7.) Strawberry Usul Meringue
Have you ever seen meringue whipped as absolutely perfectly as this? The Strawberry Usul Meringue is perhaps the most adorable dessert. White Strochal is the main ingredient, hence the hint of chocolate in the flavor. The amount of time, sweat, and precision put into perfecting the meringue tail is unbelievable. You would feel guilty eating this, both for the chef AND the cute Usul. Treat your pet to Strawberry Usul Meringue and they will love you forever. Any food collection is automatically incomplete without this plate of sweetness!

6.)Fire Faerie Fondue
Apart from being insanely spicy, the texture of this fondue is mesmerizing. This honey-like, golden, fiery fondue is richer than all others. If you stare at the water fountain of trickling fondue you can observe the liquid fire that the Fire Faerie somehow managed to make. This fondue is so superb you'll want to take a BATH in it! Dip any food into this and it'll automatically make it 10 times prettier instantly.

5.) Pink Usul Mug of Cocoa
The perfect drink for those cold, blizzard nights spent in front of the fireplace wrapped in a blanket with a Polarchuck on your lap. Who knew a mug of hot chocolate could be so stunning? This cup of delicious chocolate is sure to make ANY pet smile. Rumor has it; this is one of the few things used to lighten up King Hagan. With melted marshmallows and milky chocolate, this creamy cocoa drink is absolute bliss to the tongue. Yes, it's extremely expensive, but this cup of cocoa is too adorable to resist. It even sends off steam in the shape of HEARTS!

4.) River Wave Breeze
Surprisingly affordable, this drink contains swirls of all the beauty of the ocean waves and it's breeze. You could not feel fresher after taking a sip of this! It contains an unbelievable amount of sparkle and shimmer. How the people of Shenkuu managed to create this drink, I have no idea, but it sure is a magical sight. Put it in the sunlight and you'll be blinded by its gleam!

3.) Water Faerie Cupcake
This cupcake is just as rare as how often the Rainbow Fountain works, and as beautiful as the Water Faeries it was made in honor for! What really makes this delightful cupcake special is the icing - have you ever seen icing that shimmers this much? Dotted with tiny edible pearls between each delicately decorated scale, this stunning cupcake is a must have for any water faerie item collector or food junkie (if you can afford it)!

2.) Festive Faerie Fizz
Straight from the Faerie Queen Fyora's royal pantry, this fizzy drink is like no other in Neopia. It smells of freshly bloomed Starflowers, faerie dust, and those with a sharp enough nose can even pick up the tiniest scent of peachpa in this wondrous drink. But only the royal Faeries know the real ingredients that are mixed in. All set with an umbrella and purple cloud coaster, this is the most heavenly drink you could possibly think of. Pets use it more as a decoration rather than a beverage. Despite being RIDICULOUSLY expensive, this royal Faerie ambrosia will be the completing item to any food collection.
So here it is! The most BEAUTIFUL plate of food in all over the vast world of Neopia is...

1.) Delfin Noodles
With shimmering noodles of Mystery Island's enchanting waves, this dish is by far the most gorgeous food in all of Neopia. Each glistening noodle set perfectly in place in this magnificent Delfin bowl, this dish defines aesthetically pleasing food. Truly divine, isn't it? I was in AWE when I laid eyes on this the first time! Each and every noodle is made carefully by hand. Eat this on the beach in the summer and you'll never feel more blissful in your life. But it's such a rare food most people don't want to eat it, no matter how delicious it looks, so they instead show it off in their gallery. Foods like these noodles are much too beautiful to eat!
So there you go, my personal list of the most aesthetically pleasing foods in Neopets! I realize there are probably a whole lot of other foods I missed or still have yet to discover, but for now these are what I find to be the loveliest, and even if you don't agree that they are the MOST beautiful, you can't deny that they aren't gorgeous, right? Let this list inspire you to collect more and seek out to find more unknown types of gorgeous foods in Neopia! Although some of these foods are so overpriced to even consider buying them, let these be eye candy for now until you start your own collection. You can never get enough of fancy food. ;)