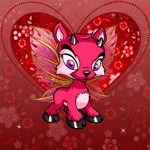 Wings for Valentine's Day

by mercy_angel

--------

So, you've decided to dress up your Neopets for the day dedicated to love, Valentine's Day. Nothing says Valentine's Day like Cupid, so why not dress them up to resemble that loveable Cherub? A Cupid customization wouldn't be complete without the perfect wings, so this article is going to recommend some wings that you might want to consider for perfecting your Neopets' Valentine's Day look. Please note that all these wings come from the NC Mall since that's where all the pretty wings are sold. :P

Baby Valentine Wings

Baby Neopets don't have to worry about being left out of the Valentine's Day festivities because of these special wings. The Baby Valentine Wings can only be worn by Neopets who are painted Baby so even the youngest of Neopets can get in on the celebrations. The wings themselves feature a bunch of delicate pink hearts glued together and finished with a trim of fine white lace.
Broken Heart Wings

Is your Neopet mending a broken heart this Valentine's Day? If so then these wings are the right ones for them. What's more depressing than having a broken heart? Try having four because that's what these wings are. They're basically four broken purple hearts waiting for that special Neopet to come along and mend them. If that doesn't work then I've heard that Super Amazing Strong Glue can be just as effective and it's sold at your local School Supplies store.
Cherub Wings

These wings are just like the ones Cupid himself wears! They're made of pure white feathers and are extremely lightweight so you know they're perfect for soaring through the skies. Neopets who are also not fans of the traditional Valentine's Day colours like pink and red can appreciate the pristine whiteness of these wings.
Delicate Heart Wings

When we think of Valentine's Day we think of the colour pink. These wings are the perfect representation of this holiday because the material they're made of is all pink and not just any shade of pink, but a bright and cheerful shade of the colour. Besides being all pink, these wings feature two giant hearts with three smaller hearts sprouting from the top. Can't you just feel the love growing?
***Warning: As mentioned in the name of these wings they are delicate!!! When wearing them please ensure that your Neopet doesn't do any extreme flying; otherwise there might be some unfortunate mishaps. :(
Delicate White Lace Wings

Unlike the previously mentioned wings, these wings aren't ones you would necessarily think of when you think Valentine's Day. Like the Cherub Wings, these wings are pure white except they aren't made with feathers. They're made of fine white lace which some might consider to be the traditional fabric for this holiday. While wearing these wings your Neopet will still resemble Cupid, but they won't be confused as identical twins.
Gold Trimmed Valentines Wings

OMG... How gorgeous are these wings? Not only are they pink, but they also have a shiny gold trim which only accentuates the craftsmanship of the different segments of the wings. Any Neopet would be lucky to be able to don on these swoon-worthy wings on Valentine's Day.
Pink Armour Wings

For the tougher Neopets who want to get in on the Valentine's Day celebrations these wings might be the perfect choice for them. Not only are they pink and a very good representation of this day, but they also function as armour should your Neopet be challenged to a duel mid-flight.
Plush Heart Wings

Aww, these wings are so soft and squishy and they would go well with any Neopet that is painted Plushie. The Plush Heart Wings also seem to have all the Valentine's Day basics covered. They're heart-shaped, covered with a floral design, finished with a delicate trim and wrapped with two pretty pink bows.
Red Feather Valentine Wings

The Red Feather Valentine Wings are very similar to the Cherub Wings I mentioned earlier. The major difference is that these wings are made with red feathers instead of white ones. If your Neopet's outfit could use a bit more colour, but you still want to stay with the feathered look then these are the wings for you. Like the Cherub Wings, these wings are extremely lightweight which makes soaring through the skies feel effortless.
Rose Petal Wings

Roses are the official flower for Valentine's Day. Not only do they come in bouquet form, but TNT has also made them come in wing form. The Rose Petal Wings are the ultimate Valentine's Day accessory because it's like two accessories rolled into one. As an added bonus, they make any Neopet that's wearing them smell 10 times better!
Royal Velvet Wings

Did your Neopet like the look of the Gold Trimmed Valentines Wings, but found them too pink for their taste? If the answer is yes then the Royal Velvet Wings might be a good substitute. They're very similar in style to the Gold Trimmed Valentines Wings, but instead of the pink they come in a deep red colour finished off with a gold trim.
Valentine Delivery Wings

Cupid is the messenger of love and now your Neopet can also be a messenger with these wings. These wings are lightweight so your Neopet will never feel weighed down while wearing them during the delivery of their Valentine's Day cards. Did I mention that they're super pink and adorned with two tiny red hearts?
As you've just read, there are many options when it comes to which wings to give your Neopets for Valentine's Day. The choice is ultimately up to you and your Neopet and it all depends what you value most when it comes to customization: functionality or aesthetics. Some wings are designed to accommodate both while others are designed to accommodate just one. Just remember that no matter which choice you go with you can never go wrong. Valentine's Day is all about love so love the choice you make. Besides, if you make a wing choice that you later regret you can always change your mind or just wait till next year when you have the chance for a do-over. :P