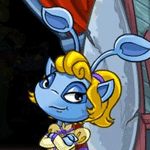 Style Guide: Aisha Day

by ilovezacandhsm

--------



Howdy, y'all! Welcome to this week's edition of Style Guide. This week we're focusing on the Aisha. January 3rd is the one and only Aisha day! These Neopia Central natives, are one of the original neopets released. This week we are joined by Abigail, sister of legendary gamer, AAA. Without further ado, here are the top ten wearable picks for the Aisha. Enjoy!

10. Fancy Aisha Scarf
Celebrating up north this year? Why go for a basic scarf when you can have a Fancy Aisha Scarf! Made from the finest blue cashmere, this infinity scarf is one continuous loop of fun! Released in 2011, this cozy scarf is a hard to find piece. Pair this with a wooly coat, some warm pants, a hat, gloves, and boots to keep yourself warm during the party! Abigail said, "A good statement piece for any Aisha."

9. Aisha Space Suit
*Beep Beep Beep Boop* If your pet likes to do the robot, then this suit is for them! Made from the finest materials, the Aisha Space Suit comes fully equipped with all of your pet's needs (not to mention, it looks amazing!) And if you plan on visiting Kreludor any time soon, you might just want to pack this for safety. The suit itself is a green color with golden accents. Each of the special task buttons is colored blue. Trendy and useful! This suit first touched down on Neopia in 2008, and is hard to come by. Abby says, "What can't this suit do? If it can do my homework, I'm so buying this!"

8. Aisha Maiden Shoes
These shoes were made for walking and that's what they'll do. The Aisha Maiden Shoes are perfect for that one partygoer who is not going to sit down during the gathering! Released in 2009, these sassy shoes go for about 7,000 neopoints! Quite a bargain for such durable flats! If you have to run a marathon before the party, I suggest you just sprint in this fabulous footwear! Abigail said, "These are built for comfort and style! It's the best of both worlds!"

7. Sakhmet Aisha Dancer Headdress
Why wear a necklace when you can wear a headdress? The Sakhmet Aisha Dancer Headdress is a unique piece that can really help finish off that look! Released in 2010, this unique head piece goes for about 30,000 to 40,000 neopoints. The headpiece is made from sturdy materials and decorated with gold and blue and grey beads. Abby says, "Very daring. I like it!"

6. Trendy Aisha Shoes
Celebrate the New Year in style with the Trendy Aisha shoes! Released in 2012, these shoes sell for about 90,000 neopoints. With a mix of colors that complement each other are featured in these booties. The toes are a rich steel grey, the base of the shoes are a basic cream, and at the top of the shoe features a stripe of royal red. These colors can go with almost anything! Pair them with some jeans and a sweater to keep warm! Abigail described the shoes as, "SUPER CUTE OH EM GEE! I need these shoes now! I've been looking for booties forever!" We agree.

5. Fashionable Aisha Trousers
For this special occasion, don't just wear any pair of trousers! Go with a classic, the Fashionable Aisha Trousers. These were released in 2012, the trousers are newer to the stores. Made from super soft denim and stitched together with perfection! They come together with a brown leather like belt with a shiny silver buckle. You can either dress the trousers up with a nice sweater, or play the look down with a simple tee. Abigail says, "I own about five pairs of these trousers. They are so comfy, you can sleep in them!"

4. Aisha Disco Dancer Shirt
Dance the night away in this groooooooovy shirt! Released in 2010, this shirt can go anywhere from 30,000 neopoints to 80,000 neopoints. Any hardcore disco divas should consider this bright and shiny button down for their Aisha Day get together. The magenta fabric is littered with deep purple spots. The top can easily be pared with the matching shoes and pants, or mixed and matched to create your own look! Abs said, "Wicked sweet! This shirt moves with you and is able to keep you cool, even after hours of dancing. Any Aisha can wear this tubular cool shirt!"

3. Trendy Aisha Hat and Wig
The Trendy Aisha Hat and Wig is a curly and cute hairstyle! Released in 2012, this wig set goes for 300,000 neopoints at the Trading Post. The wig itself is made up of golden curls, guaranteed to stay curly forever. The beanie is a deep purple-y grey plaid and will keep your head warm! The wigs have anti-itch caps, so your scalp won't get irritated. The only downside is that they cannot be separated. Abby commented, "This is such a cute winter cap and wig set! I think I own this... AAA has a lot of wigs, you see."

2. Fashionable Aisha Jacket
Plaid is a rad new trend! What better way to show off the latest trend off than rocking the Fashionable Aisha Jacket? This white, blue and red jacket was released in 2012, this coat is a very hard to find, due to how "young" it is. Any Aisha looking to have a fresh new look for their day, should consider this stylish piece. Perhaps you can pair it with the matching jeans, hat, glasses and shoes, or make your own look with it! Abby commented, "I like I need to get this! I love the colors and it is just so comfortable! Anyone can wear this, it's gender neutral!"

1. Ritzy Aisha Jacket
Number one this week is none other than the Ritzy Aisha Jacket. If you have a formal party to go to, this Jacket is sure to fit the requirements. Relased in 2011, this super rare suit jacket is top notch. The coat features long coat tails, pockets on both sides and a two button closure. Included in the set there is also a crème button down shirt and a matching bow tie. Gentlemen should try to pair this look with black pants, shoes and maybe some glasses! We asked Abby what she thought and she told us, "I wish every pet could wear this jacket! If I had enough neopoints I would totally buy this!"
Well, this concludes another pet specific wearable countdown. Don't hesitate to pick up a couple of these fashion showstoppers. Special thanks to Abigail for stopping by and helping us with the clothes. Won't you join us next time for another edition of Style Guide? See you next time!