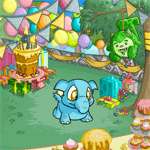 Neopian Fashions: Special Feature Birthday Issue

by petpet_master_

--------

Well, it's that time of year again, one of the most festive times for all of Neopia. Yup, you guessed it! Neopets' birthday! The 15th day of Storing is when all of Neopia joins in celebration of the creation of their marvelous land! Faerieland and Darigan Citadel halt their ongoing feud, Jhudora showcases her trademark (not to mention rare) smile, even Edna sets aside her evil agenda and contributes to the birthday effort. In appreciation of our fantastic land, there are special activities specific to the celebration; for example, every year, on the 15th day of Storing, you can spin the Wheel of Excitement for free! How awesome is that? Very awesome. Also, I sure hope you like playing games. Why? Because on this special day, you can send your score five times per game, not just on the 15th, but for a whole week after! Think of how rich you'll be! Also, you can play Treasure of the Black Pawkeet for half the price (150NP) and on the 15th, for free! As well, training at the Swashbuckling academy is free for everyone!

As you can see by the excessive use of exclamation points, Neopets' Birthday is a very, very special day indeed. Of course, if you have been actively reading this series, you can guess what I am about to say next: you have to dress the part! In all due respect to the glorious world of Neopia, the least you can do is sport your favourite birthday garments (and no, that does not mean your Birthday Suit). So without further ado, onward, to Neopian Fashions: Special Feature Birthday Issue!

1. Birthday in the Park Background
Rarity: 76
Price: 2000 NP
Without stating the obvious perfection of this background, it is really... erm... perfect for any birthday! Okay, obvious statement is obvious. As well, this background is really awesome for any Neopian on a tight budget, as on average it sells for around 2000 neopoints.

2. 8th Birthday Celebration Background
Rarity: 77
Price: 1000 NP
Released on Neopets' 8th Birthday (second obvious fact is obvious), this background gives great party vibes to anyone who wears it. It is colourful and festive, just as any birthday should be!

3. Birthday Streamers
Rarity: 101
Price: 130,000 NP
For any rich Neopians out there, or people who just love streamers, this item is a must have. While it is a tad pricey, what's a birthday party without streamers? I'll tell ya! A birthday party... without... streamers... Yeah, not very fun.




4. Balloons! (Basic Blue Balloon, Basic Green Balloon, Basic Red Balloon, Basic Yellow Balloon)
Rarity: 83, 84
Price: 1000 NP – 3000 NP
Okay, physics time. To celebrate, many Neopians visit from Kreludor and the Virtupets space station. Because of this, the mass of Neopia increases, which in turn creates a greater gravitational force. Therefore, in order for us to withstand the increased pressure, balloons are given to each Neopian to balance the excess force acting upon them. Basically, just buy a balloon. They are fun and cheap.

5. Tower of Presents
Rarity: 101
Price: 500 NP
If you have never been to a birthday party before, I'll tell you a secret. It is custom to wrap objects in shiny paper and give them to people. These are called "Gifts" and are quite fun! Buy some today for only 500 neopoints and make your average birthday outfit and fantastic one.



6. (Black and White, Red and Gold, Blue and Gold) Neopets 8th Birthday Hat
Rarity: 101
Price: 250,000 NP, 150,000 NP, 200,000 NP
If you really want to show your birthday spirit, wear one of these super awesome hats! They are a smidgen expensive, but Neopets' Birthday is only once a year. So why not? These hats are made by hand (or, paw rather) from only the finest gems mined from the very depths of Terror Mountain's Ice Caves and are absolutely perfect for any birthday.

7. Bright Striped Spring Shirt
Rarity: 101
Price: 2,000NP
Usually in the month of Storing, fall colours are preferred; however, don't be afraid to sport your favourite spring colours and patterns, they are perfect for fancy parties!



8. Wigs (Altador Cup Wig, Sassy Fire Faerie Wig, Spring Negg Wig)
Rarity: 101
Price: 42,000 NP, 27,000 NP, 9,000 NP
Make a regular outfit a fantastic one suitable for any birthday party with one of these quirky colourful wigs!

9. Dapper Yellow Shirt and Green Jacket
Rarity: 101
Price: 4,000
This jacket has been featured many times in this series, and for a good reason! The basic colours are suitable for any event, including birthdays, making it a practical (and necessary) addition to any wardrobe. It can be worn with fancy pants, casual slacks, or even a frilly skirt!

10. Lunar Cape
Rarity: 101
Price: 2,000,000 NP
If you have neopoints to spend and really feel like making an impression, this Lunar Cape is perfect for you. The bold blue colour and stars are fantastic for a birthday party under the night sky.
Neocash



1. Backgrounds (Mad Tea Party Background, The Big Dance Background, Carnival Background)
Rarity: 500
Price: 200 NC
As you may have already guessed just by looking at the names of these items, you can surely tell why they are the best background choice for the event. Bring the party wherever you go!

2. Fireworks Face Paint
Rarity: 500
Price: 100 NC
Don't have enough money for real fireworks? No problem, just paint them on your face! Close enough, right?



3. Retired Face Paint (Blue and Green Splash Facepaint, Tropical Flower Facepaint, Butterfly Face Paint)
Rarity: 500
Price: Retired
Okay, maybe fireworks aren't really your style, but you really like face paint. Well fear not! This lovely selection of face paint is great for any birthday party, or just a colourful outfit in general.


4. Dresses (Shimmery Crinoline Dress, Operatic Star Dress)
Rarity: 500
Price: 150 NC
Look like a birthday princess with one of these beautiful dresses! Remember, it's your special day and you deserve the very best!


5. Handsome Outfit (Handsome Shirt and Tie, Handsome Blue Jacket)
Rarity: 500
Price: 150 NC (each)
Dresses not really your thing? No problem. Wow all your party guests with this stylish shirt and jacket combo! This outfit is perfect for any formal occasion, but is also versatile and can be worn casually with a good pair of slacks.

6. Delicious Cake Dress
Rarity: 500
Price: Retired
If you have ever wanted to dress up as a cake, but never had the chance, this dress is certainly for you! This is the perfect choice for this festive celebration, or any birthday in general. However, you may have to go the extra mile is making this yours, as it is retired and not longer sold in the NC Mall. Many users have this dress for trade and may be interested in something readily available in the NC Mall. Hoorah!



7. Retired Wigs (Festive Birthday Wig, Whipped Frosting Wig, Pink Frosting Wig)
Rarity: 500
Price: Retired
These wigs are absolutely perfect for Neopia's special day. However, as with the Delicious Cake dress mentioned earlier, they are retired as well. But fear not, they are also popular items to be traded and can be easily found. Good luck!

8. Brilliant Candle Display
Rarity: 500
Price: 150 NC
Regular candles just aren't good enough for you, huh? Well no problem! Put on a brilliant candle display with this... well... Brilliant Candle Display! This item will certainly bring that extra birthday spirit to any party, especially Neopets' Birthday!

9. Bubbles Gum Wig
Rarity: 500
Price: 150 NC
This pretty Bubble Gum Wig is great for a birthday celebration look, and is available in the NC Mall for only 150 NC! Also, don't worry, it isn't actually made of bubble gum.


10. Shoes ( Carnival Shoes, Sparkling Crimson Slippers)
Rarity: 500
Price: 100 NC
No outfit is ever complete without a good pair of shoes, so complete your awesome birthday look with either Carnival Shoes, or Sparkling Crimson Slippers. Each pair is suitable for casual and fancy get-togethers.
Well, I hope you enjoyed this special feature and learned how to dress for a birthday party! On a final note, as the day nears closer to Neopets' Birthday, more birthday themed items will be available in the NC Mall, so keep your eyes open! In the mean time, use these items and fashion tips to your advantage in preparation for this big day. With that, I conclude Neopian Fashions: Special Feature Birthday Issue, and I wish you good luck! Happy Birthday, Neopets!