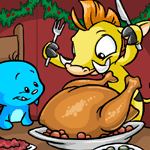 Preparing a Grand Autumn Feast in Neopia

by emburxii

--------

The leaves are falling all around Neopia, and with the autumn harvest coming in, what better time is there to gather all of your friends and family and have a grand celebration? There is nothing better than gathering around the hearth and warming your hearts as well as your tummies with a massive holiday feast. If you'd like to host a grand celebration yourself, but you're not much for cooking, here are some delicious and classic recipe ideas to help make your feast a success.

Tips: Almost as important as the meal itself is the table setting. Be sure to decorate accordingly. If your pets are the creative types, have them collect fallen leaves for a decorative table centerpiece, hang garlands of fall leaves across the walls, or even include pinecones as table garnishes. Light a fire in the hearth, and when your guests arrive in from the chill weather outside, they will be greeted by a warm Neohome and the smells of cooking wafting from the kitchen.

The most important part of, and centerpiece of your meal, is of course the turkey! Since you're having guests, you certainly must spring for a more expensive option than a turkey stuffed with those awful Grackle Bugs... and don't try scooping the Grackle Bugs out and restuffing the turkey with something else. Believe me - your guests will know. A pea and carrot stuffed turkey is a fine budget meal, and should be enough to feed a medium or large sized party of guests.

What would your turkey be without cranberry sauce? The cranberries in Brightvale are especially ripe this season. Just make sure to supply your guests with a large enough bowl to feed everyone! Dole it out heartily, everyone loves the tart flavors of cranberry - especially if you overcook your turkey, leaving it bland and dry.

Tips: If you have any leftovers, you can toss them into omelettes and eat them for breakfast the next day. Turkey and cranberry make an excellent seasonal omelette filling, as well do peas and carrots, so don't worry about preparing too much.

A light appetizer and perfect starter for your meal are delicious honey dipped apple slices. A sweet treat without loads of calories, these honey drizzled apples will get your guests' tummies rumbling for the main course while you add the final touches on your meal.

A veggie platter is definitely a must-have for every fancy dinner party, especially a harvest time feast. Presentation is key when preparing a veggie platter for a party of this caliber, so take delicate care in setting it up nicely. Include a light flavored dip in the center, and surround it with fresh, crisp in season vegetable slices for your guests to munch on throughout the feast.

A second option for a main dish is always a good choice for any grand feast, and a vegetarian option such as a tofurkey or in this case, a pepper crusted salmon dish is always a good choice. Salmon is calorie light and surprisingly easy to prepare, and tastes delicious served over a heaping mound of grilled vegetables.

Mashed potatoes and gravy are a classic side dish for any autumn holiday feast. They're surprisingly easy to prepare as well, but counting them all can be a little tedious. Keep your pets busy by having them help out. 1, 2, 3, 4...

Truffles aren't for everyone, younger Neopians may even despise them, but surely your guests with more exquisite tastes will enjoy the flavors of exotic mushrooms. Fall is the season when they become their most ripe and flavorful, and if well prepared exotic truffles will make a wonderful addition to your autumn feast.

Baked yams are surely every young Neopian's favorite dish, especially the delicious, gooey marshmallows on top. It's alright to forgo the yams entirely, because it's doubtful that anyone would eat them anyway, just push them around their plate to make it look like they did!

Pumpkin bread is a classic autumn treat all around Neopia, and of course that's because it's delicious! While the pumpkins are still ripe and in abundance, try preparing some spiced pumpkin bread of your own. Your guests are sure to love it. A sweet but savory pumpkin bread molded into the shape of a pumpkin is a lovely desert that is sure to please the eyes and stomachs of your guests.

Do you have Apple Lanterns still left over from your Halloween celebrations? Before they've gone off completely, mash them up and make a delicious apple lantern pie for your guests. A perfect holiday treat for the season, the warmth of a spooky Apple Lantern will fill your tummy with this classic fall desert.

What Neopian holiday would be complete without a cup of hot Borovan? The warm scent of mulled cranberry will be wafting through your kitchen all autumn. You can't go wrong with Borovan, your guests will be sure to love it, young and old alike! The flavor of classic Borovan is delicious, but this seasonal flavor with just a hint of cranberry is the perfect accompaniment to your fall menu.

Tips: Depending on where you live in Neopia, different foods may be in season. For example, if you live in Maraqua you might try substituting a turkey for a fish dish and add a seaweed salad. There are only a few ideas for classic fall dishes mentioned in this article. Feel free to add your own ideas and start your own fall holiday traditions with your Neopian family!

Hopefully, these tips have given you some ideas for the menu and presentation of your own autumn harvest feast. If your feast goes off without a hitch, you'll surely be the talk of the town! But remember, what matters most of all is getting together with family and friends and expressing thanks for the fall harvest. There is no season better than autumn to sit by the fire and enjoy time spent with loved ones all across Neopia.