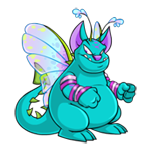 Neopian Fashions Part 3: Faerieland

by petpet_master_

--------

Riddle me this, have you ever been to Faerieland? If the answer is yes, fantastic! You are an awesome Neopian. If the answer is no, shame on you! Why have you not been to this fantastic land? Sure, if it were still 10,000 feet high in the air, it would be somewhat understandable, but seriously, it is on the ground now! What is holding you back from experiencing the wonder of this amazing land? How have you went on living without spinning the Wheel of Excitement, or even talking to that lonesome Grundo plushie? Have you not ever witnessed the magic of Healing Springs or explored the depths of the Faerie Caverns? Have you ever placed a bet on a speedy Poogle or done Jhudora's bidding? There is so much to Faerieland to discover!

Besides the many places to visit, there are also quite a few games to play. For example, Faerie Bubbles is the perfect combination of action and puzzle. Just line up your cannon and shoot the bubble to make a combination! Or, try your intellect at a Faerie Crossword Puzzle. Maybe you are a little low on cash, so why not visit the Employment Agency? Having those extra neopoints will certainly help when you need to dress the part.

What's that you say? Dress the part?

Yes! You did not think they just let in whoever they feel like, did you? You have got to look the part! So, without further hesitation, let us just get right down to it. You are going to learn everything you need to know about Faerieland fashion in this article, Neopian Fashions Part Three: Faerieland!

Neopoint

1. Faerie City Balcony Background
Rarity: 101
Price: 4,000,000 NP
To start off the list, one of the most expensive wearable items in Neopia! Yes, folks, only the finest of background are made exclusively for Faerieland and it seems to be a recurring theme. You will feel like a true faerie princess/prince with this background and all the high fashion neopets own one.

2. Malicious Dark Faeries Background
Rarity: 80
Price: 35,000 NP
Whether you support the dark faeries, or your bank account, this background is definitely for you. Much cheaper than its good-guy-themed counterpart, it still radiates the magic of Faerieland through all who sport it.

3. Earth Faerie Frame
Rarity: 88
Price: 400,000 NP
With this foreground, you can bring the magical sounds and plant life of Faerieland wherever you go! A definite must have for anyone visiting Faerieland. All of Neopia's finest faeries have at least one of these. With this, you are sure to gain the respect of even Fyora herself.

4. Fancy Pink Gown
Rarity: 70
Price: 2,000 NP
This gown is simple yet elegant and it sure to go very well with whatever you wear with it. This gown is perfect for flying through the air, or maybe frolicking through a flowery meadow. Fyora herself could learn a thing or two about fashion from whoever wears this beautiful gown.

5. Colourful Festival Negg Skirt
Rarity: 101
Price: 20,000 NP
If you have always been a Fashionista, you would have chosen this as your prize! But if not, you can show your appreciation for the Negg Faerie by buying this colourful skirt for only 20,000 NP. It has a light airy feel and is very comfortable. You are sure to be mistaken for Kari herself at least once!

6. My Sisters Frilly Skirt
Rarity: 180
Price: 15,000 NP
With this skirt, you cannot go wrong. It is perfect for Faerieland fashion in every way. The pink, the tulle, it has girl written all over it. Girly yet sophisticated, it has a very faerie-like feel that will always be accepted as fashionable. On a side note, the Happiness Faerie would be especially proud of you.



7. Wigs
(Spring Negg Wig, Illusen Wig, Jhudora Wig)
Rarity: 101, 82, 81
Price:9,000 NP, 90,000 NP, 150,000 NP
Wigs are a perfect way to express your inner faerie. Whether it is Illusen or Jhudora, with these wigs you can dress up as your faerie idol or, you can be original and create your own fantastic faerie look. The opportunities are endless with the power of wigs!



8. Wings
(Faerie Queen Wings, Earth Faerie Wings, Deluxe Dark Faerie Wings)
Rarity: 92, 86, 101
Price: 500,000 NP, 110,000 NP, 70,000 NP
Wings are a must have if you are even thinking about exploring Faerieland. They are your only form of transportation! Because of this, they tend to be a bit on the expensive side, but there is a pair for everyone, you just have to know what you are looking for. Any pair of wings is well worth the investment. They are completely necessary for any faerie outfit. Have you ever seen a faerie without wings?



9. Masks
(Fairest of Feathers Mask, Butterfly Mask, Pretty Flower Mask)
Rarity: 101
Price: 5,000 NP, 40,000 NP, 95,000NP
Whether you are attempting a mysterious look, or just want to show off a cool new mask, these are for you! These masks are available for every budget and are great for faerie-themed parties. Each one of these looks just as beautiful as the next, so do not feel ashamed if you buy the cheapest one, they are all fantastic.

10. Colourful Cherry Blossom Necklace
Rarity: 101
Price: 10,000 NP
This is a staple in any faerie's wardrobe. Made from the delicate cherry blossoms of Shenkuu, they are shipped to Faerieland especially with care where they are made into beautiful necklaces. This necklace goes with everything. Whether you are a nature lover or girly-girl, this necklace is for you.
Neocash

11. Faerie Circle Background
Rarity: 500
Price: 200 NC
With a beautiful background like this, all your friends will be jealous. This background gives a peaceful vibe to everyone around you. It is the perfect place for catching up on your Faerieland literature. Show your appreciation for the beautiful Faerieland nature with this background.

12. Faerie Cave Background
Rarity: 500
Price: 200 NC
Are you more the adventurous type? Fed up with all those frilly skirts and wings? Then this background is the one for you! Show everyone just how daring you are by exploring faerie caves wherever you go.

13. Garden Gate Foreground
Rarity: 500
Price: 150 NC
Every faerie needs to know how to garden, and now you can with this beautiful Garden Gate Foreground. This background is a must have for anyone wanting to get into Faerieland.

14. Earth Faerie Dress
Rarity: 500
Price: 150 NC
Dress like the one and only Illusen herself! This dress was especially inspired by her earthy fashions and can be yours for only 150 NC. It would go perfectly with your Illusen Wig too! Complete the look today.

15. Lavender Faerietale Dress
Rarity: 500
Price: 150 NC
Feeling a bit more royal, are we? Well, if that is the case, this dress is right for you! It is formal yet casual all at the same time. Fit for Fyora herself! You could wear this dress on a stroll, or to a ball. It is a very useful piece to have in your wardrobe.

16. Sparkling Faerie Dress
Rarity: 500
Price: 200 NC
The most expensive of the three dresses! My you have fine taste. This gown is like every fancy faerie thing mixed together and sewn into a dress. It was once said that Fyora could not even afford this dress! You must have impeccable taste to wear this.

17. Frozen Tree Branch Wings
Rarity: 500
Price: 150 NC
These wings would definitely make Taelia proud. Show off your wintery faerie flare with a pair of these ice-laden wings for only 150 NC! You could fly from Faerieland all the way to Terror Mountain with these sturdy wings.

18. Shimmering Draphly Wings
Rarity: 500
Price: 150 NC
These wings take a bit of a unique twist on the classic faerie wing. If you are feeling bold, why not try out this risky look? You are sure to turn a few heads.

19. Laced-up Spring Shoes
Rarity: 500
Price: 150 NC
While they seem simple, and maybe a little out of place, these shoes are durable and are a serious must-have for adventuring through the sometimes rocky terrain of Faerieland.



20. Floating Faerie Dolls
(Illusen, Jhudora, Fyora)
Rarity: 500
Price: 150 NC
You will never feel alone with the company of one of these cute dolls by your side! A great deal too!
Well, this wraps up the Faerieland fashion issue. Congratulations, you are an official Faerieland Fashionista and have an attention span greater than zero! Use your skills wisely to build both Neopoint and Neocash outfits and amaze everyone you meet!