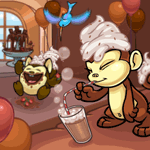 Ten Outfits to Wear to the Annual Chocolate Ball

by star138

--------

The day that Neopians with a sweet tooth or a fondness for parties have been waiting for is finally here. It's time for the Annual Chocolate Ball. This year's Annual Chocolate Ball is sure to once again be a highlight of the month of Gathering for chocolate lovers and party lovers alike.

But as Neopians prepare for one of the fanciest parties on the Neopets calendar, many are left staring at their closets in bewilderment. What does one wear to the Annual Chocolate Ball? Is there such a thing as too formal? What about casual wear? Do you have to wear actual chocolate to garner an invite? How much should you budget for your outfit?

Fear not. After some intensive research, I'm here to help. The ten outfits below have been designed to answer all of your questions and to fit every budget be it in Neocash or Neopoints.

You won't have to venture farther than the Shop Wizard to put most of these outfits snazzy Neopoint outfits together:

Outfit #1: For the Candy Lovers - Fancy Pink Gown, Pink Sun Hat, AAA Host Shoes, Candy Bouquet, Candy Heart Necklace, Negg Candy Bracelet, Neohome Background

Even if you prefer your candy to be of the non-chocolate variety, that's no excuse to snub the Annual Chocolate Ball. This outfit shows your appreciate for the non-chocolate things in life while also putting your best foot forward once you arrive at the Chocolate Ball. If you're lucky enough to have a Box of Chocolates Hat go ahead and wear that instead of the Pink Sun Hat--it's an easy way to keep with the spirit of the Annual Chocolate Ball without needing to eat any actual chocolate!

Outfit #2: This One's For the Boys - Bright Striped Spring Shirt, Khaki Trousers, AAA Host Shoes, Easter Bowler Hat, Birthday in the Park Background, Chocolate Chia Gnome.

Male Neopets have been known to attend the Annual Chocolate Ball as well. If you plan on being one of them, this outfit is sure to put your most debonair foot forward with a bright, festively colored shirt and a spiffy Bowler to match. And remember, any party can become your own personal Chocolate Ball with the right chocolate accessories (or gnomes!).

Outfit #3: Chocolate Lovers Welcome - Curled Blonde Wig, Long Orange Dress, Chocolate Chunk Foreground, Chocolate Paradise Background

Simple and, dare I say, sweet, this outfit has all the elegance of a fancy dress and well-styled hairdo with a lot of chocolate for good measure. In fact, there is so much chocolate lying around you probably don't even want to wear shoes. After all, nothing can ruin a pair of party shoes faster than chocolate stains.

Outfit #4: Party Hard - Dapper Yellow Shirt and Green Jacket, My Sisters Frilly Skirt, Cute Pink Wig, AAA Host Shoes, Moon and Stars Background

The Annual Chocolate Ball is a party, so a practical outfit might be in order to make the most of the festivities. With sensible shoes and a pretty skirt you'll be ready to dance the night away. The layered top and jacket will see you through a hot afternoon to a cooler evening soiree. Too much pink for your tastes? Swap out that Cute Pink Wig for a Cute Dark Wig and you'll be set.

Outfit #5: Comfy but Cute - Blue Shoes, Colourful Festival Negg Skirt, Spring Negg Wig, Hannahs Red Undershirt, Neopets 10th Birthday Celebration Cake, 8th Birthday Celebration Background

If you plan on staying behind the scenes for this year's Chocolate Ball, you can still look cute. Comfy sneakers, a simple shirt and a fun skirt are perfect for baking a nice chocolate cake to bring to the Annual Chocolate Ball.

And now for the dazzling Neocash Outfits. Some of the Neocash items featured here are retired and available for trade. Others are buyable. Either way, these outfits offer some fun suggestions for how to use your Neocash items to your advantage when dressing for the Annual Chocolate Ball:

Outfit #6: Chocolate Galore - Chocolate Fountain Lane Background, Delicate Chocolate Fan, Pretty Dark Wig, Lavender Faerietale Dress, Laced-up Spring Shoes

With chocolate-colored locks to match this chocolate-filled background, this look leaves no room for doubt about how much you love the Chocolate Ball. The Lavender Faerietale is formal but fun and perfectly accented by the Laced-up Spring Shoes.

Outfit #7: This One's For the Boys Redux - Suave Wavy Brown Wig, Sporting Suit Jacket, Khaki Trousers with Cuffs, Mad Tea Party Shoes, Mad Tea Party Background, Colourful Candy Heart Bouquet

Another fine option for any Male Neopets eager to impress with their stylish clothing choices. Since chocolate bouquets are hard to find (and infinitely more likely to melt) a Colourful Candy Heart Bouquet is the perfect substitute to bring to a gracious hostess. If the look feels a bit too stuffy, swap out the Sporting Suit Jacket for a Handsome Shirt and Tie for a more relaxed look.

Outfit #8: I Like Dessert, I Like to Party - Dessert Party Background, Shimmery Seashell Dress, Bubble Gum Wig, Sparkly Bow Shoes

If you like all things sweet, except maybe for chocolate, this is another great outfit to let everyone know while embracing the spirit of the Annual Chocolate Ball by throwing your own dessert party. Wearing a Bubblegum Wig that matches your Sparkly Bow Shoes takes it to the next, very fashionable, level.

Outfit #9: Don't Eat Me - Pink Frosting Wig, Shimmery Crinoline Dress, Silver Strappy Sandals, Chocolate Dream Background, Candy Gate

Should your Chocolate Ball festivities include a costume party this year, it's inevitable to want to dress up as something sweet in a more literal sense. While being painted Chocolate is an infinite help, this outfit can help any pet look too sweet to eat. Just remember, the Candy Gate is key to this outfit just in case someone really does want to take a bite out of you!

Outfit #10: Pets Just Want to Have Fun - Cupcake Clip Wig, Lace Flower Dress, Pretty Plaid Shoes, Chocolate Carousel, Festive Outdoors Birthday Party Background

This outfit once again focuses on the sweeter things in life with a Cupcake Clip Wig. The Lace Flower Dress brings to mind chocolate confections with its coloring while Pretty Plaid shoes are the perfect footwear for a day filled with celebrations. With a Festive Outdoors background and a Chocolate Carousel this outfit tells everyone that you are ready and willing to have lots of fun at this year's Annual Chocolate Ball.

No matter what you end up wearing to the Annual Chocolate Ball, remember the most important thing is to enjoy yourself. These outfits will help you look as good as you'll feel while you enjoy everything this year's Annual Chocolate Ball has to offer.