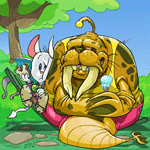 Cutest Mutant Items

by pinkcrown123

--------



Ugh, Mutants aren't that cute, are they? You can't blame your neopet if they just got turned Mutant by that cruel lab ray, right? (What are you doing zapping innocent pets with that horrible ray, anyways?) But still, some mutant things are extremely cute, in their own "special" way. These Mutant items can be cute as a Faerie item! In fact, here, I looked at all of the Mutant items in Neopia and found the cutest ones of all! I'm not kidding, you'll die of cuteness!

Mutant Ona Bobblehead
Daw, just look at its head bobble back and forth-back and forth-back and forth... must serve Dr. Sloth... must adopt some Grundos... must serve Dr. Sloth... must kill Space Faerie... Dr. Sloth... master... Virtupets Space Station... back and forth... back and forth..*faints*
HarborDay: Sorry, due to technical difficulties, you might have to wait a few hours and come back.
***
A few hours later...
Uh... what just happened? Never mind that, let's just go on. This toy is just so fun, and it definitely will NOT hypnotise you into serving Dr. Sloth. Nope. Nuh uh. Negative. No. Chances are zero. It won't. Trust me. I love the fine craftsmanship, it looks just like the real thing! And, it will probably not scratch your hand off after you try to hug it. And, if you don't think your Neopets are mature enough to take care of an actual petpet, this is just perfect. Way better then those Kadoatie and Angelpuss figures and plushies. Especially how the head bobbles back and forth-back and forth-back and forth... oohh... Dr. Sloth... *collapses*
HarborDay: Uh... looks like Mom got hypnotized again. I knew she was taking this Neopian Times thing too far. Better get the Healing Potions... *rolls eyes*
Pinkcrown123: Yeah, I tried to convince her not to do it... but whatever. Her fault, right?
HarborDay: Thank goodness she didn't make us review the items.
Pinkcrown123: Yup. We better revive her soon, or she'll scream at us again for ruining her article.
HarborDay: Healing Potions coming!
***
Okay, I think it'd be best if we moved on.

Mutant Crackers
These crackers are perfect for your Baby Neopet, they're in fun mutant shapes! Each cracker is very cute, painted with a weird green liquid. Each package contains 25 crackers and every one of them are delicious! It does have a warning, saying it might turn your Neopet Mutant, but I bet that's just a silly rumor to help sell the crackers better. I never tried one before, but I think I'll try one now! *noms on a cracker* Hmm... not as flavorful as I imagined, but still okay, I guess... uh, I'll still leave the delicious part in my article, though.
Pinkcrown123: AHH! MOM, IS THAT YOU!?
Huh? Why are you screaming at me, honey? What's wrong? I'm just trying out these crackers. Want one?
Pinkcrown123: YOU ACTUALLY ATE THOSE MUTANT CRACKERS? YOU'RE SUCH AN IDIOT!! OH MY GOSH, I NEED TO GET THE HEALING POTIONS! HARBORDAY! LOOK AT MOM!!
Nice try. There's absolutely no way these crackers could've done anything to me. Pfft, they only cost a few hundred NP too. Trans-potion thingys that I can't spell cost 100k, at the cheapest.
HarborDay: Gah, what happened to her this time? AHHHH!
Pinkcrown123: I know, right? I'll go out and buy some more potions, I think we ran out.
HarborDay: *snickers* I am so getting my camera! This moment is golden!
Greyleaf123: What's going on?-WAHHHHHH! Tha-tha-tha-that's Mom? You guys shouldn't be laughing, this is serious! What if the potions don't change her back?
HarborDay: I'd get used to it if Mom stayed like this forever.
HARBORDAY!
HarborDay: Yeah, yeah, fine, I'll make sure the potions change you back, blah, blah, blah. Let's just see how your pictures turned out.
***
Kay, good, I'm back. Sorry for all that before, I promise it'll be better for the next items!~
Pinkcrown123: You should just give up now.
HarborDay: No, I want to see what happens next! *bursts into laughter*
YOU'RE BOTH GROUNDED!
HarborDay: Meh, whatever.

Mutant Chia Hole Punch
Everyone thinks Mutant Chias are ugly and the worst pets ever, but I disagree! I do admit the Feed Florg game is cruel, but it doesn't mean all Mutant Chias are that bad! When you're sending your pets to Neoschool this is better than a plain hole puncher, it's way cuter and a very creative idea! Let me try it out! Let's see... this paper, into the hole puncher you go! AHHH!
Pinkcrown123: That's the understatement of the year. Let me get a bandage.
HOLLY KAU, WHY IS THIS GREEN SLIME COMING OUT OF MY FINGER? AND IT'S LEAKING OUT OF THIS NORMAL PAPER TOO! OH MY GOSH, HURRY UP AND GET THE BANDAGE!
Pinkcrown123: Here you go.
Oh, thank goodness. AHHH, WHY IS THE GREEN SLIME STILL COMING OUT!?
Pinkcrown123: We'll go to Healing Springs.
GAH, HURRY HURRY HURRY!
***
*clears throat* Umm... next item...

Mutant Hissi Icepack
Well, so, this is a icepack, it's shaped like ugly *cough* *cough* I mean adorable Hissi, and there's two heads, and it's an icepack. Um, it's cold, like if you freeze it, and it's good for hot days, I guess? It makes your fur or something colder? Right? So, hmm... uh... Uh well, I guess it probably won't do any harm, yeah, charming. So, well, it's an icepack. I won't test it this time, but, well, maybe I should, yeah, this one is just an icepack shaped like a Hissi, no harm, right? So... let's see... ARGH!
Grayleaf123: Due to more technical difficulties, please come back in a few hours, okay? ;)
***
*sigh* Okay, there's gonna be two more items, okay? Then this article will finally be over.

Wind Up Mutant Jetsam
Uh, this is a perfect bathtub toy? Just twist the handle a few times, and it will start swimming super fast, right? Like if your pet doesn't have any siblings, you can put this in the swimming pool and they can race? Hopefully there's no negative effects? WAIT, I HAVE THE PERFECT IDEA! Instead of me trying out this possibly dangerous*cough* fun item...
HarborDay: NONONONONO! You said you wouldn't make us try the items!
Fine... if you want me to explode so there's no one to feed you, that's cool.
HarborDay: Yeah, I don't care.
Um, anyway, let's continue. So wind this up, put it in the swimming pool, right? Okay. OMG, WHY IS THE WATER TURNING GREEN! AH AH AH AH AH AH AH AH!!!!
***
Last item, whew!!
Oh no... oh no...

Mutant Meepit
Well, I guess this fella is cute, right? Meepits aren't that bad, right? They probably won't take over Neopia, right? Yeah, this is a good petpet. A little pricey, but good watchguards? Like they can bite your head off? But they won't actually bite your head off unless you mention that place. Yup, don't say that Jelly World is real, even if it isn't, nope, don't do that, nope. Like if you do this. JELLY WORLD IS REAL, YOU LIARS!* *gets dragged away by meepits*
HarborDay: Uh, looks like Mom got dragged away by meepits, not that I care. Whatever. But I think if she was here, I guess she'd say thanks for reading (what's the point of that?) and she probably wants to huggle TNT for publishing her weird article and, if she is probably right now exploding with happiness in the meepits' hideout since you're reading this.
*Disclaimer: Jelly World is not real, and if you scream that Jelly World is real, you will probably get dragged away by meepits. The writer is not responsible for any loss of heads, necks, arms, legs, or any other body parts. Also, the writer does not believe in Jelly World either; she was just testing what would happen.