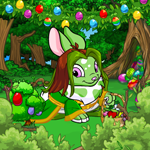 Dressing for Neggs Hunt

by martia_elior

--------

Spring has arrived and together with it, the Festival of Neggs. Kari is organising her annual activities and you can be sure that her Negg Hunt will be as exciting as it was last year! But... are you prepared for the upcoming event? Did you dress your neopets up in their best outfit to celebrate Kari's efforts? If any smart customization idea hasn't occured to you yet and your closet seems to be full of Negg-related wearables difficult to be combined, then this article is for you!

I thought of different male and female outfits based on neopoints items only, so if you can't afford neocash you can enjoy the Festival of Neggs anyway! Both pets are dressed up for Kari's Negg Hunt with multispecies wearables only so it doesn't matter if you have a Kacheek, a Cybunny or something else!

FEMALE OUTFIT: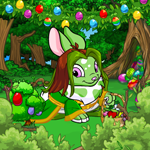 1. Hollowed Negg Tree Background
This is a cheap background awarded at the end of 2011 Neggs Hunt. It's actually common, but not well used. Don't worry if you didn't participate in last year Festival; you can easily find it in shops for around 8,000 NP each. It's one of the most appropriate backgrounds for our theme because of all its partially hidden neggs and it is a quintessential way to celebrate Kari's event!
2. Festival of Neggs Garland
At around 3,000 NP a piece, this daily prize of 2010 Festival of Neggs is rarely used in a proper way, mostly because it's really event-related. It's a very bright and colourful garland that helps creating the festive atmosphere and suits our Hollowed Negg Tree Background perfectly.
3. Shrubbery
This is one of my favourite foregrounds; it's versatile but not insignificant, simple but not trivial. Shrubbery can be used in almost every spring-, summer- and fall-related customisation and, in the outfit above, it gives the idea of what a Negg Hunt should be. Among its leaves and branches your neopet has the possibility to find a colourful hidden negg! This foreground costs around 25,000 NP and it's actually worth its price!
4. Negg Bush
Another daily prize of 2010 Festival of Neggs. You have to admit that Kari gave us many nice pieces during the past years; we only need to learn how to use them! At around 1,000 NP each, this trinket is cheap, bright and nice; it's not so small that you can barely see it, but neither is it so big that it can steal the attention away from your pet.
5. Illusen Wig
This adorable wearable item is one of the first non NC or species-specific wigs that have been released. Illusen is an earth faerie who lives in Meridell and her favourite colour seems to be light green, which is also the perfect shade for spring and Kari's event! This wig costs 65k a piece, but in my opinion it is a great closet investment, because it looks really pretty on almost every species and can be used a lot during the whole year!
6. Fancy Brightvale Gown
This lovely dress was released last year to celebrate the Discovery of Brightvale and, at around 12k a piece, it is quite cheap and affordable. You should consider buying it even if you are not a Brightvale supporter in the Altador Cup! With its bright green cloth and gold trim, this gown can be handily used for many spring-related outfits and it matches perfectly with the Illusen Wig in our Negg Hunt customisation.
7. Illusens Laced Slippers
This brand new wearable item was released this past Month of Running to celebrate Illusen Day, but it's not too expensive, at the price of 70,000 neopoints each. Illusen's shoes complete our neopet outfit; they seem almost invisible under the dress, but I can assure you will notice the difference if your pet doesn't wear them!
8. Basket Of Berries
At around 12k a piece, this cheapish handheld item is useful for a lot of outside customisations; your neopet can wear it to go to a picnic, a nice trip in Meridell's Meri Acres Farm or our Negg Hunt! Ok, I'll admit it. It would be awesome if we had a neopoint handheld negg basket, unfortunately we still don't have it (crossing fingers for the upcoming Festival!) so we need to do our best with what we have.
9. Golden Dubloon Necklace
This lovely accessory isn't really required to complete our outfit, but it actually gives the perfect finishing touch. It matches perfectly with the gold hem of the Fancy Brightvale Gown and it's a nice detail that shows your passion and care for a great customisation job.
It's the most expensive wearable among the ones I suggested, running around 125k, but it's quite affordable anyway and it can be used in many different situations, even if your pet feels dressy or casual.
If you don't like green too much, you can maybe choose the whites and blues of the multispecies school outfit (School Girl Hat or Altador Cup Wig, School Girl Jumper, School Girl Plaid Skirt, School Girl Shirt and School Girl Shoes), which would be more expensive but actually lovely anyway.
A nice addition can be the Earth Faerie Frame, which is the ultimate foreground for a perfect spring-themed customisation.
MALE OUTFIT: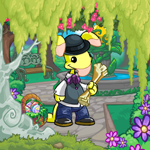 1. Spring Courtyard Background
Released during Springtime Celebration in 2009, this fantastic background is still quite popular and costs around 50,000 neopoints a piece. It has actually nice colours and shows some lovely details such as the vintage steel bench and the white cloud in the distance. In addition, it shows the ideal location where a Negg Hunt can take place.
2. Willow Tree Foreground
As with Shrubbery, this is another great foreground and adds a lovely frame-like effect. Currently about 75k a piece, it's a quite expensive item as well but can do a lot for your pet's customisation. It can be used together with both urban and rural backgrounds and associated with many nice lower foregrounds such as the Scenic Fallen Tree. Its shades of greens and grey fit almost every colour so you can really experiment with unusual combinations with it!
3. Pink Flower Garland
This garland is pretty new, being released during past Month of Awakening. At about 110k a piece, it's not the cheapest item but gives the idea of spring, with its blossoming bright, pink flowers. I like it very much in combination with the Willow Tree Foreground, but this garland is not necessary for our Negg Hunt customisation and can be easily replaced with the Festival of Neggs one I used in the previous female outfit. It has a great potential with almost every spring and summer related customisation anyway, so don't underestimate it!
4. Black Derby
I don't think this old hat is collecting dust in your closet: it is one of the best neopoint accessories ever and can be worn by every species! At around 80,000 neopoints a piece, Black Derby is an evergreen item and suits almost every male outfit. In spite of being released during Y9, its price has always remained in the 60-80k range mostly because it's very popular and can be used in a large variety of ways! You should consider in buying it if you don't own one already.
5. Fance Top
There aren't plenty of multispecies male wearables out there, so you have to choose among few garments. But, that said, this relatively new jacket is actually nice, so it comes as no surprise that its price is around 200k a piece. It looks very good with many trousers, but if it's not in your price range or you don't like it, then it can be replaced with Hansos Thief Jacket, AAA Host Shirt and Jacket or Dapper Yellow Shirt and Green Jacket (in this case, consider another hat, please!).
Fance Top can be used for a lot of customisations and its purple bow tie and button give it an enviable, uptown appearance which will certainly get your pet's friends talking!
6. Hardy Blue Trousers
A cheap item, at last! At around 10k each, this casual pair of pants can be worn in a large variety of occasions, like gardening, relaxing, exploring or participating in our Negg Hunt! Their shade of blue can easily remind us of jeans and goes well with a lot of shirts, tops and jackets, so don't misjudge this garment!
7. Wellington Boots
If you think of using them on rainy, gloomy days only, then you'll have to change your mind! Due to their cheap price – around 1,000 neopoints - they are possibly in almost everybody closet, but they're one of those get-them-and-forget-them pieces. It's a pity, though, because this pair of boots can really look like shoes if worn under trousers and actually works well on both female and male pets. In our event-related outfit, Wellington Boots match perfectly with Black Derby and assure your pet that comfort they need during a treasure hunt!
8. Rolled Up Treasure Map
This handheld item is what our pet needs to find their way to all the hidden neggs! At around 80k each, it's another quite expensive piece, but can be used in a large variety of ways, so it wouldn't sit in your closet collecting dust for months. Our pets can need a map if they are acting like a pirate looking for ancient treasures, travelling through undiscovered lands or participating at Kari's Negg Hunt! So why haven't you bought it yet?
9. Pretty Wicker Negg Basket
Last but not least, we found a use for another prize of 2009 Springtime Celebration! Rosie the Grarrl would be very pleased to know that her trinket is being worn with the appropriate customisation. I'm quite sure you already have it in your closet, but if I'm wrong you can buy it for only 3,000 neopoints; it's a bargain, isn't it? This basket is colourful, nice and well detailed. It's a pity it's not a handheld item, but our pet is happy to have it on their side, otherwise they can't consult their map!
If you think this outfit is too expensive for your pockets, then you can wear to dress your pet with AAA garments which are extremely cheaper (AAA Host Shirt and Jacket, AAA Host Trousers and AAA Host Shoes) and, if your pet loves hats, you can combine them with Apple Bobbing Bart Hat.
I really hope you enjoyed my suggestions and the list of items I proposed, even if you adore and can afford neocash; there are lots of nice neopoint items out there and it would be a shame using neocash stuff only!
Have a nice Festival of Neggs and don't forget to participate in Kari's daily activities!