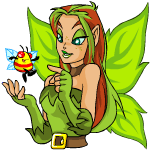 The Voice of Neopia: An Illusion of Illusen

by cardsperson_ii

--------

It's a month of happiness (minus the Great Neoboard Famine and my unpresent presence that neglected to obtain the pretty little avatar that came with it), and what could add to the happiness more than the illustrious Illusen? For years this kind-hearted guardian of Meridell has entranced just about everyone with her soul-searching eyes and endless charm--not to mention challenging quests with bountiful rewards. Illusen is a figure admired by just about everyone.

But how much admiration is too much? Neopia's infatuation with this freckled wonder has got some citizens (okay, maybe just my Krawk Cali) wondering if there's something darker buried under Illusen's subtle smiles and sparkly gaze. After all, weren't Illusen and Jhudora once "Best Friends Forever"? Are they still affiliated and perhaps partners in crime? Isn't Illusen in a perfect spot to take over Neopia?

To investigate these (silly) doubts, I set out for Meridell after being released from the NeoHospital (see Jhudora Day issue of the Neopian Times). The warm glow of the sun in my eyes, a cool breeze ruffling through my hair, I found Illusen meditating on a grassy hillside. Upon noticing my presence she agreed to an interview without me even having to explain why I was there. Our conversation follows:

Illusen: You're one of those Neopian Times interviewers, aren't you? I do recall reading your articles and was saddened to hear your misfortunes with Jhudora. I sent you flowers, I believe.

Me: Uh, I am indeed! And thanks for the flowers. I got a huge pile of them for some reason.

Illusen: You are very welcome. I try to stay well informed of the world outside Meridell, as to help others out of their misfortunes. Now, I suppose you want to ask me a question?

Me: Yes indeed, honorable Illusen. I don't know where to start... okay. So... why do you give Neopians quests anyways?

Illusen: *laughs* Jhudora and I sort of have a competition going on. I can't let too many people be swayed by her dark maliciousness. I hold my own quests in order to satisfy those in need of a challenge, and to detract the evil purposes behind Jhudora's quests.

Me: So all of the objects you collect are for no personal gain?

Illusen: What can I do with a Simple Red Side Table anyways? I usually find purposes for the items. Those faeries over in Faerieland working in the reconstruction can usually utilize the resources I gather.

Me: So what's your opinion on Jhudora? Do you think she's up to something?

Illusen: I wish I could know for sure.

Me: Are you up to something?

Illusen: Uh... no.

Me: So what's the deal with you and Jhudora anyways?

Illusen: Simply put, she and I used to be friends, if that's what you call it. And then...

Me: And then?

Illusen: Nothing.

Me: Illusen, why do you reside here in Meridell anyways?

Illusen: Why shouldn't I? Faerieland is too busy for me, with all of those faeries flying around and especially now during the reconstruction. No deafness for me, please! *laughs* Here in Meridell I can really think and reflect on our beautiful Neopia. And I'm sure my presence draws tourists here as much as the allure of telling King Skarl a decent joke. I love all of this peaceful kingdom.

Me: Even the Rubbish Dump?

Illusen: All places on Neopia deserve a little love, even if they happen to reek of rotten zeenanas and old croutons.

Me: What is your opinion on the Faerie Queen, Fyora?

Illusen: I adore her and am her willing subject. What other opinion could I have?

Me: Who do you think has the better outfit, you or Fyora?

Illusen: That is a tough question. I think my typical dresses are pretty normal and bland for an earth faerie, but I have had many people come to my glade begging for some spares from my wardrobe, so I don't doubt its... attractiveness. However, Fyora has one of the greatest dresses in Neopia, designed by the greatest Neopian fashionistas in history. And not to mention, she manages to look good in pink...

Me: Actually, it's purple...

Illusen: Sorry. Purple.

Me: So I was wondering.... my Krawk Cali has had some very interesting questions about you and your... politics. Mind if I drag her away from potato counting so she can ask you personally?

Illusen: Go ahead. I'll be right here.

I ran down the hillside and arrived, out of breath, at the potato counter where Cali was busy screaming random numbers at a startled yellow Kacheek. I literally had to drag her up the hill to Illusen and promptly fainted upon reaching the top. The following conversation was recorded by Cali, and I apologize for failing to teach her proper manners.

Cali: Illusen, I think you're kind of a sneak.

Illusen: How so?

Cali: You and Jhudora do exactly the same thing. Yet everyone abhors poor Jhudy, and you get away scot-free. I think you're the one who is actually going to take over Neopia.

Illusen: That's a fair claim, I suppose. Unfortunately, I can only assure you I have nothing to gain from conquering Neopia.

Cali: But you have nothing to lose either!

Illusen: Um...

Cali: You're using all of those Simple Red Side Tables to build a giant slingshot to launch Virtupets out of orbit and thus replace Dr. Sloth as world dominator, aren't you?

Illusen: ...

Cali: And all of the Honey Potions and Rose Shakes and Earth Potions you've given out are actually meepit-spawning liquids that will activate next Flotsam Day, huh!

Illusen: Actually, they're for the benefit of--

Cali: AND THOSE CREAM COOKIES ARE ACTUALLY HIDDEN BATTLEDOME WEAPONS EQUALLING THE POWER OF SUPER ATTACK PEAS THAT WILL SELF-ACTIVATE IN THE NEXT 27.2 HOURS AND THEIR COMBINED POWER WILL KNOCK NEOPIA AND KRELUDOR OUT OF ORBIT AND CAUSE A GIANT FEEPIT TO FORM BECAUSE IT'S ACTUALLY FEEPITS NOT MEEPITS AND--

Me: CALI, WHAT IN THE NAME OF GREAT FYORA ARE YOU DOING!

Illusen: She's simply informing me about her theories about my actions.

Cali: I KNEW IT. I'M RIGHT. YOU ADMIT IT!!!

Illusen: Actually, I--

Me: Okay, that's it, Cali. Next time I'm taking Polynomial along and you're never allowed on interviews again.

Cali: But--

Me: I'm so sorry, Illusen! Thank you for your time and sorry sorry sorry sorry--

Illusen: *laughs* It is quite all right. Thanks for coming and bringing your charming Krawk and her... interesting... ideas.

Author's note: Thanks to everyone who sent me flowers after the Jhudora incident!