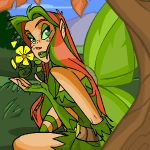 Celebrating Illusen Day The Earth Faerie Way

by sychologist

--------

The 17th day of Running has come upon us once again, Neopia, and while you and your Neopets may be recovering from the 14th (aka Scorchio Day), I'm here to remind you that March 17th brings to us Illusen Day! If it happened to slip your mind, you don't need to worry. I am here to provide you with the best tips and tricks to celebrate Illusen Day in a very earth faerie fashion!

Illusen (pronounced Ill-oo-sen) is one of the most highly respected faeries of Neopia, well known for her peace-loving, docile nature. She is an Earth Faerie and as such, enjoys helping those around her and extending a hand to help out all of Meridell whenever she can. She is extremely nice and good-natured towards everyone, except for her evil enemy Jhudora. She dislikes but manages to keep herself separated from the Dark Faerie and stay civil. While you're celebrating this holiday with your pets and neofriends and are ultimately having a good ol' time, don't forget to go about your day honoring Illusen by becoming an honorary Earth Faerie!

1. Adopt a Neopet from the pound!

Earth faeries (especially Illusen) are known for their extremely good-natured spirits and the fact that they'll reach out a hand to help those in need. Illusen has done this on several occasions and today you, too can model yourself after the Earth Faeries and extend a hand to help a pet less fortunate than your own. So while you're preparing for that big Illusen day celebration at the end of the evening, it might be in your interest to travel down to the Neopian Pound and adopt a new pet into your family! While it might not seem like much, the Earth Faeries will greatly approve of your attempt at helping a pet less fortunate, and you yourself will have a loving new addition to your neo family.

2. Complete an Illusen Quest (or two)!

Another quality all Earth Faeries share is their desire to help those around them, and you can show Illusen your earthly dedication by visiting her at her Glade in Meridell. While Meridell will be up and about with celebrations, Illusen never stops working on her spells to keep Meridell safe and at peace and you shouldn't stop either. You can complete a quest for Illusen once every twelve hours, so you might just manage to help her out twice, and she will be extremely thankful and be sure to remember your face. There's even a little something extra for you if you complete a quest for Illusen on her special day! And if this just so happens to be your 20th quest for Illusen, congratulations on devoting so much of your time and showing true Earth Faerie spirit by aiding Illusen in her work.

Don't forget to help any wandering Earth Faerie that comes your way, too!

3. Redecorate your Neohome to be more earth conscious!

Let us not forget one of the most important qualities that Earth Faeries have in common, their love for the earth and everything that inhabits it. They are very earth conscious and even Illusen herself spends all of her free time planting new gardens all about Meridell and making sure that the trees and grass stay healthy. While you might not be able to go populate an entire world with a new array of flowers and trees like Illusen can, you can do your part to redecorate your Neohome into being more earth conscious! First of all, there are two wonderful Earth Faerie created Neohome essentials that you can consider adding to your room: the Earth Faerie Canopy Bed (17,000 neopoints) and the Earth Faerie Sink (11,000 neopoints). These two items look beautiful in any room and not only that, but they were created by Earth Faeries with the upmost attention on detail and earthly decisions!

There is also a wide variety of plants on the market that you can add to your Neohome gardens. Not only will these plants liven up your Neohomes and be a beautiful sight to behold for both you and your neighbors, but every little bit of planting helps the Earth and by maintaining a healthy garden, you are really showing off your inner Earth Faerie! There are so many options to choose from that are available in the shops, but a few suggestions are the Runner Bean Plant (9,000 neopoints) and the Strawberry Plant (5,000 neopoints – and as an added bonus you get delicious self-grown strawberries!). If you have a particularly heavy wallet, you can even purchase a replica Illusens Orb Plant in honor of her and her holiday – but you will have to contact sellers on the trading post for prices.

4. Go Organic!

This is another one of those "showing your inner earth and health consciousness" strategies. Earth Faeries will create and only use and eat their own organically grown and created products. Even if it's just for Illusen Day, put down the Cheeseburger Pizzas and the Bluna Burgers, and instead go about making this day all about trying out the organic products that Neopia has to offer! You can choose from simple snacks such as the Organic Oatmeal Cookie(700 neopoints) or Organic Orange Slices (900 neopoints), or go as far as to create yourself a full meal with healthy choices such as a bowl full of Organic Pasta (900 neopoints) and a nice filling Organic Spinach Salad (5,800 neopoints). The use of organic products doesn't have to stop at the dinner table, either. Illusen herself has put two wonderful organic hair products on market for all of Neopia to use, and all funds spent are said to go to furthering her and her work on spells: Illusen Organic Replenishing Shampoo (19,000 neopoints) and Illusen Organic Moisturizing Conditioner (3,000 neopoints).

5. And when you're done having a long well spent "Earth Faerie" Illusen Day... get ready to celebrate!

Now, who said that Earth Faeries or Illusen herself is a square? We certainly didn't, and while Jhudora might disagree with one of her snarky remarks, this day is not about what Jhudora has to say or to think, but a day to celebrate the Earth Faerie that is Illusen herself! Plus, who ever heard of all work and no fun, right? Be sure to travel to Meridell for your own personal pleasure, because everything is sure to be alive with celebration in honor of Illusen! So go to Meridell with your pets, enjoy a game of Ultimate Bullseye, watch the Turdle Races, play Kiss The Mortog, peruse and shop at the many wonderful shops that Meridell has to offer, and even visit King Skarl himself! There is so much to do in Meridell and the fun is certainly never-ending all throughout this grand holiday. You're sure to find something for you and your pet to enjoy.

On your way out, don't forget to pick yourself up a souvenir to remember this holiday and Illusen herself (though you really don't need a reminder because such an incredible faerie is impossible to forget). Still, if you have a young (or old) pet, they will enjoy gifts and there are so many Illusen souvenirs to choose from! Be sure to check out your potential gift options including but not limited to the Illusen Heart Charm (200,000 neopoints), the Wind Up Illusen Doll (60,050 neopoints), and the Illusen Snowglobe (180,000 neopoints).

And remember, your Earth Faerie spirit does not need to end just because Illusen Day comes to an end! Illusen and all of her Earth Faerie friends spend all year helping the earth and helping everyone around them, so be sure to keep up the earthly spirits year round as well! But for now... have a wonderful time celebrating Illusen Day, Neopia!