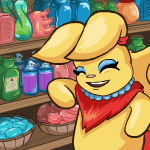 Private Grooming Letter

by cutiepie_honeybear

--------

Dear Sir or Madam,

Tired of simple, cheap, and junky grooming supplies?

Sick of getting dirty all the time?

Do you hate the fact that your owner doesn't care about your fur/scales/fins/feathers?

THEN FIND OUT THE PROPER GROOMING TODAY!!!!!!!

HOW? SIMPLE!!!!!!!!

Read this article about good and bad grooming supplies (or else)! It'll help you make the bad stuff in your body go away! Plus also, you won't have to deal with your horrible grooming supplies anymore.

Wanna find out? READ!!!!!!!!!!!!!!!

BAD SOAP

Olive soap: Everyone likes olives, right? BUT IT DOESN'T DO ANY GOOD IN YOUR SOAP, PEOPLE!!! Wake up and smell the dung... the olive soap smells rancid, and it's all gooey and gloppy and raises ugly rashes on your pet's body. FUN TO EAT BUT NOT FOR GROOMING!!!

GOOD SOAP

Lavender soap: Everybody likes lavender as much as olives. But compared to olive soap, this one is actually a positive for grooming. It smells nice and refreshing, and leaves your pet's skin (or fur, whatever) glossy and smooth.

BAD SHAMPOO

Christmas tree shampoo: Pets will mistake you for the Money Tree, and WILL viciously attack you especially if you had a big shopping day. This shampoo also has pine needles mixed in it, and will tangle and irritate your pet's skin (?). Coal is definitely a bad gift for Christmas, but Christmas tree shampoo? Not exactly the kind of present that's festive.

GOOD SHAMPOO

Super shiny shampoo: Pretty, pretty... shiny, shiny... Sorry, folks! With this shampoo, your pet's fur will get so glossy and smooth. That's why I was hypnotized. Did I mention that it smells like vanilla? Double score for super shiny shampoo.

BAD CONDITIONER

Grey conditioner: It's an ugly grey color and it's too thin. It slides through your pet's fur and leaves a droopy mess on the floor. Plus, it's more of a dye than a regular conditioner. Perfect if your pet's dream color is grey, but an absolute no for grooming.

GOOD CONDITIONER

Pebeanjay conditioner: It's not too thick and not too thin. It smells beautiful and mixes well with non-disgusting shampoo.

BAD TOWEL/WASH CLOTH

Frizz free mane cloth: AAAAAHHHH!!!!! UGLY PURPLE COLOR!!! TACKY FLOWER PATTERN!!!! ROUGH CORNERS AND EDGES!!!!! TOO MUCH CONTROL OVER FUR!!!!!!!! TAKE IT AWAY!!!!! NOW!!!!

GOOD TOWEL/ WASH CLOTH

Tooth faerie towel: It's plush, absorbent, flexible, and cute. It dries and cleans your pet easily, and the best part? Mild messes are cleaned without water with the use of this magical towel that'll NEVER get dirty or wet. How heavenly!

BAD COMB

Coral comb: It's very stiff. It has all those coarse knobbles that fall off and get through your pet's fur. It breaks easily, and leaves terrible scars on the skin (?).

GOOD COMB

Blue/red/green glittery comb: It's very nice and bendy. The glitter on this comb is for decoration and 100% guaranteed not to fall on your pet's fur. Works well on both thin and thick furs too!

BAD HAIR BRUSH

Mutant hair brush: YUCK. Who would want to buy this brush? It has sharp claws, which scratches your pet every time they touch it. The bristles are so soft and slimy and get your pet's fur all sticky and tangled. RECOMMENDED ONLY FOR MUTANT AND ZOMBIE PETS.

GOOD HAIR BRUSH

Fyora hair brush: It looks so pretty and sparkly. All you have to do with this brush is gently stroke it on your pet's fur and then it'll be the most beautiful fur in the history of furs. It's very quick and painless too. How awesome is that?

BAD MIRROR

Meowclops mirror: Sure, the Meowclops is cute. But this mirror shall haunt you forever... anyway; the handle is stubby so you drop it a lot. Plus, the looking glass has a gigantic green eye staring at you! It'll give you nightmares for a month.

GOOD MIRROR

Disco print mirror: It's funky, cool, and non-scary. I like that. *admires reflection*

BAD TOOTHBRUSH

Striped toothbrush: It's twisty and slips out of your pet's hands. It has an obnoxious pattern that doesn't go with your (if you have one) pink-blue-purple striped pet. The bristles are so coarse that it becomes a REAL pain in your pet's mouth.

GOOD TOOTHBRUSH

Starry toothbrush: This toothbrush has soft bristles. It doesn't have those silly ornaments that take up the space in your pet's mouth. It gets cleaning teeth done easily. Here's a secret: I was walking in Faerieland when I passed the Tooth Faerie's home. I peeked in and saw the bathroom. It was empty, but on the sink there was a starry toothbrush! OMG!!!

BAD TOOTHPASTE

Snot toothpaste: Dahling! Nobody likes a bit of snot, let alone SNOT TOOTHPASTE!!! It's gushy, a sickly shade of green, and it has you doing what the description says. I'm so sick; I don't want to even describe this toothpaste's description.

GOOD TOOTHPASTE

Strawberry toothpaste: Yummy! The first brushing leaves your pet looking forward to brushing its teeth and makes it want to brush every single minute of the day. Make sure they don't swallow it, though! This toothpaste is not only good for taste, but also for dental health. It leaves your pet's smile pearly white.

BAD LOTION

Snot lotion: YUCK. 'Nuf said.

GOOD LOTION

Rose scented lotion: It has a lovely fragrance. It also moisturizes your pet's skin well. Soon, their skin will be so smooth, soft, and refreshed.

BAD PERFUME

Skunk perfume: *holds nose* Whath that thmell? Ugh, the thkunk perfume ith tho thmelly and my brother jutht uthed it on me for a prank. It altho hath an ugly green color and when you thpray it, it fallth on your pet'th fur. QUICK, GET THE THUPER THINY THAMPOO!!!!

GOOD PERFUME

Lavender scented perfume: Aaah, that's better... the nice lavender scented perfume has a sweet, luxurious scent that cools down your pet. The bottle is pretty too!

BAD HAIR CLIP (So what if your pets are boys?! They still need hair clips!)

Faerie Kougra hair clip: This hair clip is quite an ugly shade of purple, and it digs deep and makes awful gashes in your pet's skin. I think the Neopets Team made a new weapon for the Battledome.

GOOD HAIR CLIP

Dark Faerie hair clip: It's very stunning with the color and the diamonds. It's gentle yet firm with the pet's fur, and won't fall out.

Well, there you have it, folks. The good and bad grooming supplies. You owe me a hundred thousand neopoints (beauty is expensive, you know) for the advice to keeping your pet pretty. So be sure to empty your banks and buy those grooming supplies.

Sincerely,

Madame Earpop_her (Poppy)

Grooming Parlor Critic/ Manager

P.S. Don't tell Mother that I sent you this letter, or she'll ground me until she gets all of the map pieces to the Secret Laboratory and zaps me into Chocolate.