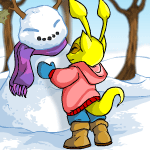 12 Best Ways Have Fun With Snow

by luckyone121

--------

Also by babygirl122187

As we come to the end of another fall season, the last autumn leaves will start falling, and before you know it, that first spectacular snowflake will fall to the ground. Some people may groan and complain about the cold. Others may be indifferent about the changing seasons. Then you have the third group: those of us that cannot wait to run outside with our hats and mittens and dive right into a big pile of snow! In this article we will be discussing the twelve best uses of snow along with all the fun things you can do. Put away all your buckets of fake snow and get ready for the fun.

1) Get your pets all dressed up to play in the snow

Now that snow is finally arriving, it is time to bundle up your Neopet! There is a wide variety of snow items to choose from to keep your pet warm and looking fabulous. The Snow Queen Superpack is a must-have for all of those female Neopets! This superpack even includes a cloak for extra warmth. If you are a Gnorbu lover, you simply must purchase the Gnorbu Snow Outfit complete with a snow coat, boots, earmuffs, trousers, and even a matching scarf! If you own a Wocky, we heard that there is an item called Pretty Wocky Snow Face Paint! There is also a beautiful item called Snow Shower to make it snow for your pets even when it may not be snowing at your home. Once your pets are all dressed up, it's time to throw on your Winter Snowflake Booties and step outside!

2) Paint your pet a new colour- SNOW!

If you have been debating on a new colour for your pet, now is the perfect time to paint your Neopet Snow! Not only is it an adorable colour, but now you can show off your extra festive pet. You don't even need to take out a shovel. All you need to do is take your Neopet to the Rainbow Pool and use a Snow Paint Brush! As an added bonus, your Neopet may become an expert at Snowball Fights. Who needs the colour Camouflage when you can be painted Snow and blend in even better?

3) Snowball fight!

A great way to start out the holiday season is by having a snowball fight. You will want to build your fortress quickly and efficiently. The faster it's built, the faster you can start chucking your snowballs and avoid being hit! Make sure that you make enough snowballs to last you before the fight begins. Once the fight starts, you will become vulnerable if you have to stop to pack some more snow. If your arm starts to get tired, you could switch to using a Remote Control Virtupets Snowball. It is perfect for when you want to take a break and drink some hot cocoa.

4) Decorate your Habitarium

By now you should have your Neopet all dressed up and perhaps even painted a brand new colour. What's next, you ask? Decorating your Habitarium, of course! Petpetpets need snow too! Luckily Neopets has designed a Snow Wonderland Background, Snow Ink Bottle, and some Snow Ink Droppers to make your entire Habitarium a winter wonderland.

5) Build a giant snowman

While you were growing up, the first snowfall of the season was always the best to build a snowman with. Why not relive your childhood this year? Before you create your snowman, make sure that you read the Guide to Snow Rolling so that you can master the fine art of rolling snow.

Once you've mastered the needed skills, you may start to build. The traditional snowman is probably what you will see in the yards of most of your neighbors, but why not show your love for Neopets and build one of your pets out of snow? I find the easiest pets to make are the Bruce and the Chia. If you're a skilled artist, you could try a different pet. I like to pile up a large lump of snow (packed, of course) and use a garden spade and spoon to carve out a Tonu.

(Lawyerbot: Adult supervision is required if you are going to use any sharp objects.)

6) Sledding

After you have built a top-of-the-line Snowman (or Snowpet), you can begin to master the twists and turns down a large hill with your brand new Gingerbread Sled. You will be rolling down the slopes in style! Once you've had your fill, the sled doubles as an after-sledding snack!

7) Build a snow fort

Next to sledding, building snow forts is definitely one of the most fun things to do during the winter. This year, try to not just make an igloo, but your very own wintery paradise! Traditionally, you would, block by block, make a circular half-sphere out of ice and snow. Why not break tradition and create your own Neopian oasis? If you would like, you could do a specific theme based on your favorite Neopian continent. You may also like to decorate according to your favorite paint brush colour. That could be accomplished by using food coloring while you are making your blocks of icy snow or by carving little pictures into the snow after it's complete.

8) Make a snow angel

Nobody can sit there and tell me that they do not enjoy making snow angels. I know that I used to make them from the first snowfall until the last melt. I have now taught my own children the unique form that comes from plopping down into the snow and flailing your limbs around aimlessly. Even they can be angels during one season of the year!

9) Add some beautiful snow décor

Once you have mastered the art of snow angels, it is time to decorate your neohome! The snow collection has oodles of items for you to choose from. They have made everything from a Snow Dresser (if you are concerned about heat damaging your clothes, worry no more) to a Snow Bath Tub (even when filled with hot water, this tub doesn't melt)! Other Snow items include a Snow Bean Bag, Snow Bed, Snow Chair, and even a Snow Toilet! They really have thought of everything. Our personal favorite, however, is the Snow Fireplace. (Totally unpractical; if you turn on any heat, this fireplace will melt away. It looks nice, though!)

10) Purchase some holiday stamps

You may have noticed that every year your mom makes you dress up in that silly reindeer sweatshirt with a blinking red light bulb to get your picture taken. Well, the purpose of this is to send all of your friends and family members a sweet, loving, and goofy holiday card. This year, when your mother is putting stamps on all of the postcards, be nice and offer to help her. After all, you will need at least one good deed to win Santa over and make him believe that you are on the "Nice" list. Instead of a regular stamp from the post office, try to use the Grundo Snow Throw Stamp to send season greetings cards to friends and family.

11) Play snow games

If the snow starts dwindling down and you want to keep up the spirit, we have just the thing. There are several snow games for you to play in the mean time before another big snow storm hits. Snow Wars, Snow Wars II, Snow Roller, Snowball Fight, Snowbeast Sacrifice, Snowmuncher, and Wrath of the Snowager are all excellent games to pass the time. It seems that TNT staff are just as big of fans of snow as we are! With all these different games, you are sure to find one that pleases you.

12) Eat it!

By now, we are sure you are quite hungry. While we recommend staying away from that Dirty Snow and Hairy Snowball , snow can actually be quite fun to eat! You can either make a gourmet meal out of snow or simply lie outside your neatly built snow fort and attempt to catch those dazzling snowflakes with your tongue! If you are hungry for more, you can always ask the Chef how to make some of his personal favorites. We hear the Snow Burrito and Snow Enchiladas are quite good. Or perhaps you may want to test your skills and make a Snow Sandwich or Snow Cake by yourself! There are all kinds of possibilities.

If you aren't lucky enough to live in a part of the world where snow is abundant, hopefully you were able to get a small taste of the sweet bliss that a winter wonderland can provide. For those of us who are lucky, go to your mother's cupboard, grab a jelly jar, go outside, and scoop up a jar full of that beautiful white stuff. You can then stick it in your freezer to preserve the feeling of winter all year 'round.