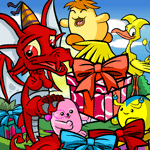 Shop Early: A Holiday Gift Guide

by futuretxgovernor

--------

Well, it's already October and my how the time flies. Almost as soon as Halloween's over (and you've finished eating a year's worth of candy in a few days) it will be time to celebrate Neopia's birthday, and once that is over the Day of Giving is really just around the corner. Before you know it, all the major Neopian holidays will be upon us, and the stress of gift giving will be driving you mad.

If you don't have ideas already, it might be time to start thinking about your nearest and dearest and what you can do to show your appreciation this holiday season. I mean you want to enjoy the New Year, right? Not spend it beating yourself up and making New Year's resolution about how "next year you aren't going to give your Lupe the same Chia shaped biscuits that you gave him the last four years."

Not to mention that NOBODY wants to get caught up in that mad gift rush at the last minute. Let's face it, now that Faerieland is on the ground, the Hidden Tower isn't half as hidden as it used to be, and the crowds are going to be worse than ever! Do yourself and your loved ones a favor, go ahead and start getting ideas and even grabbing up some items now. Your Lupe really does love those biscuits, but variety is the spice of life.

There are many great shops in Neopia with thousands of wonderful items for sale. In this article we are going to take a look at some of my personal favorites, as well as exploring the newer inventory at some Neopia's hot spots.

The Gift Shop

Let's start at the obvious spot. While some of the items in the quintessential gift boutique are a little tired and even questionable (*cough*Smug Bug Sticky Paper*cough*) the gift shop has turned out a number of really impressive and popular items this year. For your beauty conscious pet, why not explore the vast number of frames they have released this year? Every picture looks better when beautifully framed and so does ever pet. I personally recommend checking out the ink frames, these beauties have been selling like hotcakes and have frequently been featured in the customization spotlight.

The Hidden Tower
So everyone has that one pet or owner on their list who will settle for nothing less than the best; someone who's on the cutting edge of every trend and can never keep a neopoint in their pocket for more than two seconds. If you're looking for just such a Neopian, there's really only one place to shop, the Hidden Tower. Of course, even once you make it to the tower, you have to decide what to buy. I mean you could go with the Baby PB: it's fairly cheap and who doesn't love a new paintbrush? However, babies are so 2009, so it simply won't due for the cutting edge Neopian. Instead take a look at the Maractite PB. It's one of Neopia's hottest new colors and at 3,900,000 NP it is still pretty pricey, but it's no Sword of Skardsen.

Peopatra's Petpets
Now the holiday season can be a lonely time for many of Neopia's residents and everyone knows what great companions petpets are. If you know someone that is feeling a little down in the dumps this year, consider gifting them a spunky little bundle of joy. Now there are a number of places to pick up a petpets in Neopia, but I never miss a chance to purchase from the wonderfully helpful and stunningly beautiful Peopatra. Of course Peopatra isn't the only reason to check out the shop, the desert sands offer a beautiful and exotic array of petpets. The Seti has always been a personal favorite of mine, and what with the new Royal Petpet Paint Brush having been released this year, a Royal Seti is a gift that sure to impress and delight.

Cog's Togs
Ever since the discovery of Moltara, steampunk style has taken Neopia by storm. If you haven't noticed it yet, you must have been living under your petpet rock, but trust me; it's not slowing down any time soon. Now, not every Neopet is ready to strap on a pair of goggles and run about attaching steam valves to anything that will stand still, but many of the items in Cog's Togs are fashion staples that will remain in style long after Moltara has faded off the fashion map. Grab your pet a pair of comfortable and stunning Elegant Gear Boots; their closet and their paws will be pleased that you did.

The Coffee Cave
So we have been running all over Neopia, but now we are halfway done. So, let's head on over to the Coffee Cave and take a short break. If you are a smart shopper and you're taking care of these gifts in October like I suggested, than you should treat yourself to one of their many seasonal delights. The Pumpkin Spice Coffee and the Candy Corn Latte are both as delicious as they are beautiful. Don't get too comfortable just yet, though; we should probably go ahead and pick up a gift or two while we are here. You were smart and got your gifts bought early, but those last minute procrastinators are really gonna need a pick me up by the time the 25th Day of Giving rolls around. A stiff cup of Authentic Tyrannian Coffee will give them a much needed jumpstart, and don't forget to grab the quaint little stone cup that comes with it.

Neopian Garden Centre
So we are in the zone, rested and refreshed. It's time to start tackling some of our tougher gift needs. Despite what people say, some of the hardest people to shop for are the manlier men on our list. Neopian Garden Centre might not be the first place you think of when shopping for the men in your life, but it really is a great spot. In addition to staples, like tools and grills, the Neopian Garden Centre has some clever and unique gifts. For example, the men and everyone else can have hours of fun when they gather around the Test Your Strength Outdoor Play Set for a competition of brawn.

Darigan Toys
Maybe it's just me, but I find the younger ones on my list to be just impossible to shop for. What don't they already have? What will they play with for more than two seconds? Should I get them what they want or what their parents want them to have? It's just too much to process some times. Luckily, I have found over the years that the quirky and rebellious toys at Darigan Toys are always a hit. Kids like them because they feel like they are getting to play with something dangerous or forbidden, parents love them because of the irony and humor. It's a win for everyone involved. This year I am planning on picking up a Spring Kass in a Box, it's got that nice mix of terrifying and funny, and when they get older it can become a training tool for Kass Basher.

Neopian Post Office
Another group that can be a challenge is our elderly pets and people. These wise and wonderful pets have often transcended a desire for material goods, and have taken to living a simple, uncomplicated life. We've all heard older people saying, "Don't waste your money on me, I don't need anything fancy," and while it may be true that there's nothing they want or need, it doesn't mean you should just skip over them on your shopping list. Last year I had a brilliant idea and I'm going to stick with it again this time. Go to the Neopian Post Office and find a stamp that reminds you of your elderly family or friend. Then pick yourself out a stamp that will remind the recipient of you. Buy a year's worth of each stamp. Next, Neomail them a letter (with your special stamp on it and with their stamps enclosed) explaining that you bought these stamps especially for the two of you to use when exchanging letters. It will let them know that you want to keep in touch, and for the rest of the year it will warm their heart every time they see your special stamp in the mail box.

Brightvale Books
So we are almost done, and you are probably feeling pretty good about what all you've accomplished today. However, no shopping trip would be complete with a trip to my personal favorite. I don't know about your pets and pals, but this is one shop I just can't do without. For my points and gifts nothing beats a good book, and no store can quite compare to the selection offered at Brightvale Books. Now normally I would love to recommend one of their wonderful poetry volumes, because they truly are some of the finest writings in all of Neopia, but fresh off the press in August was Hanso's Guide to Escaping Dungeons. Hanso, he is so hot right now, and his dungeon escape guide reads like a great adventure novel! No Neopian stocking will be complete without it. Hmm, since we're here... I just can't help myself; hold on a minute while I grab a new book.

Ticket Booth
Okay, sorry for the short detour. Now we've been to a lot of different shops and we have looked for a number of different types of gifts, but chances are you still have a few stragglers left to wrap up. If you haven't spotted that perfect gift yet, it might be because what they want isn't something you can find in a traditional retail store. Well, fear not, because the Concert Hall and its Ticket Booth have got your back. Whether your need tickets to The Neopian Philharmonic for a cultural connoisseur or Wock Til You Drop for rebellious wocker, the Ticket Booth has you covered. Another advantage of shopping so far in advance is that you'll have plenty of opportunities between now and the holidays to buy tickets for the perfect show; just be sure you know what day the tickets you need will be on sale.

Last Minute Tips
Even with an early start, it is possible that you will still be missing some gift by the time the holidays roll around. Never fear, there are still tons of shops in Neopia for you to explore and get creative! Slow down and really think about the person you're shopping for. In many cases, a self-drawn picture or a photo in a nice frame will do the trick. If you're like me, you'll tend to get frustrated about those difficult gifts, and you'll want to blow your budgets on some fancy nonsense just to prove that you care about the person. Don't let your emotions get the best of you; it's the thought that counts. When all else fails, be sure to remind yourself that the points you spend will never mean as much to them as a Neogreeting with a heartfelt message inside.

Conclusion
I had such a blast today shopping with all of you! I hope you found this article helpful and that you'll take my advice about shopping early. Who knows, if you plan well and don't procrastinate, you might even get to actually relax and unwind during this holiday season. Of course there is still the holiday meal to plan, and the Neohome to decorate, and I still haven't finished my Halloween costume! Apparently, I still have a lot of work to do, I guess I'll see you guys later...