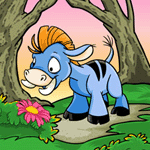 The Painted Pets Club: Part Two

by sunbeams

--------

Cori and Box split at their normal destinations to their respective classrooms.

"It's a good thing you didn't make me late," nagged Box. "Just because you're pretty now doesn't give you any good excuses." And with that, he huffed down the corridor to catch up to his flock.

Cori was still standing on her tiptoes, scanning the crowd for her best friend. When she spotted the familiar red head, bobbing along in the throng, she called out, "Stacy!"

Stacy looked over her shoulder, spotted her, then looked confused. Her head swiveled back and she was soon consumed by the crowd and swept away.

Sighing, Cori threaded through the horde of swarming neopets to her locker. She retrieved her schoolbooks and banged her locker shut, but found herself face-to-face with a dashing young pirate Kougra.

"Hello," he said. "I haven't seen you before. What's your name?"

Cori stammered for a bit, worrying that he would recall her. Then she blinked- Orleandus, the Kougra, had never bothered to acknowledge her existence as a Moehog. He hadn't known her name.

"Cori," she said, smiling nervously.

"You're very cute," he stated point-blank. "And your colour and species matches our requirements. Would you like to join the PPC?" he asked. "There's a meeting today, lunchtime in the auditorium."

Cori imagined her best friend, Stacy. But then she remembered Stacy turning away from her in the hall... she wouldn't know about the meeting.

"I'd... sure. Yeah, why not."

"Awesome." Orleandus rocked back onto his heels. Well, Cori," he said. "I'll see you around."

He walked smoothly away.

~*~

It was proving to be an interesting morning. She hadn't been harassed at all- not even once, and even Greg and Skitters had walked right past her, unrecognizing. On the other hand, she found herself the object of a lot of staring. After years of being invisible, Cori felt the attention uncomfortable.

She had managed to convince Stacy of her identity sometime between math and English by repeating a list of her friend's embarrassing accidents, crushes, and secrets. And then after she believed her, she told about her new membership in the PPC.

"Don't go," urged Stacy. "They're nothing but a bunch of pretentious snobs, pretending to be better than everyone else."

"But pleeeeeeeeaase, Stacy," begged Cori. "Just this once? I want to know what it's like."

"Well, I guess a little research can't hurt," relented Stacy; but for all her agreeable words, there was a hint of worry, and hurt, in her eye.

Lunchtime couldn't come around fast enough. For the first time, Cori entered the auditorium surrounded by a graceful flood of the most popular neopets in the school, all of coveted colours and species. She took a seat next to a friendly-looking royal boy Zafara.

"Hi," he said, amiably.

They chatted about nothing in particular, and he offered to share some of his Dargil Meat Mince Pie with her. His name was Zach, and they became fast friends enough. Then a beautiful faerie Kougra padded nobly to the podium, unruffled her wings, and tapped the microphone. Her boyfriend, the dashing pirate Kougra, stood behind her. The elegant crowd fell silent.

"Welcome to the third PPC lunch meeting of the month," she purred. "But before we start today's business, I would like to introduce our newest member- Miss Cori. Welcome. Please wave your hand a bit so everybody knows who you are."

The crowd applauded and Cori gave a shy wave.

"Now then, onto business..."

When the school bell rang for the end of the day, Cori ran to catch up with Stacy.

"Hey! Hey, Stace!" she pounced on her friend's back.

"How was the meeting?" asked Stacy a little lacklusterly, attempting and failing to sound enthusiastic.

"It was amazing! It was so much fun and I met this really nice royal boy Zafara named Zach, and he shared his really expensive Dargil Meat Mince Pie with me! That's gourmet you know, GOURMET, and why... Stace, are you listening?"

A group of beautiful neopets drifted by and waved hi to Cori, ignoring Stacy. As they moved on ahead, Cori caught a small drift of their conversation.

"Oh, I think it's royal, underscore, princess, faerie, like Stacy or something," snickered a Wocky. "I don't know. She's like, in one of my classes or something..."

As Stacy and Corridors kept walking, an awkward silence permeated the air.

"Stace," said Corridors. "I'm sorry. But not all of them are like that—"

"Cori, look," said an exasperated Stacy. "You've been my best friend since our first year of neoschool together, and if you want to be like those pets, well then, fine, but I don't know why you would want to become snobs like them!"

"They're not snobs!" Corridors defended them angrily. "They're just cool like that! You don't know them! Why are you judging them on their appearance when that's exactly what you DON'T like?!"

"Can't you see?" yelled Stacy indignantly. "They think they're sooo much better than everyone else, that's why they make an exclusive club. You don't want to be one of them!"

"YOU DON'T KNOW WHAT I WANT!"

There was silence. Both friends faced each other, red in the face, huffing angrily.

"Well then, fine. Go join them," said Stacy, angrily gesturing towards the direction that the painted pets had gone. "But know that, when you find out that they don't like you for who you actually are, I'm going to have friends that DO."

"That doesn't even make grammatical sense!" protested Cori.

"YOU don't make grammatical sense!" retorted Stacy.

"Shut up!"

"No, YOU shut up!"

And so the two friends who had never fought over anything, except for when they were very little and had wanted the same crayon, parted their separate ways for home.

Time came and time went.

~*~

She still saw Stacy every day on their walk home, but they hung out less, and she saw her new PPC friends more often. Eventually they stopped talking altogether. Instead, Cori spent a lot of time with Zach.

"Why do you think paintbrush colours are so important?" she asked him one day as they were cutting out decorations for the Spring Festival. They were at his mansion having elegant Codestone Truffles with Purplum Iced Tea.

"I think they're an indication of status," said Zach, cutting a pink tulip from construction paper. The tip of his pink tongue was poking out in his concentration.

"Do YOU think they're very important?" asked Cori.

"No, not really," said Zach thoughtfully, and Cori breathed a subtle sigh of relief. "I'd hate to think that neopets are only worth as much as their coat."

"Then why'd you join the PPC?" she asked. "I thought the PPC was all about advocating the worth of fancy colours."

"Well, some pets may believe they're superior..." Zach said slowly. "But not everyone. I guess I'd like the chance to change that."

He took a bite of a truffle.

"I mean, for instance, me and you," he stated, after munching and swallowing. "Whatever colour you might be, or what you look like, I know you'd still have a good heart. And we'd still be the best of friends."

"Sir," interrupted Zach's Eyrie butler. "Your teatime cucumber sandwiches are served."

"Oh thanks," said Zach.

As Zach conversed with the butler, Cori's heart grew lighter, and for the rest of the day, a subtle smile played on the corners of her mouth.

~*~

The hallways that afternoon were crowded, jam-packed with milling pets, the air stuffy and warm. Cori was hanging around the entrance of the auditorium after another PPC meeting, chatting casually with a few members.

From the corner of her eye, Cori saw a starry Shoyru approach Orleandus and Seraphina, the faerie Kougra, as they discussed and laughed nearby. His coat was deep blue and velvety, his stars a shimmery gold.

"Hi," she heard him say shyly. "My name's Orlo. I just got painted last week and I was wondering if I could join the club."

Orleandus and Seraphina looked him up and down. Seraphina looked at him like a stone statue, and Orleandus smiled wryly.

"Sorry, buddy," he said, "But your color doesn't fit our requirements. Come back after a more exclusive paint job."

Orlo left, hanging his head, and Cori felt her heart drop. Her body felt cold.

"Is anything wrong, Cori?" asked the plushie Zafara to her left.

"Oh, nothing's wrong. I just remembered I forgot my homework back in my locker. I'll have to go get it for class. I'll see you guys later?"

"Yea, any time, Cori."

Cori speed-walked to her locker. She took out her books. She went to her class. And she hated herself deep inside for not having the guts to have said anything.

~*~

"Welcome, everyone, to the first meeting for election runners. We will be explaining the rules of the election, and telling you important dates you should know, so please be quiet and pay attention."

The teacher, a wise-looking orange Scorchio, lectured from the front. The room quieted and milled around, as a few stragglers entered the classroom. The doors slammed shut and pets were beginning to congregate with friends and sit down. Cori entered the room and saw Stacy sitting in the front. They made brief eye contact, but then Orleandus beckoned from the other side of the room, and Cori pretended to not have seen her best friend, and made her way to the back. She felt the heavy force of Stacy's stare weighing down her shoulders.

Orleandus clapped her on the shoulder with his massive paw.

"Here's our prize winner," he said. "Ready to become student body president, Cori?"

Cori smiled wryly, feeling sick to her stomach. She had agreed to run for president at the pressure of the PPC, which she would never have done otherwise. For the position of president, Stacy was the only other pet running.

"Let's get our two nominees for student body president up here!" announced the teacher. Cori wove around the seated pets slowly, making her way to the front. Stacy was already up there, and she met her gaze slowly. Stacy's look was intense, difficult to read.

"Contenders, shake hands. Let's have a clean race."

To be continued...