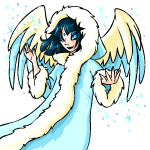 Glitter Fashions

by robin_y2k1

--------

Welcome to the Neobook Library.

The Library started when I went to go get my favourite book off my shelf - and couldn't find it. I looked EVERYWHERE - but the only thing out of place was a patch of green dust behind the living room curtain.

And then I realised, one of my pets must have snuck off with my copy of A Faerie Christmas. I wouldn't have minded so much, but it was a first edition and I'd only read it twice - why should our books VANISH when a Neopet gets hold of them?

So, I spent months saving up a ridiculous amount of Neopoints - and then I had a quiet word with the Shop Wiz. Well, he's never really got on with Lawyerbot or his secondary designated model, Copyrightbot, as they keep getting in the way of his dealings. He was more than happy to help me gather a massive and eclectic combination of reading materials - and now, I bring them to YOU.

(You can read A Faerie Christmas in Week 475's edition of The Times.)

**********************************************************

Glitter Fashions
Blurb: So much more than rhinestones.
**********************************************************
Grooming with glitter - Glitter is back in FASHION! Woohoo!
Whether you're using it to add a splash of color to your everyday face or to add an element of glam to your night out, glitter has definitely made a comeback in recent years - you can get EVERYTHING you can possibly think of for your glittery grooming needs; if you're looking for a little extra sparkle in your makeup, whether you want subtle, playful glitter or more serious sparkle, there is a solution on the market for you.
The most important tool you can have in your makeup kit box is Faerie Glitter Gel. It's a snazzy gel for your hair... or teeth. We are not sure. (Though you can also get Sparkly Toothpaste, for giving your teeth that desirable pearlescent shine. After all, when you're strong, you sparkle!) Give it a try and let me know, but I can tell you it makes a great base for glitter eyeshadows.
I have to emphasise here; always use makeup grade glitter. Normal glitter in your eyes is DANGEROUS, because if you rub it, it can scratch the surface. Rinse thoroughly with water and seek medical attention should the worst happen. Just ask anyone who has thrown a bottle of Glittery Faerie Dust in the Battledome - whilst it makes a pretty cloud of sparkling PAIN (15 icons of totally randomised damage can do that)...
And you wind up looking an awful lot like a pile of tinsel on a disco ball.
It sounds awesome, but believe me, it's not a good look. Too much at the same time can be a fashion catastrophe - and this is why Glitter Fashions has been written! This is the ultimate guide to using glitter RIGHT.
*
The faeries have always been the total queens of glitter. They have a natural brilliance and sophisticated style; so if you're wanting to look great, pick your favourite faerie and learn her tricks.
Taelia, the Snow Faerie, has a very easy, mysterious looking style to replicate as she's got that elegant, icy look (which best complements very pale skin tones and dark hair). Admittedly, her look takes a little finesse; you have to think of glitter as "frosting" for your makeup design - but who better than the princess of the icy domain when it comes to frost?!
Just looking at her, you can learn that sparkles and shimmer work best if you just choose one area to emphasise, and she's aimed the focus on those wonderful smoky eyes, highlighted with glitter makeup. So here's how to get Taelia's look:
First you'll need to use Black Eye Liner to highlight your eyes "and the darkness inside" and then a heavy coat of Faerie Draik Mascara. It's expensive, but completely worth it as this mascara also curls your lashes to look like faerie wings! Next, you'll need to start applying some colour before you wind up looking like a panda.
NeoGlo do a great range of eye shadows, so grab yourself the Sky Blue Eye Shadow pack and a Frosty Eye Shadow Compact to finish off that cool look. Use the palest shade for your base colour and the inner corner of your eye. Follow it up with the light blue shade to fill in most of the eyelid space going outwards, and use the brightest blue to add a vivid highlight flash. The rest of the socket up to your eyebrow should be topped off with a delicate, LIGHT coat of the Frosty Eye Shadow to give it that soft shimmer, captivating the attention of your adoring fans. Use a heavier coat to boost it up a bit over the eyelid itself - it will give it that dark, icy turquoise glitter finish you need. Always remember to match the colour of the glitter when pairing glitter with a smoky eye finish, silver with grey, blue frost with sky colours, etcetera.
Next we need to work on your lips. Don't worry if you don't have a lipliner; eyeliner actually works great. I recommend using Feepit Eye Liner, as it's the perfect shade of dark blue. When you apply the Blue Lipstick, use your fingertip to daub it on, instead of just swiping it. That way, you'll be able to get much more even coverage that way and reduce risk of overdoing it. Chokato Lip Gloss makes a great lip seal to hold your colour in place and this shimmering fruit lip gloss tastes great and looks even better.
Big fluffy clothes are a must have for that vulnerable, adorable feel - and you can even get a Taelia Style Coat! That luxurious shade of blue and that chunky fur trim are perfect for standing out in a snowscape. Taelia's Token makes a perfect "centrepiece" jewel for your outfit. There are some lovely backgrounds to choose from - I particularly liked the Sparkling Ice Caves Background for the way the ice crystals shimmer with beautiful light; however, bear in mind this is Neocash. The Winter Landscape Background is another lovely backdrop that will highlight your icy regal features, and you're extra lucky if you're a Xweetok as you can have the Snowy Xweetok Dress...
Recommended finishing touches:
Try a light dusting of fine silver and white sparkles over your cheeks to give that fresh snowfall look that Taelia would be jealous of! You could also do with a dark turquoise rhinestone if you know anyone that's got a broken Jewelled Collar that you could nab one from... Bonus points for Peophins, as you can substitute in a Shimmering Blue Peophin Crown. Remember - she's an enchantress, so you should come out looking ENCHANTING!
*
The look Taelia's rocking may not work for everyone - so be sure to pick colours that match wit your skin tone, or your outfit. Jhuidah the Island Faerie is right the other end of the scale from the Snow Faerie, with her luscious dark skin tones and lively, luxurious curls. If you're lucky enough to own the Island Paint Brush, her look would be perfect for you.
I notice that she tends to prefer chocolate eye shadows, however I believe adding some gold would be a nice touch and in keeping with her tropical theme - adding a bit of sunshine! I recommend grabbing a Flower Circlet and match it with a Flower Necklace - this will make anyone look and smell better!
You have a simply MASSIVE range of wings to choose from nowadays, though the Bruce wins it hands down - Bruce Tooth Faerie Wings are just stunning! However (if you can afford and find them in the NC Mall) I think the Poinsettia Wings would look fabulous with a grass skirt.
These also, you have a surprisingly wide range to choose from, starting from the Authentic Grass Skirt all the way to Yellow Grass Skirts. Whichever you pick, they're just the thing for a great Mystery Island tiki party! Now all you need is some tasty fruit, and a limbo dancing competition...
When it comes to your eyes, metallics are always a nice finish when you're going for an tropical, floral look, as they contradict the organic theme and draw the attention. Again, use a good eyeliner to outline your eyes, then fill in from dark to light as you go from the nose out. I like to use a soft Brown Eye Shadow as a base layer for your eyes and to highlight the cheekbones - it'll give them a gently sunkissed glow. Gently top with a thin layer NeoGlo's best Gold Eye Shadow to really enhance the sparkle power.
I particularly like using this look - for example, I love to choose a dark coloured outfit but then match my glitter to my accessories. Today I've gone for wearing black trousers and a black top with gold glittery piping. I've done my eyes in toffee gold pearlised dust and finished with a bright gold glitter eyeliner for the full-on glamazon look.
Recommended finishing touches:
Remember to use a soft pearly lipstick as you don't want to overdo it; try using a neutral shade. Most importantly, don't forget your Factor 30 Sun Tan Lotion. Mystery Island gets a LOT of sunshine, so you'll want to keep your Neopet safe in the sun with this krakuberry scented lotion. Mmmm, krakuberry. You can even try adding a VERY light dusting of golden sparkles to your lotion - it will make the sun dance and catch, giving you that perfect beach feel.
*
I also like the professional pink and purple colour scheme that our Faerie Queen Fyora carries off. This is one that allows for the majority of skin colours as you can tweak the "warmth" of the pinks for darker skin and cool the purples if you have paler tones.
For your Faerie Queen Morning Regime, Pink Glittery Soap is the best way to start the day, because you'll have clean, fresh skin with a natural lustrous sparkle, especially if you add a splash of Sparkly Pink Perfume. Can a nose smell sparkles? You betcha and you'll leave a glimmer of mystery wherever you go. I'm also loving the Pink Sparkly Brush because this hair brush releases lashings of pink glitter as you comb your hair! Try running it down random half-inch sections of hair to highlight your highlights and give it a tap over your Faerie Queen Wings.
If you're not keen on Sparkly Pink Perfume, you might want to try Faerie Queen Perfume; that way you'll smell like Fyora every day. (She smells nice. Honest.) Don't worry, you won't miss out on the iridescence if you add some Glittering Faerie Dusting Powder to keep your Neopet's fur or skin feeling soft and fresh all day.
Now, I know you're wondering why all the pink. Trust me here and keep reading. Pink isn't just for your lips - Sparkling Usuki Eye Shadow means your eyes will REALLY sparkle! You do have to be careful with pink eyeshadow, though; be sure to use an optic white liner if you can get it on the lower lid. The top lid I love to use a fine line of the purple to line the lashes, then fill in the space above with the darker pink sparkles. Gently fade out the colour by using the light dusky pink with an upward motion up the eye socket for the perfect regal finish.
Likewise with the lips; Sparkling Usuki Lipstick is the perfect shade you need right this minute, balancing that fine line between purple and pink (and now comes with more sparkles)! Try using Limited Edition Usuki Lip Gloss if you can get it, as this fruit flavoured lip gloss will keep your lips moist all day AND stop the sparkles drifting off.
Recommended finishing touches:
Don't go nuts with the purple. She's stuck with purple hair and needs to match the clothing so it doesn't clash with her eyes, but Fyora is actually a big fan of pink. Here's an extract from an historical example:
"Wow, purple magic!" exclaimed the guests.

Fyora scowled. "It's not purple. It's pink."
Magic works like that; you do good for others - not yourself. (Otherwise there'd be a lot of faeries winning the Neopian Lottery and no-one else.) Make her smile and give her look the pink sparkle she'd love to wear.
*
If you're wanting to go with a bolder, brighter look, you might want to consider the Space Faerie's look. Hers is the one theme where you can throw the usual "less is more" rule out of the window. Few ever get to actually see Mira, but believe me, you can't miss her when she does show up!
This is one I want to start from the background up, so grab yourself a Silver Glitter Background. This pretty background is covered in glitter and will make a fantastic canvas for your sparkly "painting" - plus it's not too expensive either.
Next you'll want to prepare the canvas of you - so take a shower with a nice bottle of Raindrop Shampoo - This wonderful gentle shampoo leaves a bit of sparkling glitter in your hair. This will make you look ethereal, and be further emphasised with the use of a Blue Glittery Brush, as this beautiful brush will soon have your Neopet's hair gleaming. To fully restore order to your hair, add sparkle and flash of glittery brilliance by finishing off with a Blue Glittery Comb.
Next up you'll need to moisturise to keep your skin in good condition. White Lotus Glitter Lotion will keep you smelling as sweet as a delicate flower and leaves an iridescent, sparkling veil over the face. Then you can use a glitter lip gloss to add colour. If you can't find a colour or style you like in the store, you can add glitter to colorless gloss by mixing the two together. For the best glitzy shimmering effects, I use Space Faerie Lip Balm as it's not only the most powerful lip balm in existence, but also the sparkliest!
Dramatic Meepit Eye Shadow is cheap and overlooked too often. It's the perfect shade of deepest, darkest indigo, perfect to bust out the "night sky" feel, especially if you add some dazzling, luminous sparkles over the top. Sweep your eyeshadow brush with the darkest shade from the inside of the eye outwards, getting close into the corner by your nose. Don't actually paint your nose, though; that might be a BIT much - bearing in mind that it could wind up giving you sneezles, so be careful (and note that glittery tissue boxes are not useful because glitter up the nose ITCHES)! Next use a slightly lighter shade with a wet, pointed brush to run a thin line under your eye, and a wide brush to do a light dusting above your first colour. Blend DOWN with your finger to smooth the shades together.
When it comes to picking a sparkly suit, you have LOADS to choose from. Yet again, Xweetoks, you steal the show with the Space Gypsy collection - the beautiful flowing dress really helps you pull off the look and comes with matching gloves. The wig is the same shade of blue as Mira's, and comes with permafix spangles.
Kyrii, you're just as well for dresses, as the sparkling Hostess Dress is sure to turn heads - team it up with a Lunar Cape and you'll look as beautiful as the night sky.
Other Neopian accessories that are just DYING to be used as for a Dark Faerie or Space Faerie colour scheme include the simply delicious Dark Neovian Eyrie Sandals, covered in beautiful sparkling purple beads. The Cute Mynci Dress in deepest midnight purple guarantees to add a bit of sparkle to your evening, and Blumaroos, if you're going dancing, you're going to want to grab these Colourful Blumaroo Dancer Shoes to bring a spring to your dance step!
Recommended Finishing Touches:
Coloured contact lenses can really finish a look, especially if you're going for an authentic out of this world vision. If you can afford them, Glittery Silver Contacts from the NC Mall are the BEST; they're so pretty and glittery. Try using a top layer of glitter on your eyelashes after coating in regular mascara to add some drama to your makeup.
And if you REALLY want to make a statement, how about sourcing a Space Faerie Token?
*
So whoever you are, whether you're throwing on your Hissi Pop Star Wig with its sparkly plastic strands of extra gaudiness, or lighting up the seascape with your super shiny Golden Flotsam Necklace, get out there and dazzle! Pretty sparkles give a magical touch to everything.
Oh, and if anyone spots a sale on Silver Dubloon Necklaces, I'd love one!