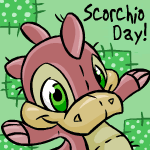 Scorchio Day Gifts!

by xbebedawlx

--------

Also by retrean

Scorchio Day is finally upon us, where we can celebrate our favourite fire-breathing companions! Of course, no Scorchio Day is complete without showering our beloved dragons with gifts and love. Though Scorchios are far from picky, it can be a challenge to find the perfect gift to suit their tastes. We hope with this guide you can decide on an ideal gift for your Scorchio that just screams "You're the best!"

Mini Marshmallows on a Stick
Everybody knows Scorchios have an amazing ability to breathe fire! When there's no campfire around to toast your marshmallows, your Scorchio is always there to lend a hand. Why not treat your Scorchio to their own stick of marshmallows which they can cook to their heart's content? As an added bonus; this stick of marshmallows is a wearable – so your Scorchio can wear it all year long if they so wish!

Country Scorchio Hat
Scorchios prefer warmer regions, but that doesn't mean that they're totally immune to all the damaging effects of a hot climate. This wearable is both stylish and practical. The pastel blue teamed with the white is a wonderful combination and could go with almost anything; also, its wide brim and light weight make it ideal for wearing in hot weather and keeping any Scorchio cool! Send them out with this hat and a little sunscreen and they'll be protected for the entire day!

My Sweet Scorchio
This pretty pink book is a cute tale of romance that any girly Scorchio would adore to read curled up by the fire! Not all Scorchios are ardent on breathing fire and adventure - you know! Some just want to lounge around in their little reading nook, devouring all the latest reads. Whether your Scorchio is just starting to enjoy books or is a veteran reader, they are bound to enjoy this charming little tale.

Scorchio Damaged Hair Repair
Because of Scorchios' fire breathing habit, they often suffer from some adverse affects. Damaged hair is just one of the problems they have to deal with, and it can look both terrible and embarrassing for all Scorchio. This damaged hair repair is specially formulated for a Scorchio's hair-type and is clinically proven to make their damaged hair shinier and healthier looking! Your Scorchio will most certainly thank you for this practical gift!

Scorchio Walking Stick
Scorchios love a good adventure, and this stick is ideal for conquering all terrains – whether you're using it to keep your balance on a steep mountain top or just to keep you from keeling over from exhaustion in the middle of the Lost Desert! Despite its nice carved appearance, it is in no way delicate – it's strong and sturdy and built to survive anywhere!

Gold Scorchio Honey Pot
Most Scorchios have a sweet tooth, and frequently enjoy being treated to a variety of sweet things. This golden honey pot looks amazing and contains a delicious treat! Your Scorchio will jump for joy at an entire pot of honey to eat only for themselves! Just keep this away from younger Scorchios who will no doubt be bouncing off the walls from the sugar overdose!

Frilly Pink Scorchio Dress
This pretty dress is a must-have item for all girly Scorchios! It is delightfully feminine with its frills and its pale pink colour is simply fabulous and sure to flatter any Scorchio; pair this dress with a pink sunhat and your Scorchio will stay cool and look glamorous all day long! This is definitely a staple item of any female Scorchio's wardrobe and will be used very often!

Fire Extinguisher of Diversion
With Scorchios, there is the impending worry of a fire being started! When the results of their fire-breathing is an uncontrollable fire, then a fire extinguisher is a very good thing to have on hand! This extinguisher is light and compact, making it portable and able to fit in any adventurer backpack or on any shelf. A very handy gift!

Raspberry Scorchio Head Cookie
This cookie just looks plain delicious! Golden brown biscuit smothered in thick pink frosting is certainly any Scorchio's idea of bliss! It looks almost too good to eat. Almost. You can find this tasty delight at the bakery, along with other tempting treats for Scorchio Day!

Scorchio ABCs
Scorchios are not famed for being the smartest species there is, and some just need a little helping hand! This cute little book can help any Scorchio learn his or her ABCs – they'll soon be reciting it like a pro! Because of its pictures and bright colours, it is also great for baby Scorchios who you want to give a head start in life.

Scorchio Armour
This beautifully crafted armour is handmade to fit only Scorchios. It will serve well in Battledome and also look amazing at the same time! Lots of Scorchios love to battle and this armour will therefore make a wonderfully thoughtful gift. This armour will no doubt help your Scorchio win any battle and also protect from any injuries.

Scorchio Birthday Plushie
Aww! What a perfect gift for any plushie enthusiast Scorchio! This cute little plushie has a sweet little party hat to put any pet in the mood for celebrating. This is ideal for any collector and also any Scorchio who just wants a cute little cuddle companion!

Yellow Scorchio Gnome
This little gnome is a great and fun addition to any neogarden - seeing this happy little character with its happy expression will just brighten your day! Pick one up today at the garden centre!
So there you go! A small list of suggestions on what to get your beloved Scorchio this coming celebration. Although as a species Scorchios may have similar tastes, it is important to know every pet is unique and they each have their quirks!
Scorchios are currently 17th most popular neopet currently, which many would agree is a terrible shame considering their charming personalities and astonishing loyalty. Scorchios are often overlooked in favour of other pets - but why? When you have a Scorchio, you've got a best friend for life!
We hope this guide has helped give you an insight into what Scorchios love, and we wish you a very happy Scorchio Day. :)