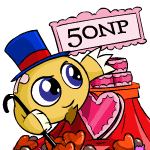 Top 10 Valentines Day Gift Ideas

by rachxface

--------

Valentines Day is here again! On the 14th of February, Neopians and their pets everywhere celebrate the festival of love and affection through sending gifts, cards and simple messages of kindness. So, it is the perfect excuse to show a loved one some affection. Here are a few of my favourite and, in my opinion, the most beautiful gifts to send and make somebody's day memorable. Whether that is your Neofriend, your pet or Dr. Sloth is up to you. (Yes, even the evilest of villains appreciates some love now and again, although he would never admit it.)

10) A Neogreeting

There are around 50 Neogreetings to choose from with the theme of Valentines Day, from the simple yet effective "I love you" to the witty "Will uni be my valentine". Best of all, it costs nothing to send a Neogreeting - they are completely free! Therefore there is really no excuse not to send one and make your Neofriend's day; am I right? Your pet will love helping you choose a greeting from the wide variety, and it will get them in an affectionate mood for the rest of the day! Don't forget, if you send a certain Neogreeting on the 14th of February you can get your hands on a very loveable secret avatar!

9) A Mysterious Valentines Card
Head on over to the Neopian gift shop and see if you can get your hands (or paws) on one of these cards. They're in high demand around this time of the year, but the Scorchio who runs the shop always makes sure that he stocks up. Delicately wrapped in a rosy pink envelope, a simple heart seals your letter with love. It is the perfect way to show somebody your affection, and if you're feeling a little shy or like the mystery of Valentines Day, your name will never be revealed!

8) Homemade Valentines Day Card
If you don't necessarily want to remain anonymous for Valentines Day, and you are prepared to shout your love from the rooftops (please don't try this at home), then the Homemade Valentines Day card would be a better option to purchase. You can write your own personal message inside, and the receiver will simply be amazed at how much effort and affection has been made to hand-craft this card. This is sure to make anyone feel special!

7) Valentines Heart Shaped Chocolate Box
Everyone loves chocolate; pets of all shape, colour and gender! Whether it's a baby pet who manages to get chocolate around their mouth every time they eat, *looks at Wariloky (my baby Chomby)*, or a Lupe who cannot resist a Chocolate Chia, this gift is definitely the most versatile! The dainty box contains twenty four heart shaped chocolates (perfect to indulge in) and has the seal of approval from the mysterious Kiko who runs the Chocolate Factory and hosts the Annual Chocolate Ball. Just make sure you hide them away, before your pets (or you) eat them first!

6) Chocolate Heart
This stunning delicacy is made of the silkiest milk chocolate, contains a soft fondant filling and has a white chocolate heart placed on top. It oozes luxury, and is reasonably priced in comparison to other Valentines Day gifts. It is rumoured that Queen Fyora gets them delivered to Faerieland every day, as she cannot resist the divine secret-recipe of the fondant filling. When asked what the filling contains, the Chocolate Factory Kiko is determined not to say. All he lets us know is that, "They are made with love". Perfect then!

5) Valentines Day Ring
This beautiful delight is the epitome of elegance. A rare, hand-cut heart-shaped diamond sits on a twenty four carat gold band, specially made to fit the holder's claw, fin or paw size by Neopia's finest jeweller. It is presented in a luxurious scarlet velvet box, and sits on a satin cushion. Surely nothing can say 'I love you' more than this ring?

4) Pink Heart Bracelet
If you're on a slightly lower budget, but had set your eyes on gifting a valentines-themed piece of jewellery, I strongly recommend the Pink Heart Bracelet! The heart symbol, known to represent Valentines Day throughout Neopia, is repeated in a dusky pink colour and strung together by satin ribbon to produce this bracelet. It's simply perfect for any fashionable female!

3) Sour Candy Hearts
These spherical sweets have a lime-flavoured, sour coating and a heart-shaped tangy strawberry center. They are a great gift idea for anyone who prefers sweets to the traditional chocolate, whilst still keeping to the Valentines Day theme!

2) Bottle of Love
This little glass bottle is filled with hundreds of deep red paper hearts, all symmetrically perfect in shape. The glass is sourced from Maraqua and the red dye uses crushed berries to give each individual paper heart a fruity smell that nobody can resist! With the scent specifically formulated to linger on for weeks, your Valentine will not stop thinking of you! This bottle is a great gift idea as it can be used for many things. You can write on the little hearts, use them as confetti in a card or spread them out into an affectionate message! Or you can even do all three (you're sure to have enough spare hearts!).
1) Free Love!
Of course, Valentines Day is not all about being materialistic and spending thousands of neopoints. Sure, it is lovely to receive gifts on this day, and you should always be grateful, but my favourite gift to receive is someone's words of kindness. Whether that is a neomail from my Neofriend saying a cheerful Hello to me and my pets, or somebody who I've never met before wishing me a Happy Valentines Day on the Neoboards. Ultimately, we shouldn't lose sight of what February the 14th is all about; love, kindness and hey, let's just admit it, ... CHOCOLATE!
Don't forget, there are many more gifts that you can choose for Valentines Day; these are traditional, general ideas. If your Valentine likes plushies, feel free to buy them a plushie, or if they like reading, a new book from the Neopian Bookstore would be perfect. Any gift on Valentines Day will always be appreciated, but sometimes the best things in life are free.