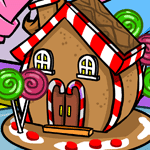 Holiday Treats!

by xoxkar

--------



It's that time of year again. You can just feel that Christmas is right around the corner! The month of Celebrating is a wonderful time of year, where we all enjoy the holiday decorating, shopping, and baking. A favorite of most is to enjoy some delicious baked goods, and a warm holiday drink with our friends. The Christmas trees have been put up and decorated beautifully with festive holiday ornaments, tinsel, lights, and a sparkling gold star. Stockings have been hung above the crackling fireplace waiting to be filled with goodies! Delightful aromas of fresh baked sugar cookies, gingerbread, and other holiday treats fill the air with a mouthwatering aroma, bringing a smile to everyone's face. The wreaths have been placed on the door, spreading holiday cheer to all who walk by. The nights are cold and dark, but the bright shining Christmas lights will light up those dark nights! The town of Neopia is full of shoppers looking to find some great holiday gifts to send to all their friends!

The month of Celebrating is a time of year when many like to plan a special celebration for all their friends, so here I have created a list of the most mouthwatering and delicious baked goods, and holiday drinks you can serve at your holiday celebrating!

Roast Chestnut Neggnog
Nothing will warm you up better during the month of Celebrating than this delicious rich and creamy roast chestnut neggnog! This neggnog is a step up from the ordinary neggnog served during the holidays, as it has had fresh roasted chestnuts blended in to give a delightful and unique flavor that is sure to please anyone. This neggnog doesn't only taste good, it also has a delightful aroma that will make your mouth water!

Christmas Pudding
It can't be Christmas without the traditional Christmas pudding! This old fashioned favorite dessert is made from fresh fruit, and a delightful pudding mix that the breadmaster created specially for this treat. This Christmas pudding is great served with a dollop of hot creamy custard!

Iced Christmas Cake
This iced Christmas cake is actually a fruit cake! This cake is full of candied fruits, maraschino cherries, and holiday spices! This cake has been covered with a rose colored frosting, as well as red and green icing that was used to create a beautiful looking poinsettia! As a finishing touch, a cheerful red bow has been tied around the cake.

Kiko Christmas Hot Chocolate Mug
Ahh, what could beat enjoying this festive holiday kiko hot chocolate in front a roaring fireplace as the snowflakes fall from the sky, and your Christmas tree is shining in the corner of the room? This hot chocolate has been poured into a delightful looking Kiko mug, and decorated with whipped cream, red and green sprinkles, a Christmas tree sugar cookie, and a cinnamon stick! This drink is an absolute must.

Gingerbread House
This gingerbread cake is absolutely scrumptious as a treat, but also looks so good you can use it as a festive decoration! Fresh baked sheets of gingerbread have been decorated with a sweet yellow and white icing, as well as red and green gumdrops!

Noil Gingerbread Cake
This noil gingerbread cake makes a perfect treat to serve with a hot cup of tea! This delicious holiday spice cake is full of ginger, cinnamon, and a pinch of nutmeg to make it perfect for the season. This cake was baked in a noil shaped tin, then decorated with a thick layer of sweet blueberry icing, as well as chocolate chunks for the noil's face!

Holly Chocolates
These holly chocolates go great with a cup of coffee! They are also a perfect gift to pass out to all your Neofriends. Delicious creamy milk and dark chocolates filled with a peppermint filling have been wrapped up to look like holly berries and leaves. These chocolates are so delicate and delectable that they will melt in your mouth; you won't be able to stop yourself from having just one!

Holiday Milk and Cookies
Milk and cookies are a tradition that almost everyone enjoys during the month of Celebrating! Whether you enjoy this treat for an afternoon snack, or a treat before bedtime, you can't go wrong with this delight. These chocolate Christmas tree shaped cookies have been filled with a thick vanilla icing! The milk has even been poured into a festive looking holiday glass.

Snow Mint Tea
A cup of tea is always a great way to start the morning, so why not choose a festive tea to enjoy during the month of Celebrating? This soothing tea is made from real mountain snow from the top of Terror Mountain, as well as the finest fresh mint. This holiday tea is made from melting the mountain snow and infusing the mint leaves in a tea bag so you can enjoy this tea without bits of leaves. This soothing and refreshing tea is the perfect way to start the morning!

Snowflake Cookie
These snowflake cookies are perfect to serve when hosting a gathering before Christmas! These carefully sculpted snowflake cookies may be difficult to make, but the taste alone will assure you the work was worth it. These snowflake cookies are made with gingerbread dough and a hint of peppermint extract. They have been decorated with a layer of rich cream cheese icing, then dusted with fine bits of candy cane!

Peppermint Fudge
Who doesn't love a nice chunk of fudge during the holidays? This peppermint fudge is specially created during the month of Celebrating. This creamy milk chocolate fudge has the luscious taste of peppermint to it! This fudge even has a light layer of peppermint icing to give it an extra holiday touch!

Chocolate Christmas Scorchio
This festive chocolate Christmas Dcorchio is a delicious creamy milk chocolate that has been carefully sculpted into a Christmas Scorchio! This chocolate treat is great to have with a hot drink, to hand out to Neopians when walking through town, to have as a snack when hosting a celebration, or it can be used as a great stocking stuffer!
Happy holidays, everyone!