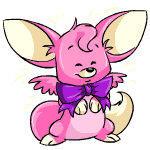 Ninja Faellie Diaries: Part Five

by luna4400

--------

Part Five: Christmas at Last

After everyone finished screaming, "AAAAAAHHHHHHH!!!" due to the fact they were about to go off a cliff because no one was driving the wagon, an idea popped into Chris's head. A good thing too, because it's proven to be quite difficult to hatch a plan under pressure of dying and loud screaming voices filling the room.

"Lola! You can save us! You can use the rope and secure us as the wagon falls!" Chris cried.

"What? Me? But-I-well- I've never used a bow and arrow before, remember?!" Lola shrieked.

"Okay, I'm going to put this simply, shoot that arrow, or we are going to DIE!"

"Okay, let me think about it!"

"WE ARE GOING TO DIE!"

"AH!" Lola screamed. She hurriedly tied the end of the long and sturdy rope against the end of the arrow, and tied the other end against everyone in the wagon, including the bullies Wash, the Goob Brothers, and Benny. Then, as the wagon was about to tip off the cliff, and the acceleration of speed began to happen- Lola picked up the long bow and-

Snap!

Woosh!

Smack!

"We're alive!" Ello exclaimed happily. Just as the wagon fell off the cliff, Lola shot off her arrow, a direct hit into the cliffs across the way, allowing the seven of them to safely swing across to the other side. Besides the fact they smacked into the cliff across from them, they were alive, which was something they were all grateful for.

Because Ello was tinier than the rest, she squeezed out of the rope, and flew up, pulling on the rope and bringing everyone up on land safely. "You- you saved us..." Wash said in complete awe, staring at Chris, Ello and Lola in shock. "After we treated you so horribly, you saved us."

Lola averted her eyes from the shocked Jetsam's gaze. "I guess I'm a pretty good archer after all," she said, almost bitterly.

"That was the best arrow shot I've ever seen!" Benny exclaimed.

"Lola... I'm sorry. I'm truly, sincerely, honestly sorry. I regret being so mean to you. That was so wrong of me, and even after all the pain I caused you, you still saved my life. I'll always be in your debt, Lola Lockhart," Wash said.

With a crooked smile, Lola patted Wash's shoulder. "I forgive you."

"Really?"

"Yes, if you admit you cheated on the test, and promise to never try and capture me again."

Wash grinned, and for once it looked happy, not devious at all. "I promise."

"What should we do now?" Ello asked.

"We need to go to Altador." Chris smiled. "We've got a golden arrow to fix."

~*~

December 6th, Month of Celebrating

Dear Diary,

When we got home to Altador, Lola apologized for running away from her parents. They instantly forgave her; they were just glad they got their daughter back home safely. I gave her one of the Lotus Flowers, and she went to her neighbor's house to repair the arrow. Fortunately, the flower did its job and repaired the golden arrow, and there is no longer shame put upon the Lockhart family. I'll miss Lola. She's a good friend.

As for Chris and I, we're going back home to Mystery Island. We completed our mission. However, I don't expect us to be there for another few days. We decided to take our time, not only to enjoy Neopia, but because we'll probably come home to Chris's screaming sisters. Whoopee.

~*~

It was the 8th of the December, when Chris and Ello finally saw Mystery Island appear from the skies they flew in. They waved hi to the Tombola Man, got their daily haiku, and then began the journey up the mountain to see their Sensei, the wise old Techo Master. Ello was nervous; she wasn't sure if she had restored her focus yet. She hoped so.

"Jeez, calm down, Ello, you're shaking," Chris whispered to his Faellie as they walked through the great wide doors of the Training School.

"I know, I know," Ello replied. "I'm nervous, alright?"

"You shouldn't be." Chris smiled. "Just try to relax, okay?"

"Okay."

Chris knocked on the hard wooden door, and a familiar old voice said, "Enter, Chris the starry Shoyru and Ello the pink Faellie." The two obeyed, and entered through the door, to see the Techo Master sitting in meditation pose, his eyes closed, and incense candles burning as the only form of light. "And how was your mission, young grasshoppers?" he asked the two.

"Master, we have successfully retrieved the Lotus Flower," Ello reported, setting it down in front of her Sensei.

The Techo Master chuckled. "Very good. Very, very, good."

"So... are we ninjas?" Chris asked, perhaps a little too bluntly.

"What do you mean, are you ninjas?" the Techo Master asked.

"I mean are we ninjas!"

"I don't know, are you?" the Techo retorted.

"I don't know, I was hoping you'd tell us!" Chris exclaimed.

The Techo Master chuckled. "Chris, my boy, you and Ello have been ninjas this whole time."

"WHAT?" Chris and Ello exclaimed at the same time.

"Yes, grasshoppers, you were both ninjas before you left for this mission."

"But-"

The Techo Master's eyes opened, and he grinned. "You two did well. It has truly been an honor to teach you two."

"Will you still teach us?" Ello asked. "I feel I have so much more to learn!"

"You do," her Sensei agreed, pointing to his head, "but up here, you two have succeeded."

Suddenly the Techo Master was toppled over, from Chris and Ello giving him a huge hug. "Thank you, Sensei," Ello and Chris said gratefully at the same time.

The Techo Master smiled. "You're welcome. Now go grasshoppers... I sense there is tension in your place of home."

"Probably," Chris laughed. He grabbed Ello by the tail and headed for the exit. "Merry Christmas, Sensei."

~*~

"AND DON'T YOU EVER GO OUT ON AN ADVENTURE WITHOUT TELLING ME FIRST, CHRISTOPHER ELLIOT! YOU MIGHT BE THE ELDEST OF THIS FAMILY, BUT THAT DOESN'T MEAN YOU CAN DO WHAT YOU WANT! UNDERSTAND?"

"Yeah, Rachel, I pretty much got it," Chris mumbled.

His fuming sister wasn't finished. "A NOTE! YOU COULD HAVE WROTE ME A NOTE FOR FYORA'S SAKE! BUT NO, YOU AND ELLO JUST WENT OUT AND DIDN'T TELL ANYONE WHAT YOU WERE DOING! AND I HAD TO DECORATE THE HOUSE FOR CHRISTMAS ALL BY MYSELF!"

"Sorry, Rachel."

"SORRY? SORRY?! DID YOU JUST SAY SORRY?"

"Yes."

"WELL I-... wait... whoa, you just said you were sorry!" Rachel cried.

"Yes, want me to say it again? I'm sorry," Chris repeated.

Rachel's eyes grew wide. "Something happened to you! You're not yourself! The Chris I know never apologizes!"

"Yeah well, I just did." Chris put his paws on his hips. "So will you stop screaming?"

Rachel cleared her throat. "Yeah, I guess I'm pretty much done."

"Good. So am I forgiven?"

"Yes."

"Cool." Chris started to fly to his room.

"WAIT!" Rachel hollered.

"What?!" Chris cried.

"You will be forgiven if you put away dinner's dishes." Rachel grinned.

Chris rolled his eyes. "Sisters."

~*~

December 24th, Month of Celebrating

Dear Diary,

It's Christmas Eve! I can't believe it! Already presents have piled up underneath our Christmas tree. I've spent the last of my allowance buying everyone presents. I've even counted the presents for me underneath the tree, and I've got three more than last year! WHOO!

Now, I just wish Chris wasn't so negative about Christmas. It's become my mission to make him happy tonight on this holiday. So I've had to bring some reinforcements...

~*~

Chris stared up at the starry night skies, watching little drops of snow cascade down, and onto the ground, creating a blanket of white that stretched out to the beach. He smiled. It was snowing in Mystery Island. That was a first.

"Mind if I join you?" a voice asked.

Chris's eyes widened. He turned around to and smiled. "Lola Lockhart, I didn't expect to see you," he said, smiling wider.

"Well, you know, I've always said I've hated Christmas," Lola told him, standing beside him. "But you know what?"

"What?"

"I think I'm starting to like it," Lola smiled. Then, she gingerly leaned in and placed a kiss on Chris's cheek, to let him know he was one of her good friends.

Chris smiled. "I think I am too."

"You know what else?"

"What?"

"My parents bought me a Delfin for Christmas. They let me open it early. Her name is Felicia, and we've already bonded."

"That's great to hear Lola. I'm happy for you. What about Wash, Benny, and the Goob Brothers?"

Lola chuckled. "To be honest, they're actually my friends now. They told our teacher they cheated on the test, and now I'm top of the class in archery. Really, everything is going absolutely great."

"Great."

"What about you?"

"Well, I counted how many presents I have under the tree. It looks like my room will be cluttered with sweet, sweet junk again."

Lola chuckled. "Great."

"Hey, bubs! Jessica made gingerbread. Let's get inside and eat till we're fat!" Ello laughed, popping her head outside as well.

"Sounds good to me," Chris laughed, Lola chuckling as well. The three went inside the home, and had the best Christmas they had in a long time.

~*~

Dear Diary,

It's been a pretty awesome year. Next year will be even better. I just know it. There's no telling how many things I'll break.

The End

Feedback is loved, and Happy Holidays, even to you Mr. Coconut!!!