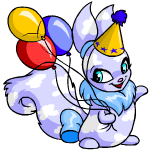 Usul Day Treats!

by xoxkar

--------



With Usul Day approaching on the 27th, we should all take the time to enjoy the day and celebrate the wonderful Usuls of Neopia! One way to celebrate this wonderful day is to host a celebration gathering at your house for you and your friends! Nothing will beat enjoying a nice hot cup of tea around a crackling fireplace, as well as tucking into a delicious slice of cake! Instead of enjoying your ordinary cake, you should take the time to go out and choose one of the many festive cakes that have been specially baked to celebrate Usul Day! So here I have listed some of the most mouthwatering divine Usul cakes and treats you can purchase to celebrate Usul Day!

Amazing Apple Usul Cake
This apple Usul cake is truly amazing! This tasty cake is made from three layers of fresh baked vanilla sponge cakes. This delicious cake is coated with a thick layer of sweet apple icing to give it a truly unique flavor! As a finishing touch, a carefully inspected edible Usul decoration is placed on top. This cake gives of a delightful sweet apple aroma that is sure to please anyone!

Blueberry Usul Meringue
This delicious blueberry Usul meringue not only looks great, it also tastes wonderful! A sweet sensation of fresh blueberries will fill your mouth after one bite. This delicious dessert also has a carefully molded creamy white chocolate Usul decoration, and one fresh picked blueberry to top it off. If you love this meringue, and fancy more, you can also buy mint, strawberry, or vanilla Usul meringues!

Caramel Usul Cake
This caramel Usul cake is truly mouthwatering. This caramel cake has a light, fluffy, and sponge-like texture. This delicious cake has been coated with a thick, sweet milky chocolate icing, as well as a handful of fresh toasted almond slices, and sprinkle of white chocolate bits. To make this cake even more delectable, as a finishing touch, this cake is placed on a base of fresh sweet ummagine icing.

Deluxe Strawberry Usul Cake
Deluxe is right! This festive looking strawberry Usul cake is a great choice for those who enjoy a sweet tasting cake, as the strawberries that are baked in this cake give this vanilla sponge cake a delicious strawberry flavor! This wonderful cake has been covered in a creamy white chocolate icing that has had slices of strawberries mixed in. As a finishing touch, this cake has a layer of strawberry icing on top, as well as a edible bow made from strawberry fondant!

Fruity Usul Cake
This fruity Usul cake is a perfect choice for those who are keen on fruit desserts. This scrumptious cake is made from three light, fruity citrus sponge cakes that have been specially baked just for this cake. On top of all three cakes is a thick tangy lime icing that is sure to please! This cake has been decorated with a large red bow, an edible U cookie, and of course some festive birthday candles!

Lemon Swirl Usul Cake
This lemon swirl Usul cake looks wonderful, and it also tastes so good that it will please even the pickiest eater! Three layers of vanilla and lemon sponge cakes are placed on top of each other! These cakes are then coated in a mix of a lemon and vanilla icing, which gives it the swirl pattern! This luscious cake also has a fine layer of a sweet strawberry icing around the edges of each layer.

Starry Chocolate Usul Cake
What could be better than this divine chocolate cake to celebrate Usul Day? Nothing! This starry Usul cake has three scrumptious layers of a rich chocolate sponge cake, and is smothered with a starberry icing. For decoration, some carefully molded edible stars have been placed on this cake, as well as the edible blue Usul ornament on top! Once you try this cake, you won't be able to stop yourself from having just one slice!

Strawberry Usul Cake
When choosing a cake to please your guests, you can't go wrong with this strawberry Usul cake! This delish cake is great for many reasons; the cake itself is a sweet moist caramel cake. The cake has then been covered with a sweet strawberry icing, fresh chunks of strawberries, whipped cream, and an edible green Usul bow! This cake is absolutely superb!

Usul Petit Fours
Ahh, these delicious petit fours as so light and moist that they melt in your mouth! Four freshly baked yellow cakes are covered with a layer of sweet milk chocolate, they are then layered with a fresh vanilla cream. To make each of the cakes visually appealing, they have all had a different color added to the vanilla cream! Each cake also have the letter U sculpted on with the vanilla icing.

Cloud Usul Iced Buns
Instead of enjoying your traditional cinnamon buns, why not enjoy one of these delicious cloud Usul ice buns that have been baked specially for Usul Day? These delicious buns will leave a sweet sensation in your mouth! These delicious buns are pull apart like cinnamon buns, but instead of cream cheese on top, these buns are iced with a delectable vanilla cream frosting, and a soft pink candy!

Cookie Dough Usul Cake
This cookie dough Usul cake is unique, and scrumptious! You don't often see cookie dough used for cakes, but once you have tried this cake, you will instantly crave more! A fluffy white butter cake has been carefully sculpted into a Usul shape, and instead of being coated in icing, this unique cake has been smothered with a vanilla and strawberry cookie dough!

Gold Usul Cookie
If you are hosting a tea party for your friends to celebrate, then you cannot go wrong with serving these cookies! These gold Usul cookies go perfect with a cup of tea. This cinnamon and vanilla cookie has a layer of vanilla icing, as well as a lemon icing that has been carefully made to resemble a gold Usul! These cookies are so good, they won't last long when served!
Happy Usul Day, everyone!