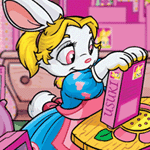 Usuki Frenzy! Tips for the Average Neopian

by hamzandrilez

--------

GAMESROOM - I quite like this game, if I do say so myself. I loved the original, and the new one is equally if not more so awesome. Why is this game important to learn? Well, because it's possible to get an avatar from it if it's on everyone's favorite game show- Better Than You! In fact, that's how I actually got that avatar. Usuki Frenzy is a simple game, so easy Neopoints. Not to mention if you get good enough at it, you could potentially get a shiny trophy from it if you're not lazy at it like I am. Enough commentary, though, and on to the game guide!

So what exactly is an Usuki? It's sort of like a Japanese fashion doll, only an Usul, plus it's not actually manufactured in Japan. They come with play sets, too- which is the objective of the game. You are Lucie, who is a Cybunny that is obsessed with her Usuki toys and about to go on a vacation. Except- OH NO! She left her precious Usuki items in the house! You need to help her get them back before her parents tell her to get back! Did I mention you have about three minutes to complete your mission? Let's get cracking, then!

The controls are simple- your arrow keys on your keyboard move her around. Isn't that pretty easy? The space bar is good to start the level. The way the game is laid out is that there are eight areas to check in your house for Lucie's precious Usuki sets. Also, the space bar can also be used to bring up a bonus pretty soon, but we'll get into that later. Stay tuned to see exactly what you'll be looking for in these said rooms!

There are twenty four different types spread out, and two visible Usuki dolls. Each set you collect is fifteen points, and dolls are sixteen. Usuki Frenzy also gives you a time bonus the faster you complete the level. Now, don't start wondering if you can get all of those collected in less than three minutes! You only have to get a certain amount per level, and specific ones will be listed on the left side of the screen in the game. Level one has four sets you need to find and no Usuki dolls, level two has seven sets and one Usuki doll, and the last level has ten total sets and two dolls that Lucie needs to search out. If you end up picking up a set that is not on the list, then don't fear- it will not deduct points from your current score! All they will do is just slow you down a bit, so just try not to pick up a wrong one by accident. There are magical (okay, not really, but let's use our imaginations here) red shelves in both bedrooms, the television room, and the dining room to put away unwanted items. That's exactly half of the places in the house. You cannot pick up another Usuki set until you discard the one Lucie doesn't want to take, however. So now that you know the basics, let's get onto actual tips and advice!

Tip 1: I'm sure you have all heard the expression "Practice makes perfect". This definitely applies here. Memorize where the different items are in the room, so you will know exactly where to go to in order to find them, and play the game repeatedly and work out paths that would work out best for you and give you the fastest time.

Tip 2: Once you get to the screen before you need to press the space bar to start the level, look at the items you need to collect and mentally locate which room or space the item will be in. Write it down, if that helps you any, to remember. This is why I recommended you memorize this in the first tip. That way, you can apply your plans on how to get there fast, and get extra points more effectively!

Tip 3: As it turns out, Usuki Frenzy has a secret doll hidden! Like the other two dolls in the game, this secret Ballet Usuki is worth sixteen points. Unlike the other two, though, it can be obtained in any of the three levels, but only once. I don't mean once per level, I mean once per game of Usuki Frenzy you play. To get it, go to the pink bedroom on the top right corner of the house. Press the space bar at the computer, and your Usuki doll will appear somewhere randomly in the room. Try the space bar again if it doesn't work. It gives you a nice bonus.

Tip 4: Don't go out of your way to find this Usuki doll! If you do not have an item in the bedroom to get a set or two at all during the level, wait until you get a level that does. The chances of having all three levels set up so you don't need to go into the bedroom is practically zero. I would know that from playing this game so much. If that rare chance does happen, then just start a new game. Nobody in the world has rotten enough luck to never have to go to that room.

Tip 5: Be extremely careful when you're moving into a room where the Usuki Set is almost right at the entrance. If it's not one of the ones on your list, then you'll just have to search for a shelf and waste time doing so. So when you're going into the pink bedroom, the television room, or going outside, make sure to take it slow and steady, but not slow enough that it will affect your scores.

Tip 6: If you're aiming for a trophy, then play Usuki Frenzy at the beginning of the month, as in the first or second day, before a lot of people try to get it. It's sort of like picking an early time in the morning to restock, when competition is scarce. This may not always work, but it increases your chances at least.

So there you have it! Some easy tips to a really fun and easy game! So, Neopians, happy occasional avatar hunting if Usuki Frenzy is on Better Than You, and also happy trophy seeking! May the best collector win!