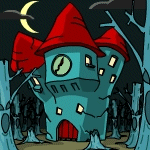 A Guide to Halloween Decorating!

by xoxkar

--------



With Halloween soon approaching, it's time to start thinking of how we should decorate our Neohome this Halloween. It's the time of year when ghosts start to appear in the dark night skies, when you see bright cheerful orange pumpkins on every doorstep, and when bowls of candy are left outside for trick-or-treaters dressed in festive costumes. When you invite your friends over for a cup of tea and a piece of pumpkin pie, you want them to marvel at your decoration skills, so with this article you are sure to have your guests and yourself impressed! Making your Neohome spooktacular can be tricky if you are on a budget, so I have made a list of 12 frightful, spooktastic, and affordable Neohome items that will transform your house into a haunted mansion!

Apple Lantern Chair
The perfect place for evil geniuses to sit and plot their schemes.
When decorating your home, you need to remember to buy some comfortable chairs, not just for yourself, but for any guests that come by! This festive apple lantern chair is a perfect buy this season. On those dark October nights when the wind is howling outside your window, nothing will warm you up better than relaxing in this spooky lantern chair in front of a roaring fireplace.
Approximate cost: 2,000 NP

Candy Vampire Candle
When burned this candle gives off a distinct sugar smell.
What could be a better way to light up your home than with this festive candle? Not only does this candle look spooktacular, it also gives of a sweet sugary smell that will keep your house smelling delicious! This flickering candle is perfect for when you are wrapped up in a warm blanket reading a good book in the dark, or when adding a splash of color to the room while entertaining guests.
Approximate cost: 10,000 NP

Furwitch Pillow
Beware. It may be just a pillow, but it still has a bite.
This furwitch pillow is the perfect item for all your spooky bedrooms. Not only is it great as it's cute and cuddly, it's also dressed up like a witch! This pillow is best as a decoration as now and again those fangs might have just have a taste of who is sitting on it! Just beware, while sleeping near this pillow you might just have some spooky dreams.
Approximate cost: 1,500 NP

Meepit Chair
Who would have thought Meepits have such big sharp teeth!
Meepits are soft and adorable, but also very evil as we all know, and this chair is no exception. Those sharp fangs are just sewn on, so you don't have to worry about them ripping your clothes. This chair is meepit approved, so it's a great buy. And besides, who would risk angering the meepits by not buying this chair?
Approximate cost: 23,000 NP

Spooky Speaker
It plays a haunting tune, of course.
This speaker is perfect for when you have your Halloween celebrations. This wonderful speaker plays the most eerie music, and will match your theme instead of those classic boring ones. The best part about this ghostly speaker is that it floats, so you won't have any problems deciding where you should put it.
Approximate cost: 800 NP

Esophagor Bath Tub
Only the truly brave would bathe in this tub.
On those cold frosty mornings, nothing will warm you up like a nice long soak in this esophagor bath tub. Fill it with your favorite bath bubbles and you will find yourself in this tub every morning! That is, if you are brave enough to go in.
Approximate cost: 5,000 NP

Cauldron Table
This snazzy table is made from an old cauldron.
This table is the most unique table you'll ever find! This table is made from an old witches cauldron that has been polished and cleaned, with a piece of crystal clear class placed on top. The best part about this table is, you can fill it with your own witches brew to give any room a spooky effect!
Approximate cost: 1,000 NP

Comfy Pumpkin Bean Bag
This pumpkin bean bag will add a splash of color to any room.
This bean bag may not be the spookiest piece of furniture, but that doesn't stop it from being a must buy this Halloween season. We all know pumpkins are a huge part of Halloween, so why not buy this bean bag? Nothing can beat curling up in this cozy bean bag while watching a good Halloween movie with your friends on Halloween night!
Approximate cost: 8,000 NP

Casket Bookcase
The ultimate place for any gothic Neopet to store their favorite books.
Every Neohome needs a good bookcase, especially those who have a large collection of spooky stories. This bookcase is great for two reasons; with three shelves it's sure to hold all your books, and because of it's coffin shape, it also serves as a great Halloween decoration for any room!
Approximate cost: 5,000 NP

Spyder Wardrobe
Keep all your favorite outfits neat and tidy in this unusual wardrobe.
Every Neopian needs a wardrobe to hold all their festive costumes, so why not buy this spyder wardrobe? This frightful wardrobe was made with such detail, blood red beady eyes, the finest black paint, and carefully crafted fangs. This wardrobe will hold all your costumes, and will give anyone a fright when they see it!
Approximate cost: 100 NP

Very Angry Pumpkin
Ooh, just looking at this pumpkin sends shivers down your spine!
This angry jack-o-lantern will look great inside on your windowsill, out on your doorstep, or even in your garden! Nothing says Halloween like pumpkins, so this festive pumpkin is a must have this season. You can also buy many other pumpkins with different expressions if you want a happier one, such as the silly pumpkin.
Approximate cost: 2,500 NP

Meowclops Head Pillow
Awwww, it's so cute! You HAVE to buy this pillow.
Just like the furwitch pillow, this meowclops pillow isn't exactly spooky, but it's absolutely adorable and festive. This pillow is great for using as a cushion as it won't bite, or slobber! Wherever you place this pillow, you can be sure it has its eye on everything.
Approximate cost: 3500 NP
There you go, my list of what I think are the best items to decorate your Neohome this Halloween season. Have a great time decorating!