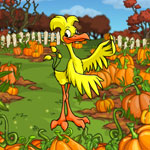 The Top Ten Pumpkin Treats!

by xoxkar

--------

It's that time of year again; you can just feel that Autumn is on its way. The nights are falling upon us as they start to come earlier each week. The leaves on the trees start to turn into their most magnificent shades of red, orange, and brown. Once you step outside and feel the crisp cool air, you know it's time to start bundling up in your favorite scarf and gloves. And when you start your walk around town, you hear that pleasing crunch sound as you step on the leaves that have blown off the trees and then covered the sidewalks. You know it's the month of October when you see the cheerful orange pumpkins for sale in the market. A favorite of most during the month is to curl up on your favorite couch with a good book and a hot cup of tea.

During the month of October, we get prepared for a wonderful festive season that involves treats, spices, decorating, costumes, and of course pumpkins! Pumpkins have many uses, especially during October. Pumpkins are used whole to decorate a garden, also used as decorations around the house when carved and lit with a candle, and often used in many tasty treats. So I am dedicating this article to the top ten pumpkin treats! Because really, who doesn't love pumpkins?

Candy Pumpkin Latte
"A sprinkle of cinnamon on top of this latte makes it the perfect after-dinner treat for a cold winter night."
The description about this drink is absolutely right! What could be a better treat on a crisp fall October day than this delectable latte? This latte is made from the finest fresh picked pumpkins you could find, the most divine cream, and the tastiest fresh brewed coffee on the market! This latte is even served in a pumpkin shade mug. Take one sip of this drink and you won't be able to stop!
Approximate cost: 14,500 NP

Spiced Pumpkin Coffee
"This coffee has a bit of pumpkin juice added and is simmered with spices."
For those who prefer a simple coffee to those with cream, this spiced pumpkin coffee is the right pick for you. Instead of just being a simple black coffee, this coffee is infused with fresh pumpkin juice, and then simmered with the traditional spices that will give this drink a taste to die for! The mug even has an added bonus looking like a real pumpkin. Just looking at this delightful drink will make your mouth water!
Approximate cost: 5,000 NP

Pumpkin Pot Pie
"A big meaty pot pie made almost entirely from pumpkin!"
Ah, this scrumptious pumpkin pot pie brings a smile to your face when you walk inside and smell it cooking. This pie is made with sweet flaky pastry for the crust, and inside it's filled with the most delicious pumpkin mixed with spices and cream. This pie is best served warm. This pie is truly a step up from the original pumpkin pie!
Approximate cost: 99,000 NP

Pumpkin Waffles
"A healthy breakfast that tastes just like pumpkin pie."
On those cold frosty October mornings, nothing else can compare to these mouth watering waffles! These waffles are made from a traditional recipe with added pumpkin puree, cinnamon, ginger, and nutmeg. These waffles are scrumptious by themselves or with a dollop of cream or drizzled with melted butter. You will truly wake up with a smile on your face when you smell these waffles cooking.
Approximate cost: 10,000 NP

Pumpkin Mocha
"You won't mistake this mocha for any other with this adorable mug."
This pumpkin mocha is a great drink when meeting up with some friends on a chilly afternoon. What could be a better combination than coffee, chocolate, and pumpkin? This steaming mocha is served with a heaping spoonful of cinnamon whipped cream. This tasty mocha is a classic you do not want to miss!
Approximate cost: 1,500 NP

Spooky Pumpkin Gateau
"A tangy, almost chewy treat that tastes just a good as it looks!"
This gateau may frighten you at first, but once you try a bite, you won't be scared at all! As the description says, this gateau is a tangy and chewy treat. This cake is a must have during the month of October as it even resembles a carved pumpkin!
Approximate cost: 28,000 NP

Pumpkin Roll
"Perfect for a cool autumn morning."
Pumpkin and cream cheese are truly a great combination. If you agree with this, then this is the treat for you! This roll makes a perfect snack any time of the day, especially great served with a hot cup of coffee. And as a finishing touch, this pumpkin roll is dusted with icing sugar.
Approximate cost: 1,300 NP

Pumpkin Seasonal Pudding
"An exciting twist on the traditional seasonal pudding that your Neopet will love!"
We've all had and loved Christmas pudding, so it's hard not to love this delightful pumpkin seasonal pudding! The difference in this pudding to the Christmas pudding is the fresh pumpkin puree that is used; it allows the pudding to stay fresh and moist for days. Once the pudding is cooked, it is then drizzled with cream cheese icing, making you hungry just looking at it!
Approximate cost: 5,000 NP

Pumpkin Eyrie Souffle
"This tasty souffle is typically in season during the months of Collecting and Storing. Just make sure you don't sneeze, or it will collapse!"
Like the description says, this souffle is in season during the Autumn when pumpkins are ready for picking. This souffle is made from the finest and freshest ingredients on the market. Soufflés are best served fresh out of the oven, so be sure to have your friends over when you enjoy this souffle! This is perfect for those who enjoy a light and fluffy dessert.
Approximate cost: 2,500 NP

Baked Pumpkin Bread
"Someone accidentally dropped a pumpkin on these loaves, but the Breadmaster baked them anyway."
A truly unique bread! The fresh pumpkin puree in this recipe is what makes this loaf incredibly soft, and moist. When you bite into it, it truly melts in your mouth. To make it even more festive this pumpkin bread has toasted pumpkin seeds on the top. This tasty pumpkin bread is best served warm with a dollop of cream cheese!
Approximate cost: 2,900 NP
I hope you all enjoyed my article; have yourself a wonderful Autumn and treat yourself to some delicious pumpkin treats!