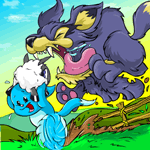 Old vs New: Which Game is For You? Part II

by lakefox

--------

Welcome back to the next installment of Old vs New: Which Game is For You? You have to admit that you are missing some of the classic games Neopia used to host. This week, we are going to take a look at Kau Korral vs Extreme Herder vs Extreme Herder II, Ice Caves vs Faerie Caves vs Faerie Caves II – Fyora's Quest, and Nimmo's Pond vs Nimmos Pond. The original versions of Kau Korral and Ice Caves are old enough that even I do not remember them, but I am sure if you chat with older Neopians they will have many fond memories of them.... or perhaps not.

Title: Kau Korral

Type: Action

Location: Game Graveyard

ID: 15

Status: RIP Y4

Neopia's very first edition of herding helpless neopets into a specific location, which in this instance is a barn. You play a young Gelert who has to "Korral" all the Kaus into the barn. Each Kau is worth a single point; unfortunately, if any Kaus run out of the screen they are lost and will not give you any points. Each level you will have a certain percentage of Kaus which must be Korraled to advance to the next level. Sounds simple, right? Thought so! I seemed to have forgotten to mention you also have a time limit on each level, and oh yeah; Kaus are not to remain on the screen. So if you have to, make the Gelert chase any remaining Kaus off screen to be lost. If you haven't met your quota and time runs out, it is game over. Enjoy!

Title: Extreme Herder

Type: Action

Location: Meridell

Status: Active

A terrific update to Kau Korral, in Extreme Herder you play a Kacheek dubbed Samrin. He has to herd different petpets into a paddock, while avoiding the mean Lupe Balthazar! In this game you have three lives, and you can lose a life by Balthazar eating you or any petpets. Therefore you will need to keep an eye out for him. In the first few levels if you manage to save every petpet you will earn a petpet bonus, and in the higher levels that is no longer an option. Also in each level there is a star, which looks like a halo, above one of the petpets. Make sure you place this petpet into the paddock as he is worth more points than the other petpets. All other petpets are worth a single point. Snowflakes will freeze Balthazar very briefly, and orange balls will make Samrin faster for a short period of time.

Title: Extreme Herder II

Type: Action

Location: Meridell

ID: 1117

Status: Active

In this game you once again play a Kacheek named Samrin, and where would Samrin be without his nemesis Balthazar. Once again you have three lives and you must rescue all the petpets and place them into the paddock. Each petpet is worth five points, and there does not seem to be a special petpet in each level. Although, in this version of the game you have any obstacles to avoid like rocks and ponds. Balthazar is a bit smarter in this version, but with a little practice and patience you should be advancing levels in no time. I should know, as this was how I was able to earn a lovely new bronze trophy.

My pick: Extreme Herder! This game still provides a challenge to me, and with the new version out who knows how long until Extreme Herder makes the journey to the Game Graveyard!

Title: Ice Caves

Type: Action/Puzzle

Location: Game Graveyard

ID: 32

Status: RIP Y5

Another game I don't remember much of, but it is extremely similar to Faerie Caves II – Fyora's Quest. You play an adventurous Lupe; Garon, who must solve the puzzle of the Ice Caves. Along the way you will collect treasure, but before you can move ahead to the next level you must find a silver key. Every level has one, as well as a mysterious wooden door. The silver key will unlock the door, but beware of treacherous pitfalls and danger around every corner. If you have to restart a level you will lose five points from your score. Oh yes, there is not a time limit in any of the levels.

Title: Faerie Caves

Type: Action/Puzzle

Location: Game Graveyard

ID: 43

Status: RIP Y5

Once again Garon is looking for adventure high and low all over Neopia. Nothing seemed to challenge him as much as the Ice Caves. One day he confronted Fyora the Faerie Queen for an adventure. She gathered all the faeries together and the Faerie Caves were born. Garon had to deal with different labyrinths put forth by each of the six types of faeries: Air, Dark, Earth, Fire, Light, and Water. Garon starts off in a central chamber and has six teleporters, and each one represents a different faerie's labyrinth. Once again treasure was possible to be collected along the way, and a distinctive key was needed to unlock the door. Also, dangers await you around every corner, so beware and pay attention before you make any move inside a labyrinth.

Title: Faerie Caves II – Fyora's Quest

Type: Action

Location: Faerieland

ID: 489

Status: Active

Garon seems to still be struggling with the original Faerie Caves, so a Quiggle, by the name of Quaglor the Intrepid, has taken up the mantle. Once more Fyora is back and with help has designed intricate mazes for Quaglor to solve. The six faeries are back again, but be cautious of their own dangers. For example, the Air Faerie will have air bubbles which will rise up once released whereas the Fire Faerie has fiery rocks which will descend when released. Also, each level has torches which will ignite dynamite which could give you access to blocked places. Be careful you don't get to close to ignite the dynamite because the dynamite will do so as soon as you are close if you have picked up a torch. In addition, each level has common looking keys which will open treasure chests so pick up all that you can. Furthermore, the unique key in this game is purple and is a must if you plan on advancing to the next level. I have played this game and have earned a beautiful gold trophy from it; all it takes it patience and perseverance.

My pick: It's another tie; all the games are equally challenging and fun to play.

Title: Nimmo's Pond

Type: Action

Location: Game Graveyard

ID: 74

Status: RIP Y10

Yet another game I really didn't play while it was active, but I do occasionally play it from time to time now. When the game first opens, you are staring at a screen with very little on it. To me, the Nimmo floating on the lily pad looks like a female, while the Nimmo holding the sign looks male. Just a little interesting tidbit I thought I would throw out there, but please form your own opinions. Anyways, once you start the game the object of it is to clear each level of lily pads before moving onto the next one. To begin with you start out on a lily pad, and you must shoot the other lily pads by pressing the space bar. Destroyed lily pads may release bonus items such as health, rapid fire, spread (shoot three bullets in a spread pattern), and bombs. My favorite bonus is the spread, but you need to determine your favorite for yourself. Go give it a try!

Title: Nimmos Pond

Type: Action

Location: Neopia Central

ID: 1048

Status: Active

This time when the game launches the Nimmo sitting on the lily and the Nimmo holding the sign look the same. Woo hoo... go TNT! Game play is identical to before, but with better graphics. Bonuses are once again back, and more identifiable as to what they are. The health bonus looks like a cross, while the weapon bonuses have different colors. Green is for rapid fire shooting, while yellow will shoot three bullets. If you collect the same kind of weapon, without collecting any others, will increase the lethality of your weapon. The Nimmo can rotate using the left or right arrow keys, pressing up will move your lily pad. I haven't figured out how to stop yet, or even if you can stop. I was lucky enough to earn the avatar for this game when it first game out, so I know if I can do it, then you can too!

My pick: Nimmos Pond!

I hope you enjoyed this installment of Old vs New: Which Game is For You? Three distinct types of games were featured here, two of which have three versions to play. I hope you are able to find one which will satisfy your gaming itch. Next up will be Freaky Factory vs Freaky Factory, Jelly Processing Plant vs Hungry Skeith, and Volcano Run vs Volcano Run II!