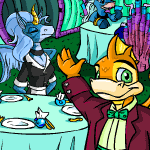 The Hungry Neopian's Fine Food Reviews: Kelp

by puffalump10

--------

This week's restaurant spotlight looks at the ever trendy and eclectic Kelp. Kelp has been a hotspot for Neopians since its grand opening in 2005. When it first came onto the scene, it was nearly impossible to secure a seat in the place. Many gathered outside the front doors, insisting their names were on the list, and hoping for a mere glimpse inside. Slowly the crowd has dwindled over the years, but it can still be argued that Kelp remains a hot ticket.

Restaurant Information

Kelp is located in Maraqua near the main tourist shops. This lends to its tropical sea setting. This makes it a popular stop for drop-ins, but be warned that reservations are mandatory. If your name is not registered on the list at the door, you will not be permitted to enter the restaurant. Reservations have been required ever since Kelp's opening, where the restaurant was overwhelmed with visitors. It is no longer as difficult to secure a table.

Setting

Outside, the restaurant is much like the other Maraquan buildings, with only a conical shell roof to distinguish itself. Inside, Kelp is a feast for the eyes with its tasteful blend of contemporary style and colour. It is a dignified and elegant environment with soft lighting. The seats are comfortable and it is not overly cramped inside, showing the need for limited occupancy. Its location in Maraqua means that a mere glance out the window displays a marvelous view of coral reefs, shimmering seagrass, and passing Koi.

Service

The maitre d' greets me at the door wearing a very classy jacket, an initial indication of the formality within the restaurant. After giving my name he checks his list, and a smile warms his face. I am seated right away and the waitress soon comes over. She seems to be the only one servicing all the tables, which seems unusual, but she manages it quite well. She is very courteous, offering me a menu, and recommending the Ocean Platter. Overall, the service is prompt, inviting, and excellent. I never had reason to complain.

Food

The menu is extensive and the selection exquisite. There is an emphasis on Maraquan-grown foods, and Kelp prides itself on traditional and modern cuisine. They also offer vegetarian alternatives. You have your choice of Appetizer, Main Course, Dessert, and Cocktail.

To start, I select the Tropical Fruit Bowl (13000 neopoints). It arrives as a light and colourful fresh mix of Maraquan fruits. It is small, but I am eager to save my appetite for main course.

Following the waitress' suggestion, I decide to try the Ocean Platter (33000 neopoints). It is tastefully arranged with a side of asparagus and chokato, an unexpected and delicious blend. The course does not fail to live up to the recommendation, which increases my respect for the service. However, the name deceived me as I imagined a platter-sized helping, but the meal arrived smaller than expected. Thankfully the taste made up for the serving size, and I remained content.

For dessert I order Kelp's Signature Ice Cream (12100 neopoints). It is infamous around Neopia and many people enter Kelp mainly to taste this treat. The ice cream is soft, light, and delicious. The ingredients are kept a complete mystery, and it is difficult to pinpoint the various flavours. Again the serving is small, but just enough to keep me content. In any case, this dessert is definitely worth a try.

Finally I end with a nice Phear Juice Tonic (8000 neopoints). It arrives topped with tropical fruits and leaves me feeling refreshed. It is another unexpected and excellent blend of flavour. Overall, the meal was excellent, with artistic and culinary flair in every bite. The chef chose to remain anonymous, but deserves many compliments for their exquisite talent. The menu has remained unchanged since the restaurant's opening, which means that each item has been mastered; it shows. I felt that the portions were smaller than I had anticipated, and, though feeling content, still desired a snack quickly after leaving the restaurant.

Prices

This is the main factor to consider when dining at Kelp. The fine dining experience demands a certain eloquence and wallet size. You will need to budget at least 60400 neopoints per person for a full course meal. This can add up very quickly, and people often do not repeat their visit for this reason. The restaurant was filled with first-timers and others who kept reordering a full meal, hoping to get their fill and a take-home bag (see Additional Notes for details). The prices also contribute to the decrease in popularity, since many would rather seek food through cheaper accommodation. If there is a negative point in Kelp, the price is it. As an overall experience, the price is reasonable, but for filling your palate it will not quite do.

Additional Notes

Despite its price, Kelp remains popular for people seeking the avatar which can be gained by taking home leftovers. I was unsuccessful at doing so since I did not feel very full after my meal. Even after four courses, it is difficult to be stuffed. However, if it occurs and you require a take-home bag, the waitress will also award the Kelp avatar in the likeness of herself. It can be a coveted avatar simply because it may take multiple visits to Kelp in order to finally feel satiated. The high cost of these visits is part of the downside to Kelp.

Conclusion

4/5

Kelp's reputation as a trendy and modern restaurant has been hard earned and well deserved, and it continues after its many years in the Neopian world. The eclectic menu will have you screaming for more; perhaps a little too literally. Kelp's drawback is its cost weighed against satisfaction. The food is marvelous, but a little light on the portion sizes. This makes the high prices seem even more outlandish. However, it is the only restaurant to offer take-home bags, as well as an avatar for the trouble. The decor and service makes up for the small plates, making a Kelp dining experience divine. It is something that everyone should try at least once.

Keep an eye out for when The Hungry Neopian heads to The Golden Dubloon!