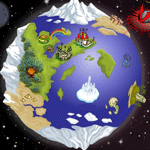 A Bite Of Neopia

by schoolwars

--------



Each world in the vast universe of Neopia possesses its own uniqueness and charm. In this article, I attempt to single out a piece of delicious cuisine that I think matches the sparkling personalities of each land perfectly. From Altador to Tyrannia - I have nibbled them all, in my ultimate quest to bring a little piece of every world together in one tasty swoop. So prepare to munch your way through Neopia, one global bite at a time!

Altador - Altadorian Ambrosia
This tasty little treat I managed to try during the infamous Negg Festival - and believe me when I say it's true that it's the greatest dish Altador has to offer! Three sticky layers of fruity creaminess and sponge, decorated with cherries and sugar crystals - heaven on a plate!

Brightvale - Assorted Brightvale Fruit Basket
Why gobble one juicy Brightvale fruit when you can have FOUR! Boasting the mushroom-like (in appearance only) Sroom Fruit, the writhing yet sweet Squibble Berry, a tough skinned but tangy Strypedillo and the juicy furriness of the Furanga Fruit, you CANNOT go wrong with this beauty! Grab a tub of ice cream and you have a fantastic, fruity feast.

Faerieland - Chocolate Faerie Log
Mmmmm, what a treat! And pretty nice to look at, to boot. A lovely blend of the finest chocolate, icing and a sprinkling of faerie dust that will have you smacking your lips and asking for more! What's more, long after the last crumb has been wiped from around the mouth, you will always have the tiny faerie queen trinket to keep, forever reminding you of your stop there and how delish the cake was!

Haunted Woods - Edna's Spooky Brew
Now, while the Haunted Woods may not be everyone's favourite place (even I made a quick exit before sundown), you can't deny it's home to some pretty unique tastes. Top of the list when it comes to gourmet chefs is Edna. Whilst we were both taking cover from the booming voice of the Brain Tree, I was briefly invited up for some coffee (festering, no less). It was here I tried her famous brew and it was... different. It looks worse than it tastes, but with a hearty mix of herbs, pumpkin, slime and an unidentifiable (!) meat, it took some getting used to!

Kiko Lake - Kiko Fudge Sundae
From the creepiness of the Haunted Woods, to the cuteness of Kiko Lake! This deliciously cold treat is pretty self explanatory - luscious chocolate ice cream, covering four whole bananas, smothered in whipped cream and topped with a sweet cherry - I'm drooling already! And that's not all, for you get a lovely Kiko shaped bowl to take home afterwards. Needless to say mine was licked clean...

Krawk Island - Barnacle Bills Belt Busting Burger
Although the only real place to eat while docked at Krawk Island is the Golden Dubloon, you certainly won't be disappointed. Just remember your dubloons! This monster of a meal even gave me a hard time to say, let alone eat entirely. Upon a whole wheat bun sits a mound of succulent meat, crisp vegetables and four kinds of cheese. To top it off, you also get a serving of onion rings! I am ashamed to say that I threw in the towel after munching my way through just over half of this beast - I have heard that any Neopet that manages to eat the whole thing gets his meal for free. But what I did eat, I was very impressed with - compliments to the chef!

Kreludor - Space Floss
Whilst in zero gravity, it's best to have something just as light - Space Floss fits the bill perfectly. This ethereal and airy candy treat will have you floating in no time; with a distinct blueberry and grape taste that also leaves your tongue blue, and a fizzy, sparkly dusting that makes you feel like you are eating the stars themselves, this phenomenal floss is (excuse the pun) out of this world!
NOTE: My attempts to get to Lutari Island proved fruitless; apparently at this point in time it's being ravaged by a huge storm. All Neopets (and myself) were advised not to travel. Apologies, my Lutari friends!

Maraqua - Honeyed Horn Of Plenty
Here I chanced my luck in getting a seat at the exclusive Kelp restaurant and I am VERY glad I did! After poring over the mouth-watering menu and skipping a starter and main (due to neopoint balance... or lack of), I settled for this elaborately named dessert. One word - AMAZING! A sumptuous spread that includes rich ice cream, fruity sorbet and an array of juicy Maraquan berries all drizzled with the sweetest, gooey honey. Surely a dessert for the kings!

Meridell - Meridellian Style Mashed Potatoes
Awww, what a cute dish! Piled high on the plate is a mound of creamy mashed potato that just melts in your mouth. To the side of this generous portion sits more buttery potato, boiled this time, as well as some crisp, tasty cabbage slices. Add to the mix a rather charming mini Meridell flag on top and, as a fellow diner exclaimed to me, you have Meridell on a plate!

Moltara - Molten Lasagne
For those that love their food so hot that even chillies get scared, Moltara is THE place to be. Even though I passed through rather briskly (me and heat are not the best of friends) I made it my mission to try the recommended Molten Lasagne. It didn't even need to be oven baked - it contains magma, you see. That, mixed with potato, pasta, tomato sauce and a topping of melted Spicy Juppie cheese, made for a very tasty, if blistering, dish. It's worth noting that this delight is served on a slab of volcanic rock (plates would melt, duh) and always with a complimentary three gallon bottle of water.

Mystery Island - Chocolate Orange Volcano
As its description notes, this culinary masterpiece is a literal explosion on the taste buds and demands to be tried. Recalling the magnificence of Techo Mountain, the Chocolate Orange Volcano commands centre stage and indeed lives up to the hype! Set upon a base of crushed orange and ginger biscuits, we have a tall volcanic mound of sponge cake, covered in chocolate sauce and decorated with orange slices and cherries. Put simply, it's delicious! If you get lucky (unlucky?), you may even chance upon a specialist one that's been rigged to erupt...


Neopia Central -
Stopping off at perhaps the most famous part of Neopia, I browsed the various shops hoping for something tempting to tickle my fancy. Whilst the main food shop leaves you spoilt for choice, I travelled further on, arriving at Pizzaroo. Here I was momentarily satisfied by the Meat Feast Pizza Block. A huge cube of pizza consisting of pepperoni, sausage, beef and chicken that's been layered between a rich tomato sauce and melted cheese - seriously, what more could you want?!
Next I made my way to my favourite shop of all - the Chocolate Factory. Here I made an awesome sweet discovery: that of the Glitter Star Candy! Words can't really describe how delightfully fizzy and bubbly this feels on your tongue - I urge everyone to try one now! Plus, you're left with a twinkling tongue that stays for hours. The only downside I had with this involved me being pursued by a pirate Bruce - he was convinced my mouth was full of gold!

Roo Island -
Now, you may ask why I have included Roo Island in this, what with there being no food shops/restaurants at all. But my shopping list dictated a detour to the island (Blumaroo Pad Rug, anyone) and here I got a pleasant surprise. Unbeknownst to me there is a long held tradition of giving out a gummy dice with every purchase from the merchandise shop. I admired the intricate Blumaroo design on my gummy before duly gobbling it down. I have to say I am rather partial to the Strawberry ones!

Shenkuu - Sushi Platter
So I arrived at the beautiful land of Shenkuu, and was soon settled down with an attractive plate of sushi in front of me. Not only that but the dish was made right before my eyes. These really are bite size pieces of art! Already in awe of the skills my sushi chef possessed, to turn a pile of fish and rice into a masterpiece, my mouth was wide open by the time my food came to the table. And they taste as great as they look - I really can't pick a favourite nibble here!

Terror Mountain - Rainbow Shaved Ice
Onwards, to Terror Mountain! If you decide to stay in the comfort of Happy Valley, there is no end to the wonders that await you at the Slushie shop. You may never want to leave - I can't recommend the Disco Slushie enough. Alas, my need for just a bit more took me to the top of the mountain. It was here that I was bowled over by the taste of a Rainbow Shaved Ice. As if looking at the multitude of colour wasn't enough to brighten anyone's day, there are seven (yes, SEVEN) flavours packed into this beauty. Scarf your favourite flavour (for me it has to be apple) first or grab a spoonful of everything for a taste sensation. As the description says: why be limited to just one flavour when you can have them all?

The Lost Desert - Sakhmet Palace Cake
This magnificent cake just took my breath away. Soaring above all others, and not just in looks but in taste too. Only the most skilled bakers and cake decorators can even hope to be allowed to craft this work of art. Having only got to try this due to a mishap while baking (it was heavily discounted - do you know how much these babies sell for?!), I can honestly say I have never been so impressed. The light and airy cake melted in the mouth, the royal icing was smooth and creamy, the intricately iced details were astounding and there was even edible real gold covering the turret roofs. I was surely not worthy!

Tyrannia - Tyrannian Everything Omelette
My first thought when I arrived in Tyrannia was to seek out what the place is most known for - omelette. This turned out to be a marvellous idea when I happened upon the Tyrannian Everything Omelette. Sure, there is Carrot and Pea, Sausage and even an Ugga Melon omelette. Nothing, my friend, and I mean nothing, compares to the tastiness of an Everything Omelette. In one sitting we have hints of mushroom, pepper, sausage, pea, onion, bacon, tomato, cheese, Juppie and BBQ sauce. Phew! What makes this omelette so magical, though, is that each and every bite is a different flavour, so you taste EVERYTHING!

Virtupets Space Station - X-29 Sub-Orbital Cupcake
I am sadly approaching the end of my tasty adventure. But what an ending! This fantastic cupcake was a brilliant finale, packing an extraordinary amount of flavour into a such a small package. First there's the sheer genius of its design - when was the last time you saw a cake that resembled a mini space rocket? Finally bringing myself to take a bite, I was bopped on the nose by a delicious punch of blueberry and Chokato frosting that was smothering the most light and delicate helping of chocolate cupcake ever. Add to this the novelty of sugar craft rocket parts and I can totally see why it's one of Gargarox's personal favourites - mine too!
So there you have it - my personal take on a culinary exploration of Neopia. And this is by no means the be all and end all. There are so many more tasty morsels yet to be discovered. I sincerely hope I have inspired you to maybe one day embark on your own foodie adventure. Bon appetite!