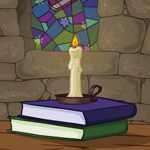 10 Books Under 10k

by carrieantonia

--------

Hey, you there! You with the face! Yes, you. What makes your Neopet special? No, seriously, what sets him or her apart from the crowd? It seems like nowadays pets are only valued for the price tag attached to their color. In a world of dazzling customization options, sparkling trinkets, and gorgeous pets with the IQ of an ummagine, I'd like to propose something radically different.

Any truly enlightened owner will value a Neopet for their keen intellect. After all, looks aren't all that matter; it's what's on the inside that counts the most. Don't make your pet endure the shame of a lookup labeled "Intelligence: dim witted"! The fact of the matter is the pastime of reading to your pet is sadly overlooked by most Neopians. Little do they know, reading books to your pet will make them happier, and it is the only way to increase their intelligence. Not to mention those shiny trophies given out to the pets who've read the most! Your pet can win the book award for reading the most books of any pet in Neopia, and the booktastic book badge for reading more booktastic books than any pet on Kreludor. So what are you waiting for?

Nothing? That's what I thought. See, you're already well on your way to becoming a fine intellectual now! Not sure where to start? Well, seekers of the truth, search no further! I have compiled for you a list of 10 books that all pets should read, each for 1,000 NP or less! If you need help finding them, just ask the shop wizard for some help, and you'll have your nose in a book in no time flat. :)

10. How to Fold Paper to Make It Look Like Stuff
It's hard to put a price on the magic of folding paper to make it look like stuff, but the shop wizard says this fun introduction to the world of books can be yours for around 1,000 NP. Great for pets who aren't quite ready for the challenge of origami yet!

9. Oopsy Daisy
An ideal book for beginning readers, the classic story of a very clumsy Acara is sure to elicit laughs all around and spark a pet's interest in reading. Slipped on a Zeenana peel in the middle of Neopia Central? At least you're not as clumsy as Daisy! At just around 800 NP, this kind of unshakable confidence is merely a few quick flash games away.

8. 105 Lava Cake Recipes
Celebrate the discovery of Moltara with this lava cookbook! Ideal for Magma or Fire pets, or anyone with a taste for hot and spicy foods. The going price for this book is about 800 NP in the Neopian marketplace. And it's a booktastic book, which means you can get a bonus trophy if you read enough. Ooh, shiny!

7. Green!
Seriously, what pet doesn't love the color green? It's the color of asparagus, snot, the Money Tree... needless to say, even the most girlish of pets will be eager to read this timeless tome, available for around 500 NP.

6. Colouring Book
Is your pet a creative spirit with a love of art? Or do you simply wish they had more of an interest in coloring? Try giving them this delightful coloring book! Sure to boost the mood of any Neopet, this sturdy paperback is rumored to contain pictures of every single Neopet species under Kreludor. If all that at the price of around 400 NP isn't enough to get your Neopet excited, then I don't know what will!

5. The Plushie Coffee Table Book
No matter what the name says, don't let this spectacular read just rot away, sitting on your coffee table all day! Go ahead, read it! Not only will you be incredibly knowledgeable on the topic of plushies, but you can always buy another copy for the table, since it sells for around 100 NP!

4. Bubble Sculptures
If you have a hard time getting your Neopet to take a bath, this book ought to do the trick! Pets have so much fun learning the gentle art of bubble sculpture; they'll never notice they're getting squeaky clean in the process! Pick up a 50 NP copy of this story if you're looking for some good clean fun.

3. Lenny Crosswords
Ever wonder why the average Lenny is so clever? I have a theory that it's because they're constantly exercising their minds with books like this. Hundreds of entertaining crosswords can be yours for around 30 NP!

2. Mystery of the Kougra Paw
Since this book was added to the newbie packs, almost all the young pets are talking about this book. Don't let your older pets miss out on the best-selling excitement. You can grab a copy of this thrilling mystery for less than 15 NP!

1. Neopian Times Issue 3
Nothing is better to stimulate your pet's brain than Neopia's one-and-only fill-in-the-blank news source, my personal favorite periodical for light reading. ;) Pick up this old issue for around 10 NP.
There you go, Neopians! Ten books for less than 1,000 NP each - as a matter of fact, it shouldn't cost more than 4,000 NP total for everything mentioned here. And don't worry, just because these books are bargains doesn't mean they're not a great deal of fun to read! In fact, I'd be surprised if your pet isn't a "master genius" by now.
If you'd like to continue your quest for knowledge, you can quench your thirst for literature at the Neopian Book Shop! Located in Neopia Central, it offers incredibly fair prices with very few books over 5,000 NP each. Just don't try to haggle too much, that Nimmo shopkeeper has quite the fiery temper... and remember! Never stop reading, because you're never too old to learn something new.
NOTE: If you're reading this, I suppose I've made it into the Neopian Times! Yippee! Hi, Mom! If you enjoyed this article, please let me know. I'd love to be able to write for the NT again. :3