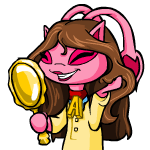 Great Beauty Bargains

by alt1981black

--------



If you want your pets to look their finest, a trip to the Beauty Parlour is in order! What are some of the greatest grooming products that will have your pet looking their best? Here's a list of some amazing products from the Beauty Parlour that your pets will love to use, and most of them are extremely kind to the budget! They also make great gifts, as well. Here's some amazing grooming items no Neohome's powder room should be without:

Red Blush
This little compact of red blush is perhaps a must for every Neopet girl's list of must-haves. At only 100 NP per compact, this item is perfect for giving and receiving. Your Neopets will have a lovely rosy bloom to their cheeks within one minute, tops! This little item is nice to own, very inexpensive, and perfect for young and old!

Yellow Glittery Brush
This item is very pleasant to use, and gentle on tangled hair. Every Neopet who has ever used this pretty brush has had nothing but good things to say about it. With every sweep of this very sparkly brush, your pet will feel like a million Neopoints, and this great item will only set you back by 510 NP, on average! All that glitters might not be gold, but nothing beats the pleasantness of a pretty hair brush!

Blue Mouth Wash
In the mornings, if your pet wakes up with that sock-in-the-mouth taste looming on their tastebuds, a swish of this mouth wash will take that nasty taste right away very quickly! The minty flavour of this mouth wash is something to smile about, as is the price of 475 NP to put a bottle of this great stuff into your medicine chest. Nothing beats sock-in-the-mouth taste better than this amazing mouth wash!

Honey Soap
What can be better for cleaning those dirty fins/paws than a nice cake of sweetly-scented honey soap? This is a top pick of my own pets. They love coming into the kitchen and washing their paws with this delightful soap. It's rumoured that honey soap is one of the best products that were created by the top Buzz in Neopia. Whether that's true or not, honey soap is a great item for both giving and receiving, and at 100 NP per item, it's a honey of a deal!

JubJub Bath Sponge
Now this is one of the most clever bath sponges I've ever laid eyes on. Shaped to resemble a JubJub, this bath sponge is another fantastic beauty product, and ideal for younger pets who might not be fond of getting wet. Scrub up with this bath sponge and enjoy getting clean! It's one of the cutest bath sponges you'll ever own. Average price is 770 NP, but your pets will enjoy bath time so much more, the rewards are priceless!

Green Kyrii Comb
Not to leave any of the Neopet boys out of the loop, here's an item to cater to everyone. The Green Kyrii Comb is a fantastic item with fairly wide teeth, so it's gentle on tangles, yet will get the job done. This comb will certainly appeal to Kyrii, but all species will find something to appreciate from this wonderful item. At only 1060 NP, it's a good value. It can fit easily into a pocket or purse, too, adding to the handiness of this great comb!

Striped Toothbrush
This toothbrush is very unusual in both its funny handle and its colouring. With soft bristles that provide a pleasant feeling when you clean your teeth, this toothbrush might become a personal favourite for any pet. Your pets will love figuring out how to grip the handle, as well. Every toothbrush should be accompanied by an amazing toothpaste, and that brings us to the next item on the list!

Strawberry Toothpaste
Ah, nothing better than a great-tasting toothpaste to clean your teeth with! There are no seeds in this toothpaste, only a rich strawberry flavour that any Neopet is certain to love. This toothpaste will become a firm favourite of young pets, particularly! If an apple a day keeps the doctor away, strawberry flavoured toothpaste can make any pet happy as they clean their pearly whites, morning or night!

Black Nail Varnish
If you have a pet that enjoys digging in the dirt, this nail varnish might be a really great idea, and at 80 NP per bottle, it's certainly a bargain! This nail varnish is also good for the gothic pets of the family, or for pets that have black claws. It makes the perfect holiday gift, as well. Stock up on this item and you've made someone's day, guaranteed!

Jelly Hand Mirror
So, we all know Jelly World does not exist, but if it did, this item might be what its citizens would use to gaze at themselves with. If your pet is a fan of this nonexistent world, get them this fantastic hand mirror for the great price of 75 NP and let them dream away to their heart's content, and check to be certain they don't have anything stuck in their teeth, either.

Herbal Shampoo
This item is one of two luxury items on the list, being one of the more expensive beauty bargains, yet great, just the same. The wonderful herbal formula provides for a great shampoo that will work wonders on all fur/hair types. Your pet will feel wonderful after bathing with this amazing product, though at 2000 NP, it is on the pricier side. However, as it offers wonderful benefits due to its great herbal formula, it's worth the price.

Fuzzy White Towel
Our other luxury item on the list, ranging at 18k on average, this great towel is very soft, super absorbent, and excellent for the most pampered of Neopets. Your Neopets will request these for the beach or swimming pool, so stock up and be prepared to spoil your pets!
And there you have it, the top picks for beauty products! Pick up any of these items and be prepared for some very happy pets coming over to you later on for praise! On that note, have a beautiful day!