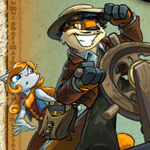 Spotlight on Y11

by yuri445

--------

Also by babagabadoosh

Year 12 is upon us and while we're excited that the New Year has arrived, it's also important to look back to the memories we've all shared throughout Year 11. These memories are unique and will always be looked fondly upon as events that shaped and added to Neopian history. As the final curtain closes on Y11, here is a recap of the most important events that will live on in Neopian infamy.

Games:

Our first big gaming experience was Double Dare, our annual month long AAA and Abigail game challenge. TNT gave us the chance to win Double Prizes, with the introduction of Double Dare. A new section of Daily Dare was introduced as NC Mallers were challenged to beat the score of Lulu, the spirited crimson-haired younger cousin to our usual duo.

TNT was busy releasing games and even gave the games room itself a face lift. The games are now more organized and the arcade itself is much easier to navigate. It even keeps track of our recently played games! How nifty.

An innovative way to celebrate the release of new games was introduced as the New Games Challenge. The themed prizes awarded for matching AAA, Abigail, or Lulu's (Lulu's challenge is awarded via NC Mall ticket) score are given only while the game is the active challenge and really encourages us to get in the games room and play.

Key Quest was also a gamers' paradise, with lots of new playing boards introduced! Ti-key, Spring, Chocolate, and Winter were most popular among the avid KQers this year. TNT also did lots of load tests early this year which awarded us unique items for participating. (Did anyone get dizzy watching the circle spin round and round?) Double Keys were also in fashion during holiday seasons.

The fall brought us a very challenging Games Master Challenge, with a tough line up of high game scores to beat. AAA really pulled out the big gaming thumbs on us this year. *bonks a meepit*

The following is a list of games released in Y11: Shenkuu Tangram, Wheelers Wild Ride, Snowroller, Petpet Plunge, Barf Boat, Top Chop, Snot Splatter, Lost City Lanes, Black Pawkeet Slots, Haunted Shootery, New Kacheek Seek boards released, Brucey B Slots, the New Game Challenge feature was introduced with the chance game Dice of Destiny, Legends of Pinball, Spinacles, Darigan Dodgeball, Slorgs in Space, Chariot Chase, Extreme Faerie Cloud Racers, Extreme Herder 2, Spellseeker, and Dueling Decks. Neopets related games were put on the market as well, games like Puzzle Adventure for PC, DS and Wii, Quizara's Curse for the Didj, and Neopets Pocket Handheld games. These games rewarded players with virtual prize code items and some even gave site themes!

Altador Cup IV:

In the month of Relaxing, we were graced with Altador Cup IV! This year's game started off a little different with Brightvale sitting out of the games and Kiko Lake taking their place. We had a fierce competition between all the worlds that signed up for the Cup! The teams came out very strong this year, with many exciting matchups and upset after upset. Each year players from far and wide gather at the Coliseum, representing their lands by wearing colors and waving corresponding foam fingers. A new game was added to our lineup this year, Shootout Showdown. Previous years games Slushie Slinger and Make Some Noise were opened again as the tournament commenced. Four teams made it into the top bracket this year, Shenkuu, Krawk Island, Lost Desert and Kreludor. These teams fought the entire Cup with moxie and tireless energy. Notorious for their tough competition, Krawk Island pulled a very narrow win over Shenkuu (Go, Shenkuu!) in the finals and won gold in the Altador Cup. Shenkuu was able to grab second place and the bronze trophy was awarded to the Lost Desert, who was able to suppress Kreludor down into fourth.

Tournament Placement Recap

Krawk Island, Shenkuu, Lost Desert, Kreludor, Maraqua, Mystery Island, Darigan Citadel, Tyrannia, Roo Island, Haunted Woods, Meridell, Virtupets, Terror Mountain, Kiko Lake, Altador, and Faerieland took the last place. We all can't wait for the next Altador Cup competition!

Petpet Park - Open for Beta

This year we were granted access to Petpet Park in beta mode. Somewhat like Neopets, we can create and customize our Petpet, explore, quest, meet friends, collect items, and play games. For more information about Petpet Park, please visit petpetpark.com.

Plots:

Operation PetPet Park

Neopets.com was introduced to petpetpark.com in the best way possible, with a plot! We were taken to Mission Headquarters and met with Gertrude, our mission organizer. We followed Kaylee, Mick and Deckar on six different missions, ensuring that the Petaria Portals were properly aligned, thus ushering six new petpet species onward to their new home, Petpet Park! Upon completing this plot, users were awarded a new Petpet Park site theme, and 45,000 NP, or less depending on their participation, we were also given a wearable for our Petpet Park accounts.

Atlas of the Ancients

Roxton Colchester III was brought back into action this year, along with his new partners Clara and Jordie! We followed our adventures across the Neopian globe, from Shenkuu and Terror Mountain, to Faerieland and Altador! The real excitement began with the discovery of a new world, the underground city of Moltara! We were all called into action once the Moltara Mayor revealed that the core was unstable and needed to be stabilized. In the end, we all "pulled together" and Neopia was saved! TNT utilized a lot of different features from the site for this plot, more than ever before; games, comics, and even the NC Mall! Trophies and prizes were given based on participation, but everyone who played got a shiny new avatar.

Avatars:

Avatar enthusiasts site-wide rejoiced with the release of a variety of avatars! Most notorious was the sudden discovery of an otherwise six year elusive avatar, the *ahem* Chef Bonju avatar! Collectors were scrambling to figure out the concoction as TNT gave us hints and clues with the release of that week's Neopian Times Editorial. The About Us page was edited and we no longer had to match NP with site creator Adam; instead, we have to match the price of the asparagus. :( Other avatars to note that were released this year are: Mutant Graveyard of Doom II, Nimmos Pond, Carnival of Terror, Sad Grundo, Tarla's Shop of Mystery, Stock Ticker (Sell! Sell!), Atlas of the Ancients, and the 10th Birthday Avatar. Thank you, TNT, for giving us so many new avatars this year!

Neopian Worlds:

Moltara City & Caves- In the wake of the Atlas of the Ancients plot, a whole new world was discovered on the site, to the surprise of many... we know we were. On the mysterious new island with a volcano, a large metal door leads to Moltara City, which actually dwells deep beneath the surface of Neopia. You can find the Town Hall, three new shops and a new activity shop called Tangor's Workshop. Moltara City looks like a harsh and dangerous place, so be careful when visiting. The Moltara Caves are adjacent to the City and is still considered new territory. A very rough Tonu guards the Magma Pool, but if you catch him asleep at the post, we think you'll be very surprised with the possibilities. The Caves have a shop centre, with petpets and books, as well as a wise Gnorbu who has all the answers to life's most serious questions. Moltara is unlike other Neopian worlds in that new secrets keep being revealed. Keep your eyes on this world if you like sudden excitement!

Maps Makeover:

Faerieland went through a makeover, just in time for the celebration of the Faerie Festival. With the revamp of Faerieland, the Discarded Magical Blue Grundo Plushie of Prosperity also had a little makeover. Visit him every day and you might get a plushie, or a few neopoints. And let us not forget the avatar that comes with it. The Maraqua Map got a new look. And not to be outdone, the Maraquan Ruins also got a facelift.

Neopia's Style Showdown:

How can we forget about the style showdown that took place in the summer? For those who missed the showdown, it was a dress up contest in which users entered their best dressed Neopets in three different themed style showdowns; Out on the Town, Wacky and Weird, and Ready for Adventure. After the three themes the winners faced off against each other for the ultimate winner of the whole showdown. In the end, _____Vincent_____ was crowned the winner of Neopia's Best Dressed!

Customization Galore:

Pet customization was huge this year. From painted brushes that come with clothes to the NC Mall, our Neopets had lots of options in their wearable category. These pets all got awesome wearables on their day - Aisha, Gnorbu, Buzz, Elephante, Kacheek, Zafara, Lenny, Chocolate Chia, Tonu, Uni, Shoyru, Krawk, Kougra, Hissi, Yurble, Moehog, Nimmo, Kau.

Neopets 10th Birthday:

In the month of Storing, Neopets celebrated its 10th birthday!! The site was buzzing with activities to commemorate the event. We got to collect free items by choosing one of three shiny gift boxes. In the box was a wide range of things, from items to NP; we were glad to be celebrating the day. On the actual day of the birthday, everyone received the same prize, the Celebrating Neopets 10th Birthday Background and a shiny new 10th Birthday Avatar! After the birthday festivities, we got a chance to answer daily trivia questions and neopoint items were awarded for each correct answer given.

Freebies, Freebies... oh, and more Freebies:

Who can say no to free stuff on the site? The month of Eating turned out to be one of the good months. We had Springtime Celebration, which was an event to, yes, you guessed it, celebrate springtime. We were introduced to Rosie the giving Grarrl, who granted one unique item per day during the celebration. The Spring Merchandise Negg Hunt allowed players in selected countries to visit certain pages in the Merchandise Catalogue on Neopets to collect exclusive Spring Merchandise Negg Hunt items and neopoints. If you were lucky, you could have gotten your hands on several wearable Wooden Barrels by visiting the Neopian Second-Hand Shop, donated by different famous characters on Neopets. In the month of Gathering, we celebrated the Faerie Festival. Each day of the Festival, we had a chance of completing a Faerie activity to earn a Faerie-themed prize. Each year we have numerous activities around the site to celebrate Halloween and Y11 was no exception. We got to hunt for our Cute n Creepy Trick or Treat Bags hidden in different locations around Neopia. If you were lucky in getting your hands on some bags you woul have found that the bags contain spooky items, some are foods, some wearables. Not to be outdone, Edna's Spooky Surprise was a daily trick-or-treating event until Nov. 1st. Edna gave out free spooky items and bonus prize for completing three quests found in the Haunted Woods.

NC Mall Freebies:

Once in a while the Mall gives us a chance to collect free items and in Y11 we had some fantastic items. We got for...

Valentine's Day - Valentines Goodie Box.

Mall Easter - Filigree Carousel Negg, Green Toy Negg, Pink and Green Swirl Toy Negg, and Pink Toy Negg.

Halloween - Creepy Spyder Coffin Goodie Bag and Korbats in the Meowclops Goodie Bag.

NC Mall 2nd Birthday - The NC Mall turned two this year, and to celebrate, the Mall gave out free a NC Mall Second Birthday Goodie Bag and a Silver NC Mall Second Birthday Goodie Bag.

Winter - Holiday Goodie Bag and Green Candy Striped Gift Box.

Just because - Shining Purple Gift Box with Silver Bow.

Mysterious Morphing Experiment (MME):

In the summer of Y11, TNT released a new feature, MME, in the NC Mall. An MME is a wearable item(s) that morphs into different stages with time. After several days the item will morph into something else and at the end of the morphing experiment you get all the different stages of the morphs as separate wearables. So far we have had three MMEs and the very first MME item was the MME1-S1: Tiny Striped Wonderworm. There was also MME2: Mystical Rain Shower and MME3: Raging Jack-o-Lantern Helmet.

Stocking Stufftacular:

In the month of Celebration, TNT released the Stocking Stufftacular Pack Ticket in the NC Mall. By purchasing a Stocking Stufftacular Park Ticket and activating it, you hang up your stocking on the mantle in the eve and get a holiday themed item the next day. The event started on December 7 and ran through to January 1 of Y12.

These are only some of the many things that happened in Y11. Remember the many avies we got, the plots we participated in, the games we played, and all the changes that took place. However, with all the changes and activities on the site, the most important events users will probably remember the most are their own accomplishments. :D No matter how exciting Y11 was, we all cannot wait to see what Y12 brings! Have a Happy New Year, everyone, and may the next DECADE of Neopets be just as fun!!