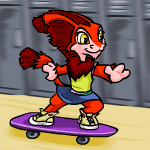 There is No Cost to Friendship: Part Eight

by jbergz8495

--------

The next Monday at school, Brooke was miserable. She wandered through the halls, staring only at her shoes. Her life was almost as lonely as it was the year before, except instead of the three popular girls tormenting her for no reason, they actually had a motive. This made the tormenting worse.

As she grabbed her bag for lunch, she found a Rotten Omelette in her bag instead of the sandwich and cookies she had packed that morning. She did not want to risk getting Ugga Ugga but she had no money to buy from the lunch line. The paper bag found its way into the trash and Brooke stayed in the library for fifty-five minutes.

With her stomach grumbling, Brooke plodded through the halls again after lunch period was over. Nobody wanted to talk to her. Nobody noticed the scowl on her face and wondered why she was so upset. It was like Brooke wasn't even living, she was just watching everybody else live around her.

She managed to make it to English class where her teacher was talking excitedly about a new book they were about to read.

"Now, this book has a great moral to it," said the teacher. "And it's quite an easy read, too, which will be great. I expect you all to be finished with it by the end of the month. We will have a test on the different aspects of imagery and characterization in the story in a few weeks, so I would be taking thorough notes for each chapter."

The class groaned, but Brooke did not feel the need to groan with them.

Her teacher started to pass out copies of the paperback novel to the class. Brooke opened her copy and immediately wrote her name on the front cover in pen. Then she noticed the title: "There is No Cost to Friendship."

The word "cost" jumped out at her and made her stomach turn somersaults. She knew that the word was chosen carefully to create some sort of play on words. Something in this book would be about money, which was the one thing that Brooke did not want to think about at that moment.

It was the presence, or in Sam's case, no presence, of money that ended the best friendship that Brooke had ever had. There was a good reason for Broke to have a grudge against the subject.

------------------------------

A few days passed and Brooke had not spoken a single word to anybody; not to her teachers, not to her classmates, not to her family, not to herself. She had never felt lonelier.

She stopped doing most of her homework. The only assignment that she did every night was read a couple pages of "There is No Cost to Friendship." Every night when she would pick up the book her entire brain would scream at her to not read, but somehow she always did. Somehow she could never put it down. She detested reading about money and friends and all of the things that were causing her trouble, but it was hard to stop once she started.

She wanted to know how it ended. Brooke had a sinking feeling that it would end similarly to her friendship with Sam, but she did not want that to happen.

-----------------------------

The next day at school, Brooke was determined to try and make friends with new people. Though she was still upset that Sam was mad at her, there was no use in staying in a funk. Of course becoming friends with Sam again would be the best case scenario, but nothing was stopping her from being friendly with other people.

The "other people" did not include three specific disco Unis that were on Brooke's mind all day. She promised herself that she was never going to try to be friends with anybody that snobbish, no matter how popular they seemed to be.

Somebody that Brooke thought that she could become friends with was a small yellow Kougra in her history class. Brooke sat next to her and was paired with her to do a project together a couple of weeks before. The Kougra was a little bit quiet but once they worked for a little while they opened up to each other and actually had a lot of fun. The girl's name was Jamie.

Brooke sat down in her seat that morning in history at smiled brightly at Jamie. Jamie responded with a little wave that Brooke was quite sweet.

"Hey," Brooke said. "What's up?"

Jamie was taken aback a bit, as if she didn't expect someone like Brooke to be talking to her.

"Nothing," Jamie said. "How about you?"

Shrugging, Brooke said, "Have you been reading that book in English class? The one about the rich girl and the poor girl?"

Jamie shook her head. "I'm in a different English class. Right now we're reading short stories by some old person."

It was a bad idea to bring up the book, though it had been on Brooke's mind all day. Somehow Brooke knew that Jamie was not in her English class, but she was just trying to make conversation. Now Jamie's words hung in the air and Brooke had nothing to say.

"Do you want to sit with me at lunch?" Brooke blurted.

There was a moment of silence and Brooke gritted her teeth. She was too desperate, too clingy, and she was sure that Jamie was going to say no. Finally, after an unbearable period of time, Jamie spoke. "Sure," she said, showing a row of pearly white teeth.

------------------------------

Brooke felt like dancing all the way to the lunchroom at noon that day. She could start fresh with Jamie's group of friends with no snobby personalities and no talk of money or homelessness. And it was actually easy to talk to someone who seemed nice.

She found Jamie sitting at a table in the back of the lunchroom. About six or seven other Pets were sitting next to her. Brooke recognized all of them but could only name a few. The seat next to Jamie was empty and Brooke felt amazing knowing that she was actually wanted somewhere.

When Jamie saw Brooke, she gestured towards her friends. "Guys, this is Brooke," she said. "Brooke, these are the guys."

"Oh, so you're Brooke," said a yellow Usul named Veronica. "We've heard a lot about you."

A green Flotsam leaned across the table and whispered to another Flotsam, this one red. Brooke could hear every word the Flotsam was saying. "Isn't that the girl who was actually friends with that poor Ogrin? The homeless one?"

This was a blow to Brooke's heart. There was no way in escaping the snobbish people. She shrugged her left shoulder. So she would just avoid the green Flotsam.

"No," the red Flotsam whispered back. "She was never friends with the Ogrin. She just made her cry because she told everybody her secret."

The green Flotsam sat back in her seat and smiled a little bit. "I understand now," she said, winking.

Brooke realized that this was a bad idea. There was no avoiding her situation with Sam; the gossip had made its way around the entire school. She had to get away from everybody and just sit alone.

"Actually, Jamie," said Brooke. She cleared her throat. "I, um, just remembered that I have to take a make-up test during lunch. I'll see you in history."

"Bye, Brooke," Jamie said, waving. The other girls at the table did not wave back and, for once her in her life, Brooke did not care that she was not wanted.

------------------------------

"ZOE AND ERIKA STOOD IN THE CENTER OF THE CORRIDOR, ZOE'S FAMILY'S NEW THOUSAND-DOLLAR CHANDELIER HANGING FROM THE CEILING.

'SO WHAT'S GOING TO HAPPEN?' ERIKA ASKED. 'I MEAN, WITH US?'

'I DON'T KNOW,' ZOE ADMITTED. 'CAN WE REALLY BE FRIENDS WHILE I'M AT BOARDING SCHOOL?'

'I TOLD MY PARENTS TO CONSIDER SENDING ME THERE NEXT SEMESTER,' ERIKA SAID.

'YOU KNOW THAT YOUR PARENTS WON'T BE ABLE TO AFFORD IT.'

ERIKA NODDED, KNOWING THAT WHAT ZOE SAID WAS TRUE. 'BUT WE STILL HAVE THE BRACELETS THAT WE MADE FOR EACH OTHER. AND WE PROMISED THAT WE'RE ALWAYS GOING TO WEAR THEM. SO WHEN WE LOOK DOWN AT OUR WRISTS, WE'LL THINK OF EACH OTHER. WILL THAT WORK?'

'I HOPE SO,' ZOE SAID, INHALING SHARPLY, TRYING NOT TO CRY.

'AND WE'LL SEE EACH OTHER DURING CHRISTMAS BREAK,' ERIKA SAID. 'JUST TRY TO BE POSITIVE, ZO. OUR FRIENDSHIP HAS GONE THROUGH THIS MUCH, IT CAN GET THROUGH THIS.'

ZOE SMILED. 'YOU'RE RIGHT. YOU'RE THE BEST FRIEND I'VE EVER HAD.'

THE TWO GIRLS HUGGED AND IT SEEMED TO BE THE SHORTEST MOMENT OF THEIR LIFETIME.

'I GUESS I HAVE TO GET ON THAT EYRIE CAB NOW,' ZOE SAID, TEARS PRICKING HER EYES.

ERIKA STARED AT THE GROUND, HER SHOULDERS SHAKING, BUT SHE HAD TO BE STRONG. SHE AND ZOE BOTH KNEW THAT THEIR FRIENDSHIP COULD LAST ANYTHING. IT WOULD JUST HAVE TO WAIT A LITTLE BIT WHILE THEY WENT ON THEIR SEPARATE WAYS."

-----------------------------

After Brooke closed the book for the last time, wiping a tear escaping from her eye, the book vanished from her paws in a puff of red smoke. She decided that all friendships were like all books in Neopia; they vanish and disappear, including the friendship of Zoe and Erika. Brooke could see past the cheesy yet heart-wrenching dialogue. She knew that if the story went on, Zoe would find a new group of snobby rich friends at her boarding school and Erika would get jealous, ending their friendship forever. Nothing stays in anybody's life forever.

There was no use in trying to make up with Sam, because she was just going to disappear again in one way or another. There was no use in trying to become friends with anybody else, because no friendship lasts. She was just going to end up in heartbreak.

To be continued...