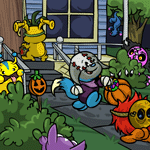 Tricks and Treats for a Happy Neopian Halloween

by cyniska

--------



October 31st – a night of thrills, frills, and sweet, sweet candy. I know a lot of people who don't do other holidays, but not a one hates Halloween! Must have something to do with the candy, methinks.

In actuality, there are many reasons why this time of year is so beloved other than satisfying your sweet tooth. The air is cool and crisp, the streets are swept with red and gold, and everywhere you go, there are fabulous decorations.

And then there are those of us who need an excuse to go all out. I'm talking about costumes, of course! This is the one day of the year that you can show yourself as you want without feeling embarrassed.

Lastly, let us not forget that Halloween is originally derived from a celebration of spirits walking the land. Before you know it, the day became associated with all things spooky. Everyone loves a good thrill.

Now I hear you saying "uh, but this is Neopets." Well, read on and my guide will point out numerous ways to capture the spirit of the season, regardless of your budget!

1. Thrills!

It is a given that you should take your pets to the Haunted Woods! But don't want to get lost in those dark forests? Read on.

The Haunted House

The first thing that came to mind is an oldie but goodie. If you haven't yet taken a trip to the haunted house (http://www.neopets.com/halloween/haunted_house.phtml), go! It is a choose your own adventure story. Like the classics, it starts out on a dark, stormy night. In addition, now that we have the Neopian Adventure Generator (http://www.neopets.com/games/neoadventure/index.phtml), you can peruse for other great stories or make your own.

The Deserted Fairground

While in the Haunted Woods, be sure to take your pet to the Deserted Fairground. While some of these games have suspiciously unfavourable outcomes (*cough* Coconut Shy), others such as Test Your Strength and Sidney's Scratchcards are a must. In fact, I have won a Halloween Paint Brush from Test Your Strength before! And there are great prizes from the scratchcards as well... like Moehog Skull (*drool* don't bet on that one).

Visit Famous Neopians

Edna, the Brain Tree, and the Esophagor probably don't get enough love. By doing their quests, you not only get a prize but also the opportunity to fight them in the Battledome. The Brain Tree is challenger 5 of Defenders of Neopia Series 1. On Halloween, you are able to fight Edna all day instead of being restricted to the midnight hour normally. Edna also randomly gives out a spiffy avatar.

Read a Scary Story

Search "spooky", "scary", "ghost", etc. to find some scary stories to read to your pet. I recall Key Quest giving out some Halloween-themed books, like Spooky Buzz Tales, so be sure to get those as they are the cheapest. Reading books raises your pet's intelligence, which not only looks good but also allows the use of certain Battledome items.

2. Frills!

This section deals with costumes and decorations. Hopefully nothing too frilly.

Painting Your Pet

Admittedly, this will not fit everyone's budget and the prices are the highest at this time of year. But if you love and can afford to spoil your pet, Halloween is a good time to give them a new paint job. Look beyond the obvious Halloween or Ghost PB. The greatest thing about Halloween is that you can dress however you want. Consider a disco or island costume for example.

Customising Your Pet

In case you've been living under a rock for the past year or you've just returned to Neopets, customisation is THE big thing. First, there are the spooky wearables:

Masks:
Meowclops Mask
Jack-O-Lantern Mask
Spooky Skull Mask
Esophagor Mask
Hats
Pumpkin Lid Hat
Edna Costume Hat
Body
Giant Moach Costume (completely terrifying)
Ghostkerscarf (really cheap because of Key Quest!)
Accessories
Jack-O-Lantern Pail
Purse of Despair
Backgrounds
Haunted Trees Background (Burger King giveaway prize)
Sophies Hut Background
Ednas Shadow Background
Creepy Cave Background
This list does not include any relevant species-only items or NC Mall goodies. And again, think of non-spooky themes. For example, White Neopet + Cumulus Wings (NC) + Cloudy Sky Background (Key Quest cheap!) + Flowery Crown or Head Bonk (NC – sorry, my best halo approximation for non-Christmas Zafaras).
Avatars and Site Themes
How about some nice eye candy for yourself? The Haunted Woods and Tale of Woe site themes are pretty spooky. If you're talented or know someone who is, why not have a nice Halloween user lookup too?
Spooky avatars include, but are not limited to, Ghost Lupe, Meowclops, Ghost Krawk, Edna – Cackle!, Evil Eliv Thade, Black Pteri, Mutant Graveyard of Doom, Lenny – Wicked, Scorchio – Haunted, and Evil Coconut. As you can see, avatars range from clickables to easy items to expensive items to evil randoms! Also, throw in some pumpkins, witch's hats, and ghosts in your signature.
Neohomes
Whether for classical Neohomes or the updated model, there is a wide selection of spooky furniture between the NC Mall and the Shop Wizard. Since I am not very well-versed in Neohomes, I will just point you in the right direction. Search for "lights/light string", "candle", "pumpkin", "lantern", and "spooky" to find some of the Halloween-themed items. As well, there is an entire shop dedicated to selling spooky furniture at http://www.neopets.com/objects.phtml?type=shop&obj_type=60.
3. Sweet, Sweet Candy!
Halloween is the perfect excuse to indulge your pet's sweet tooth or play trick-or-treat with your Neofriends.
Halloween Goodie Bags
This year, goodie bags can be collected at the NC Mall for free. You may collect one of each type – Spyder, Meowclops, and Meepit – for a maximum of 3. These will show up randomly in the first slot of the New Items section. Inside are spooky treats and if you open all 3 before Halloween, you get a Halloween-themed NC Mall item! Also, you may want to purchase goodie bags from previous years which can give non-food prizes. They include Trick Or Treat Bag, Halloween Goodie Bag, and Ghosty Trick or Treat Bag.
Spooky candy!
There are a lot of options to choose from, but here are a few that came to mind:
Candy Peas
Strawberry Vampire Pop
Chocolate Korbat Ice Lolly
Candy Corn Classic
Peanut Butter Spiders
Spooky Doughnut
For general sweets, head over to the Chocolate Factory! In addition, some keywords you may want to search are "sweet", "candy", "lolly", and "pop".
Phew! I made this guide as comprehensive as possible so I hope you have found something useful! Clearly, there are many ways to celebrate this holiday and there is something for everyone to enjoy. If you think of any more ideas, I'd love to hear from you. Have a sweet and spooky Halloween!