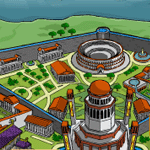 Ten Crimes Commited In The Altador Plot

by stadium__x

--------

Also by gorillu

Welcome to TEN CRIMES COMMITED IN THE ALTADOR PLOT, a guide written by two smart and cunning Neopians who will be referred to as Pita and Dillon! Basically, one day I was like "OMG HAVE YOU DONE THE ALTADOR PLOT" and Dillon was like "I'm stuck on the Vaeolus part". So then he got past that Vaeolus part and I completed the first constellation. We then started thinking "wow, half of these things are illegal". It was then we first listed them, and made lots of people LOL. So now, we're going to make you LOL. Yes, we're going to make you. Please note there is no actual proof we did this, so you know, you can't call the NeoPolice on us, 'cuz then YOU might get into trouble for false reporting... or will you?

AND THERE'S NO PROOF WE'RE DILLON AND PITA!

Dillon: Well, Pita and I-

Pita: Lol, that's me.

Dillon: o_O Anyways, we noticed that to complete the Altador Plot, you have to commit various crimes.

Pita: Yeah, like stealing. Stealing is bad.

Dillon: Yes. That is #1 on our list. During the plot, you have to steal various things, including a Vaeolus, a spell book, a few Meepit plushies, and-

Pita: Three perfectly flat 3-inch rocks. *throws rock at random passerby*

Dillon: Uh, yeah, that is correct, Pita.

Pita: I ROCK.

Dillon: Okay then, did I forget anything?

Pita: WE STOLE PUNCH ('cuz we really didn't join the Punch Club).

Dillon: PITA! Did you FORGET about the #1 Rule of Punch Club? NEVER TALK ABOUT PUNCH CLUB!

Pita: Oh yeah, and we stole some Bandages and Pie.

Dillon: And we stole an amulet, which we later committed arson with...

Pita: OMG WE ALSO TOOK THAT ASTRONOMY CLUB CLUB and she was like "Don't ask where I got it." WE HAD STOLEN ITEMS!

Dillon: UM... Okay, #2 on our list is trespassing. During the plot, you sneak around the quarry, go into an ancient tomb-

Pita: Search around the library for a spell book, which you STEAL-

Dillon: ...and enter a very freaky looking Yurble's room.

Pita: YURBLES DO NOT WORK THAT WAY!

Dillon: Ah yes, how could we forget sneaking around the farm, pulling mysterious windmill levers without permission?

Pita: WINDMILLS DO NOT WORK THAT WAY!

Dillon: Did we go anywhere else, Pita?

Pita: YES! WE RAN INTO THAT SPATIAL ABYSS!

Dillon: Aren't ALL abysses spatial?

Pita: NO! THIS IS THE ONLY ONE EVER!

Dillon: Whatever, did we go anywhere else?

Pita: YES! We went into the Observatory when Foreman told us not to--

Dillon: ANYWAYS, Pita, what's #3 on the list?

Pita: Um... That comes after 2, right?

Dillon: Yes...

Pita: Okay, okay, gotcha: #3 is arson.

Dillon: Oh yes, arson. Surprisingly, there is only one case of this in the plot, which is-

Pita: LIGHTIN' DA STATUE ON FIREZ!

Dillon: ....Yes, Pita.

Pita: AND BLOWING IT UP LIKE THIS: "BOOMCRASHKAPOWEYYY."

Dillon: Yes. There's that too. What else?

Pita: Next is #4 destruction of property!

Dillon: Ah yes, it was just yesterday when I flooded Altador... *ahem* Those people at the water plant should be more careful.

Pita: But it was our fau-

Dillon: ANYWAYS!

Pita: And don't forget breaking the gears like four times!

Dillon: Be quiet, Pita!

Pita: AND destroying the statue!

Dillon: SO now that Pita's done, #5 is vandalism!

Pita: 'Cuz we dressed up the statues with de shiny necklaces! And please note that vandalism and destruction of property are very different, because flooding and vandalism are NOT the same thing!

Dillon: And we HELPED the Conundrum Lenny vandalize the meepit!

Pita: #6 Aiding and Abetting! ONG W3 R GUNNA GOED TO NEOJAILZ!!!!!111

Dillon: Technically, we were told to do all these things, soooo...

Pita: I DON'T WANNA GO TO JAIL!

Dillon: YOU WON'T GO TO JAIL!

Pita: But you said that this was ILLEGAL! And when you do illegalness, you go to JAIL! After all, we helped the Alchemy guy by buying his illegal medicine, the Archivist by breaking the magical spell we were NOT supposed to break, and-

Dillon: *sigh* Okay already! #7 is... *squints* Assault and Battery!

Pita: Yeah, we helped the astronomy club members harass the fake club leader!

Dillon: No. We. Didn't. We were mere bystanders. Yes, bystanders. *nervous laugh*

Pita: NO, WE WE---

Dillon: Pita, once again, BE QUIET!

Pita: Oh, and we destroyed the Darkest Faerie's statue, kinda like killing her, SO you know, more assault.

Dillon: And what's next on our list?

Pita: #8 is Slander! Because we were all "ONG 1T MUST HAVE BEEN JERDANA SHIFTELEVEN :O"

Dillon: And as we all know it wasn't the KIND, GOOD, PRETTY Jerdana. After all, it WAS the Archivist's fault; HE said it.

Pita: But didn't we agr---

Dillon: WE PRETENDED TO AGREE FOR OUR LIVES.

Pita: Ohhhh... *slow nod*

Dillon: Pita, we're TWO AWAY from having TEN crimes. Any more?

Pita: #9 Unlawful Conducts.

Dillon: Erm... Pita, how were we unlawfully conducting ourselves?

Pita: WE SHOVED OUR HANDS ONTO WINDOWS, INSULTED THE YURBLE GUY AND FARMER PERSON, BROKE HALL OF HEROES RULES (pushing the button), CUT A DEAL WITH THE GHOSTMAN, ATTACKED THE BLUMAROO, and FLOODED ALTADOR! You call doing those things LAWFUL?

Dillon: I suppose not...

Pita: OMG NUMBER 10: Usage of the Black Market.

Dillon: Um, Neopia HAS no Black Market.

Pita: YES, IT DOES: We got that Chocolate Coin/Purse/Scale for NO NEOPOINTS just by coming with the right amount (a sure sign)! Then we went to that wonderfully hidden rock quarry! AND WE HAVE ALTADOR WIRING US ITEMS EVERY DA--

Dillon: OKAY THEN! Those are the crimes we WOULD HAVE COMITTED! Please note that ALL OF THESE ARE RETORICAL! There is no proof we did them...

Pita: Ooh, look at the funny Chias dressed in weird uniforms coming this way! Maybe they want to say hi!

Dillon: Funny Chias? Pita, what are you talking about-

NeoPolice: We are the NeoPolice! You're under arrest for vandalism, destruction of property, stealing, assault and battery, trespassing, arson, aiding and abetting, unlawful conduct, usage of the Black Market and slander.

Pita: Yay! ... What does that mean?

Dillon: *sigh* Thanks for reading our guide! HEY! WE WANT TO SPEAK TO KING ALTADOR!