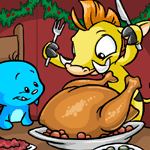 Gravy Train

by mamasimios

--------



For quite some time now I have assembled an educational display in my Gallery that is devoted to the fine food known as Gravy. Now, it has come to my attention that many otherwise knowledgeable Neopians are still not aware that not everything brown and squishy they might step in in Meridell is Gravy. As you might imagine, this causes me some distress, and I would like to bring my study of Graviology to a broader audience. To that end, I have assembled here a list of my most favourite foods involving that warm and comforting hug for your palate, that most humble of sauces, known simply as Gravy.

15. Meridell Gravy
Mmmmm... Gravy. That description says it all, doesn't it? So simple and yet so satisfying that everyone from the peasants on Meri Acres Farm to His Highness King Skarl enjoys a generous puddle of Meridell Gravy on their plates. Best of all, it is one of the best bargains in Neopia, often selling for a mere single neopoint. Who amongst us cannot afford to treat our pets to some Meridell Gravy now and then?

14. Mashed Potato With Gravy
Now, they may have been a little skimpy on the Gravy with this item, but pairing the delightful sauce with its classic partner can never be wrong. Serving the whipped spud stuffed into its own jacket is a sophisticated way to offer your dinner guests individual portions while also controlling the volume of Gravy with which you are willing to part.

13. Potatoes and Gravy
Similar to the last item, these are mashed potatoes that have broken free from their skins, spreading in a pile of mouth-watering carboliciousness, gratefully accepting a smothering of thick, gloopy Gravy. Perfect comfort food for feasts and pity parties alike.

12. Chips and Gravy
Taking the basic potato to the next level, Neopian chefs offer us here another perennial favourite. The potatoes are chopped into chunky chips, deep-fried golden and crispy, and drenched in steamy, savoury Gravy. If you are the adventurous type, I would recommend trying Chips and Curry Sauce, which is a slightly spicier version.

11. Chicken Leg Surprise
A whole roast chicken leg is here served dipped in a thick and meaty Gravy. What the 'Surprise' in the item name refers to is that for which 'Chicken' might be a euphemism. If you can stop your brain from pondering this question too deeply, this is a tasty treat that will leave you licking your fingers and asking for more.

10. Chicken With Vegetables
With this item we move from snack foods and into the full meal deal. A whole roast chicken is pleasingly presented with peas, carrots, and Gravy. I personally recommend pouring Gravy over the vegetables as well as the meat. As for what the meat is, please refer to 'Chicken Leg Surprise' above.

9. Steak Platter
If you are the meat and potatoes type, look no further. Here we find a large and hearty steak served with boiled potatoes and Gravy. Whether you prefer your steak grilled rare, medium, or well-done, the delicious steak is complemented by its covering of thick and beefy Gravy. Tuck your napkin into your collar, grab your fork and steak knife, and dig in!

8. Meat and Beans
Another treat from Meridell, this is a combination of meaty chunks, beans and a creamy Gravy. A really pleasant break from plain legumes for those who are looking to increase their fibre intake. Please refrain from attempting to ingest the wooden platter upon which this is served, though, no matter how tempting it appears when the Gravy soaks in.






7. Hearty Pie / Extra Meaty Pie / Beef Stew Pie / Veggie Stew Pie / Lentil Pie / Slice of Pea Pie
Aaahh! Thick yet flaky crusts embracing your favourite fillings as they swim in piping hot Gravy! Any of these items is a study in the balance of contrast and a delight for the taste buds as you roll a morsel from fork to tongue. Purists may insist that vegetarian dishes may not properly be considered "Gravy" dishes, but I demure from that stance. For those to whom the notion of eating meat is distasteful, meat-substitutes can certainly be used to create a meat-substitute sauce, and this enriching substance is most definitely Gravy.

6. Extra Meaty Sausage Roll
Being a savvy purveyor of the favourite foods of Neopia, the Breadmaster created this portable feast of sausage meat and Gravy encased in a crusty whole-wheat loaf. While it may be eaten with a fork and knife, what's the fun in that? Grab this Gourmet Food with both hands and open your mouth wide. But be warned; you will want to keep the napkins handy.

5. Gravy Hot Dog
Being a trendsetter himself, Hubert decided to outdo the Breadmaster and create this manageably one-handed, no utensils required, Gravy delivery system. His standard Hot Dog is drenched in a rich Gravy, soaking into, though not quite through, the bun. Mustard is offered, though not required, and to my own sensibilities, not necessary in the least.

4. Turkey and Cranberry Pizza
This is a rare treat and was given out by the Advent Calendar in Year 5. Such are the preservative properties of Gravy, though, that if you were to procure a slice of this, it would be perfectly safe to feed to your Neopet even today. A crispy fire-baked pizza crust is covered with Turkey, Cranberry and a thick and creamy Gravy. Mmmmm. Holiday food you say? Anytime food I say!

3. Meridell Pudding
We have our friends in Meridell to thank once again for this delicious looking food. I have not had the pleasure of sampling this item myself, but it is described as a savoury dish that is served with Gravy. The very fact that I have been unable to taste what appears to be a variation on Yorkshire Pudding filled with meat and covered with rich and delicious Gravy, is good enough to earn it a place near the top of my list. Oh sweet, taunting anticipation!

2. Baby Cabbage with Gravy
Ah, yes, a delicious Gourmet Food; soft-steamed Baby Cabbages swimming in a pool of rich and salty Gravy. This may be a dish fit to serve a king, but I guarantee you it will get the little ones eating their vegetables! Found in the Neopian Health Food Store, it is good for them as you know, but I promise I won't tell the kids if you don't!

1. Marshmallows with Gravy
And now we arrive, finally, at my absolutely favourite Gravy Food, which is, obviously, Marshmallows with Gravy. And are those mini vegetables floating in the sauce? Yummy treat yet healthy meal, sweet yet savoury, classified as a Gross yet also a Gourmet Food, delightful contradiction of expectation and sensation, I salute the finest concoction of Neopia's kitchens!
Now that I have shared my list of favourite Gravy dishes with you, I think it would be helpful if I also shared with you a list of Gravy Dishes that are not to my taste.

1. Carrot Pie
I don't like carrots.
It might also be helpful if I listed items which appear to be Gravy dishes, but which, in fact, are not.


5. Gravy Pond / Mashed Volcano
These are not edible items but merely clever facsimiles for your Neogarden, and thank goodness for that! Can you imagine how overrun with Slorgs your garden would be if there were a pool or geyser of hot and tasty Gravy in it? Having said that, I do think that a Gravy Fountain for my coffee table would be a wonderful addition to my Neohome.

4. Mashed Potatoes and Mud
You may or may not be surprised to learn that there are sensory-challenged Neopians who claim not to know the difference between mud and Gravy. To them I say, eat up, Buttercup! More Gravy for my spuds!

3. Steak Cake
"A prime juicy steak layered between strawberry jam and cream, drizzled with chocolate Gravy." So reads the description of this fabulous food item and because of that description I have been known to celebrate special occasions with a Steak Cake myself. But... just because a sauce is brown and thin enough to drizzle does not mean that it may properly be called 'Gravy'.

2. Chewing Dung
Again, just because something is brown and viscous does not mean it is Gravy. I cannot stress this enough. There are no Gravy foods that also have dung in their names. You would not believe how many times I have had to make this point.

1. Snotty Vira Onion
OK, this is not even brown. Gravy is brown. Snot is green. Ergo, snot is not Gravy.
I do hope that this brief tutorial has been helpful to those interested in the pursuit of Graviology in all of its forms. When you have the time to linger, do visit my Gallery for further study and do not hesitate to approach me privately with your more delicate queries.