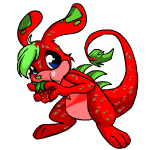 Top 10 Strawberry Dishes

by avatar_addicted852

--------

I don't know about you, but my pets hate eating boring meals. So I've been thinking about yummy meals that my pets WON'T complain about. Then I thought, why not share my ideas with other Neopians? Well, what are you waiting for? Start reading!

Strawberries. Most of us have heard of them, and even tried them ourselves. But who would have known all the yummy ways you can eat them? So here I am, ready to tell you about the Top 10 Strawberry Dishes, and how much you can buy them for in fellow users' shops! I'll even give you a test rating, with help from my pets.

#10. At place #10, we have the simple but delicious Strawberry Aisha Cookie - a very cute cookie shaped just like an Aisha's head. A yummy, crunchy biscuit that your neopet will love! It is even a healthier option, as it is a wholemeal biscuit! Then it is topped in vanilla and strawberry icing. It sells for around 200 NP, so it's relatively cheap!
Taste Rating: 4/10. Yummy, but a bit boring at times, and it is a bit dry by itself.

#9. Coming in at #9 is the Strawberry Fruit Cup. Very basic, I know. Maybe you think it isn't worthy of being on this list? Well, look a little closer. A home-made, fresh pastry base, filled with yummy, hand picked strawberry jam. An easy to eat, simple meal that tastes great! If you would like to buy one of these, they cost about 250 NP!
Taste Rating: 5/10. Healthy, but a little plain.

#8. The Strawberry Snow Puff comes in at place #8. Why? You may ask. Well, it's a pretty, circular treat which has a light and fruity taste. They are made when rice is thrown really hard into snowflakes, while there is a rainbow in the sky – which explains the bright red colour. These delicate snow puffs are strange to eat, but tasty, nonetheless. You can buy a Strawberry Snow Puff for around 2000 – 2500 NP.
Taste Rating: 6/10. Not the most filling of foods. Tasty, though!

#7. Aaaaaand... here's #7! The Strawberry Kau Cream Cake! It's a creamy, soft meal which any neopet with a sweet tooth will love. A moist, fresh sponge sits in between more sponge, topped with thick, strawberry flavoured Kau Kau farm milk. This cake is quite messy, so make sure your neopet eats it somewhere where mess can be made. These delicious treats cost around 300 NP.
Taste Rating: 6/10. This is a messy cake, and it's also very sweet.

#6. Mmm... the Strawberry Cybunny Cake is #6 on our strawberry list. Just looking at this cake is enough to make your neopet's mouth water. But what is inside this interesting dessert? Strawberry flavoured jelly and cake, that's what. Oh yeah, and let's not forget the big dollop of sweet cream sitting so perfectly on the top. Pick up one of these for 1000 NP.
Taste Rating: 7/10. This cake is good, but also a little messy.

#5. Strawberry Ice Cream. A classic, yet so tasty. That's why it is our #5! Sweet, creamy, strawberry ice cream sits neatly in a delicious, crunchy cone. There isn't much to say about this strawberry delight, except that nearly all neopets will like it. If it's too plain for your neopet, add some yummy toppings like fresh strawberries or strawberry sauce. For 1,000 NP, you can buy a Strawberry Ice Cream!
Taste Rating: 7/10. Strawberry Ice Cream might be a little too plain for some neopets.

#4. As we continue the countdown, the Choco-Strawberry Muffin claims its place at #4. Now I'm sure you all know that a Choco-Strawberry muffin has chocolate and strawberries in it. Well, you're right, BUT – I'll talk about the details. A delicious chocolate muffin, filled with strawberries and chocolate chunks. But there's more! Sitting on the top is a generous amount of chocolate icing and a freshly picked strawberry. If your neopet wants to get their hands on one of these, they're about 400 – 450 NP.
Taste Rating: 8/10. Chocolate + Strawberry = A VERY good combination!

#3. I'm sure you've all heard of the Strawberry Shortcake. Even if you haven't – it's #3! The base is shortcake, baked by the one and only Neopian Bakery. Next is a huge, light and fluffy spoonful of whipped cream. Yum! And if that still isn't enough for you, there's a big, luscious strawberry poised on the top! If you think your neopet deserves one of these, you can buy one for 450 – 500 NP.
Taste Rating: 8/10. This treat might be a little too sweet for your pet, but for those sugar lovers this will be great!

#2. We're nearly at #1, but here's #2 – Strawberry Wocky Candy Floss! Puffy, light candy floss which is enough to please any neopet who wants something sweet and fun! This strawberry candy floss sits quite tidily in a striped blue and purple cone, going perfectly with its own red colour. I'm sure many of us wonder how this candy floss looks so perfect. I'm not too sure, but I think that Wockies make them – all by hand. They aren't what I'd call cheap, but they're worth it! Buy one for 3000 – 4000 NP.
Taste Rating: 9/10. This is light, yummy and convenient!
Drum roll please, because here's...

#1. Strawberry Kougra Pudding! This is such a visually appetising dish! A divine, creamy vanilla pudding in the shape of a Kougra. Then it has been topped with sweet strawberry sauce to add more flavour. But that's not all of it! A strawberry is placed at the very end, to tie this dish together nicely. This dessert has been carefully made, as a kougra is a difficult shape to make! Eat it with some ice cream and you'll have the perfect dessert! This pudding can even be eaten hot or cold. If this makes your neopet's stomach rumble, you can buy one for 1200-2000 NP.
Taste Rating: 9 and a half/10. Though this pudding is delicious, it would taste much nicer with a scoop of ice cream or a spoonful of whipped cream.
So there you have it, the Top 10 Strawberry Dishes. I hoped you liked it, and gave you and your neopet some inspiration for future meals! This was my first article, and hopefully there'll be more from me!